sWheat Scoop Original Natural Clumping Wheat Cat Litter
Was:

$26.99

Price:

$20.39 FREE 1-2 Day Shipping over $49

You Save:

$6.60 (24%)
7-lb bag

14-lb bag

25-lb bag

36-lb bag (Original)
Description
New, improved sWheat Scoop Original Formula litter eliminates odors better, clumps faster and lasts longer than ever. No wonder why so many families are making sWheat Scoop their natural clumping brand! Unlike many clumping litters, sWheat Scoop contains no silica dust, sodium bentonite or chemicals of any kind. That's why it's even recommended by veterinarians for kittens and post-surgical cats. Since sWheat Scoop litter absorbs moisture faster than ordinary clumping litter brands, the rest of the litter stays clean and fresh. Which means it can last longer between litter box changes, saving you significant time and money.
Key Benefits
Works continuously to neutralize litter box odors, no matter how many cats you own. Made to have 2x more powerful odor elimination compared to other formulas.
This litter is an all-natural cat litter made from naturally renewable wheat. With no harmful ingredients typically found in clay litter, it is a no-worries kind of cat litter.
The natural wheat enzymes neutralize odor on contact, and wheat starches clump firmly for easy scooping.
Designed to last up to 2 times longer than ordinary clumping litters.
100% biodegradable and made from renewable, sustainable resources right here in the USA.
Item Number

90868

Litter & Bedding Type

Wheat

Litter Feature

Flushable, Unscented, Odor Control, Biodegradable, Clumping

Made in

United States
Pet lovers also bought...
Customer Reviews
Rated

4.6

out of

5

 by

148

reviewers.
Rated

5

out of

5
 by
JBfromWP
Best Litter Ever
We've been using this product for years and have had no issues. I wouldn't recommend flushing the big clumps down the toilet unless you are sure your system can handle it.
January 15, 2017
Rated

4

out of

5
 by
kate76
Used for about 20 years!
A friend of mine told me about sWheat Scoop many years ago. I have used it ever since, great product and economical too. Twice a week I screen out the solids and then add more SS. Very seldom do I throw it all out and start fresh.
January 6, 2017
Rated

5

out of

5
 by
neverdo
Wonderful
I have been using Sweat Scoop for over 10 years. It is the best organic cat litter I have ever used. I have tried others over the years but Swheat Scoop has been the best.
December 28, 2016
Rated

5

out of

5
 by
Katie2
great product
this litter is great... have used it for quite a few years and was glad to find it in this larger size .....no problem with cats using it right from the beginning.... lot less dust..... I was amazed my order arrived the next day.. included a lot of cat food which was all perfectly packed....
November 28, 2016
Rated

5

out of

5
 by
Kathie
Best litter for no odor!
I like this litter as it is a natural product and it has no odor! Of course, when the cat uses the litter, it has an odor but not from the litter itself! sWheat Scoop is the best litter I've bought and is a good value. Chewy shipped it right out with no problems!
November 17, 2016
Rated

5

out of

5
 by
taipan
sWheatScoop
Litter works pretty good. I always add baking soda. My cat like it. I read somewhere other litter had cancer causing chemicals . I want the best for my guys and keep them healthy. Plus I don't want to inhaled chemicals cleaning out box dailly.
November 19, 2016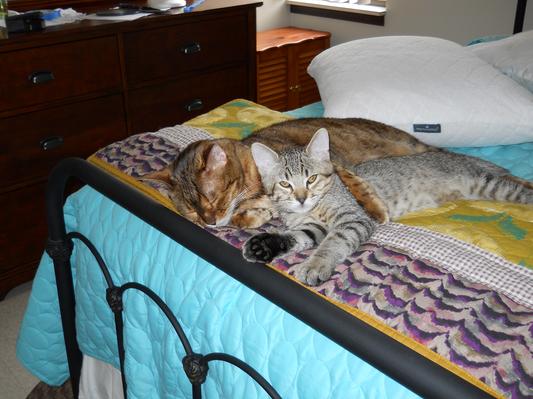 Rated

4

out of

5
 by
BERT
dustless or low dust. the older female goes for it, the younger male wants the type that feels like DIRT
dustless or low dust. the older female goes for it, the younger male wants the type that feels like DIRT
November 19, 2016
Rated

4

out of

5
 by
Frederickfox
Better than most bio-degradable litters
I have always loved the Silicon/crystal litter but I've read mixed studies of its impact on the environment and possible carcinogenic effects it could have on both my cats and me. So I've switched to several different natural litters over the past two years. To me, this is one of the more affordable and better quality litters. It clumps just like clay. I was surprised to scoop up a near perfect ball. But I have also had the clump fall apart because I "man-handled" it or because a cat came in and squashed it when using the litter box a second time. So it's mixed on the quality of the clump. I've also noticed, like other reviewers, that if the cat digs all the way to the bottom and pees, it will make this almost cement like clump against the bottom of the littter box. (Super anoying !) But that only happens if you don't habitually clean the box or your cat digs to the bottom and his or her pee spreads out in the bottom of the box. I think if you're diligent in cleaning it, the pee clumps aren't bad. As for numero dos, easy. The litter absorbs what little liquid there is and the scooping is easy.
July 23, 2016