Tidy Cats Breeze Cat Pads
Was:

$16.49

Price:

$12.99 FREE 1-2 Day Shipping over $49

You Save:

$3.50 (21%)
4 count

4 pack, case of 10

10 count
Description
It's ingenious. Breeze Cat Pads are easy to maintain with minimal odor. The specially-designed Breeze Litter Pellets allow urine to pass through to the Breeze Cat Pad underneath, while leaving solid waste on top for quick, easy removal. Urine is quickly absorbed by an odor-controlling Breeze Cat Pad in a protective tray. Open up your home to carefree living. Let in a clean, odor-free breeze. A Cat Pad lasts up to one week with one cat and up to three days for two cats.
Key Benefits
Clean, quick, and easy maintenance
Urine is quickly absorbed by the odor-controlling pad
Controls odors for up to a week in a household with one cat
For best results change pad every 3 days for multiple cats
Pads are disposable
Cautions
Store in a dry place.
We want to remind those with suppressed immune systems and pregnant women that a parasite sometimes found in cat feces can cause toxoplasmosis. Please wash hands thoroughly after handling used cat litter. Encouraging your cat to use an indoor litter box, or properly disposing of outdoor cat feces, is beneficial to overall water quality. Please do not flush cat litter in toilets or dispose of it outdoors in gutters or storm drains. Used litter is not recommended for garden use.

Click here for the Breeze Litter Box System.
Item Number

78072

Weight

7.7 pounds

Brand

Purina, Breeze
Instructions
Cat Pad Simple Setup and Maintenance: * Place one cat pad (soft side up) in the BREEZE Litter System drawer and slide into the base. * Drawer can be rotated without touching the pad to extend pad life.
Pet lovers also bought...
Discover the Ease of BREEZE
All-in-one
Everything you need is in the kit: a specially designed litter box, a custom scoop, pellets, pads and simple setup instructions.
easy to clean
Just scoop solid waste daily and change the pad weekly for unbelievable odor control.
simple maintenance
Toss out the old pellets monthly and pour in a new bag – no measuring no mess.
easy switch
Transitioning to BREEZE is simple and easy.
Making Your Cats' Transition a BREEZE
Start with the Pellets. Mix a bag of pellets into your current litter box and let your cats explore.
Then Add the Box. Once their curiosity about the pellets has settled, set the litter system up next to your current box.
Resist the Urge to Scoop. Leave the old litter box untouched. You want to make the BREEZE box more appealing, so don't scoop the old box at all.
Toss that Old Thing Out! Once your cats are using BREEZE regularly, you can put that old box right in the trash.
Enjoy! Take a deep breath and delight in your new, easy clea routine – satisfaction guaranteed!
LITTER BOX & SCOOP
System separates urine and solids for outstanding odor control.
DISPOSABLE CAT PADS
Absorb and control urine odor for up to one week for one cat (3 days for 2 cats). Available in unscented or scented.
ANTI-TRACKING PELLETS
Help minimize tracking while dehydrating solid waste for odor control; 99.9% dust free.
About Tidy Cats
Tidy Cats knows it's their job to follow every road that leads to freshness. That's why they never stop searching for a better litter box experience. For over 50 years, they've fought odor, cut down on dust and helped simplify litter box maintenance. They always have a clever solution that's right for you and the other noses in your home.
Customer Reviews
Rated

4.8

out of

5

 by

321

reviewers.
Rated

5

out of

5
 by
CatMom1
I love Tidy Cats Breeze Litter System - make life easy
I have 3 cats - all around 2 years old - strays that I took in are now INSIDE cats only. So I have a lot of poopies to clean up. This litter system has a diaper drawer under the pellet litter that you change out every week = I have two Breeze litter systems. These diapers make life so easy cause you are not constantly scooping pee out of a litter box. If you don't have this system you should at least go online and check out - it is a God Send in that there is no odor in your home using this system.
January 14, 2017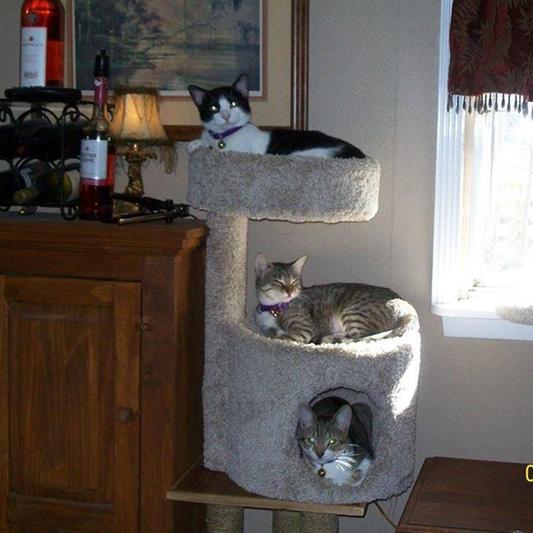 Rated

5

out of

5
 by
Gigi
Best Cat Litter System
Easiest cat system litter box product I have ever used. No carrying heavy boxes of litter and emptying them. My kitties like it and I'm happy.
January 17, 2017
Rated

5

out of

5
 by
Nick
NO MORE SMELL AND DUST
For someone who has a very sensitive sense of smell this works way better then traditional litter. With two systems for two cats I still change the pad every 3 days and scoop everything. There is no smell with the pad really even with two cats.
January 15, 2017
Rated

5

out of

5
 by
Sherryhur
Works well
The cats pee on this and it saves a lot on litter. Although the pads are expensive. I use one a week, It is easier for my crippled cat to use.
January 14, 2017
Rated

5

out of

5
 by
jude
Great item
This system works great--I really appreciate it--have to change the pad just once a week and the litter only once a month--and it doesn't smell!!!
January 11, 2017
Rated

5

out of

5
 by
RescuesAdults
Best Odor Control Available!
I switched to Breeze almost a year ago and this has been the best solution for odor and cleanliness in my home. My cats don't have to stand in each other's pee EVER because it drains away onto the pad. Why didn't anyone think of this sooner?
January 5, 2017
Rated

5

out of

5
 by
Maymoon
Pleasant surprise.
It took a little while for Roxanne to figure it out and then Suzy decided to try it. Very convenient. No smell. We have a size G step-on trash can that we put the heavy-duty G plastic bag in and the kitty litter from their regular two boxes go in there along with the used pads. All works out great.
December 30, 2016
Rated

4

out of

5
 by
lisakitty58
Very absorbant, and keeps litterbox odor free!
I have 3 adult kitties and have changed their pads twice weekly with good effect. Two out of 3 kitties took to the Breeze pellet litterbox system right away, then Roxanne learned from Ruby & Rosie. The pads hold Much pee without dribbling or leakage when replaced. Thank you Tidy Cat, wished we had found these products sooner! Thank You Chewy for home delivery!
December 22, 2016