Tiki Cat Hana Grill Ahi Tuna with Crab in Tuna Consomme Canned Cat Food
List Price:

$18.90

Price:

$14.99 FREE 1-2 Day Shipping over $49

You Save:

$3.91 (21%)
2.8-oz, case of 12

6-oz, case of 8
Description
Tiki Cat's Hana Luau Recipe is made with wild caught Ahi Tuna loin that is flaked and topped with shredded wild crab meat. The Ahi Tuna is simmered in a crab consomme broth made with crab shells in a traditional stock method to produce naturally occurring flavors. Sunflower oil, vitamins and minerals are then added to create a tasty, healthy meal your cat will love.
Key Benefits
High-protein grain-free canned cat food recipe made with wild-caught flaked ahi-tuna that is topped with shredded crab meat and simmered in a crab consommé broth for a decadent seafood flavor your cat will be sure to love
Added sunflower oil, vitamins and mineral make this a complete and balanced meal and meets the nutritional levels established by the AAFCO for cats of all life stages
Unique recipe contains no gluten, carbohydrates, starches or flours
High moisture recipe helps supplement cats that don't drink enough water and helps maintain good urinary and digestive health
Zero glycemic index
Item Number

52577

Food Texture

Shredded

Food Form

Wet Food

Lifestage

Adult, All Stages

Special Diet

No Corn No Wheat No Soy, High-Protein, Gluten Free, Low Glycemic, Grain-Free
Nutritional Info
Ingredients
Ahi Tuna 58%, Tuna Consomme 35%, Crab 4%, Sunflower Seed Oil 1%, Contains Less Than 1% of the Following: Calcium Lactate Pentahydrate, Tricalcium Phosphate, Tuna Fish Oil, Choline Chloride, Taurine, Vitamin E, Zinc Sulfate Heptahydrate, Ferrous Sulfate Monohydrate, Thiamine Mononitrate (Vitamin B1), Nicotinic Acid (Vitamin B3), Calcium Pantothenate, Manganese Sulfate Monohydrate, Vitamin A Supplement, Potassium Iodide, Copper Sulfate Pentahydrate, Riboflavin Supplement (Vitamin B2), Pyridoxine Hydrochloride (Vitamin B6), Folic Acid, Vitamin D3 Supplement, Vitamin B12 Supplement.
Pet lovers also bought...
True Gourmet Food
Tiki Cat Gourmet Whole Food formulas contain whole human-grade shredded or sliced meats and seafood. Each formula is carefully prepared with a healthy broth to mimic the moisture of live prey.
Zero or Low Carbohydrates
Tiki Pets believes that if it isn't part of cats' natural prey parameters, it shouldn't be in their food, and that includes carbohydrates. In the wild, cats eat little to no carbohydrates, and Tiki Pets has found that diets high in carbohydrates and low in animal protein can lead to health issues. That's why Tiki formulas are grain-free and contain low or zero carbohydrates.
Simple, Fresh Ingredients
All Tiki formulas contain no artificial colors, flavors or preservatives and are made without corn, wheat, soy or fillers.
BEEF, CHICKEN OR SEAFOOD BROTH
Excellent source of moisture similar to that found in natural prey to support healthy kidney, liver and urinary tract functions.
TUNA FISH OIL
Great source of Omega-3 fatty acid, which supports joint functionality and promotes healthy skin and a lustrous coat.
SUNFLOWER SEED OIL
Excellent source of Omega-6 fatty acid, manganese, magnesium, zinc and vitamins E, B1 and A. Contains anti-inflammatory properties.
About Tiki Pets
Tiki Pets prepares food with a nutrient profile that mimics the natural prey for cats and dogs. Ingredients are human grade and contain no grains, GMOs or glutens. All products are sustainably sourced, mercury-free and dolphin safe.
Customer Reviews
Rated

4

out of

5

 by

23

reviewers.
Rated

4

out of

5
 by
pleased
My cats love it, even the picky one.
This food saves me because the cats get picky sometimes. Glad it is grain free, too.
December 14, 2016
Rated

4

out of

5
 by
Reen
It looks as delicious as all the other flavors, but they don't like it
Clearly I have domestic cats. Chicken and salmon is what they prefer. It seems nothing exotic like ahi tuna with crab appeals to them. It looked nice, smelled nice (re:not super fishy) to me but maybe not to them (re: they like super fishy). Still giving it 4 stars. Worth a try if you have fish eaters. All the tiki cat canned foods look really nice.
September 8, 2016
Rated

4

out of

5
 by
DrJohn
Cat Loves It
Great food,clean with high protein and no carbs, also low in magnesium and phosphorus. Most important Max loves it. 4 stars instead of 5 because it is very expensive for me since I must feed 1 can + more to get him his calories appropriate for his size and proper weight.
May 31, 2016
Rated

3

out of

5
 by
CatMamax7
Disappointed in my cats reaction
I have 7 cats and they all love tuna. I give them other brands of tuna and usually have to tell them they've had enough, but they weren't crazy about this brand of tuna. I think it's a good quality food and worth a try, but other brands of tuna are more of a hit around here.
March 4, 2016
Rated

5

out of

5
 by
TiKi
Tiki Cat Tuna
My cats love it, ate it all and licked the plate clean.
February 26, 2016
Rated

5

out of

5
 by
CoopersMom2013
COOPER'S CHOICE
Cooper is my cat who was getting a little chunky and is only 2 1/2 yrs. old. I have a small living space, therefore running around is very limited for him. I decided to change his food in hopes of getting weight off of him. THIS PRODUCT IS COOPER'S CHOICE. He loves it!!! Gobbles it up without hesitation. I introduced it with his old food so no digestive problems. I closely read the ingredients and benefits and slowly, he is taking off weight. This is also mommy's choice.
June 27, 2015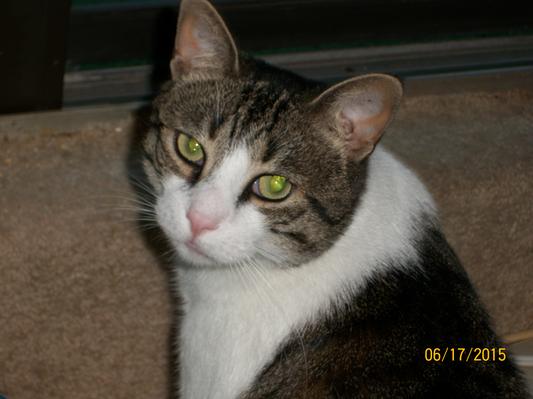 Rated

2

out of

5
 by
dckat
There's tuna, then there's TUNA
This is that dark red-orange tuna like we see (or at least used to, haven't bought it in decades) in Figaro and also the old Purina cans with the yellow labels (back when Purina was a separate company from Friskies). Some of our cats will eat a little of it, but none of them finish a full portion, even an undersized one. It does have a strong smell, so it might entice a hungry cat, but there are cheaper ways of doing that.
September 7, 2015
Rated

5

out of

5
 by
Puck
Good Enough to Serve To Guests
I have been serving Eep, my cat, Tiki products for most of her life (8 years). The texture of all of their foods closely resembles the real item, be it chicken, fish or beef, rather than a homogenized paste. I would have preferred that she write this review but she refused. Cats...go figure...
November 29, 2015