Tiki Cat Hawaiian Grill Ahi Tuna Canned Cat Food
List Price:

$16.99

Price:

$11.77 FREE 1-2 Day Shipping over $49

You Save:

$5.22 (31%)
2.8-oz, case of 12

6-oz, case of 8
Description
Tiki Cat's Hawaiian Grill Recipe is made with flaked wild caught Ahi Tuna loin combining both red and white meat. It's simmered in an Ahi Tuna consomme broth made with the bones, heads, and unused portions of the tuna in a traditional stock method to produce naturally occurring flavors. Sunflower oil, vitamins and minerals are then added to create a tasty, healthy meal your cat will love.
Key Benefits
High-protein grain-free canned cat food recipe made with wild-caught Ahi Tuna loin that is flaked and simmered in an Ahi Tuna consommé broth for a decadent seafood flavor your cat will be sure to love
Added sunflower oil, vitamins and mineral make this a complete and balanced meal and meets the nutritional levels established by the AAFCO for cats of all life stages
Unique recipe contains no gluten, carbohydrates, starches or flours
High moisture recipe helps supplement cats that don't drink enough water and helps maintain good urinary and digestive health
Zero glycemic index
Item Number

49113

Food Texture

Shredded

Food Form

Wet Food

Lifestage

All Stages, Adult

Special Diet

No Corn No Wheat No Soy, High-Protein, Low Glycemic, Gluten Free, Grain-Free
Nutritional Info
Ingredients
Ahi Tuna 66%, Tuna Consomme 31%, Sunflower Seed Oil 1%, Contains Less Than 1% of the Following: Tricalcium Phosphate, Choline Chloride, Taurine, Vitamin E, Zinc Sulfate Heptahydrate, Ferrous Sulfate Monohydrate, Thiamine Mononitrate (Vitamin B1), Nicotinic Acid (Vitamin B3), Calcium Pantothenate, Manganese Sulfate Monohydrate, Vitamin A Supplement, Potassium Iodide, Copper Sulfate Pentahydrate, Vitamin D3 Supplement, Riboflavin Supplement (Vitamin B2), Pyridoxine Hydrochloride, Folic Acid, Vitamin B12 Supplement.
Pet lovers also bought...
True Gourmet Food
Tiki Cat Gourmet Whole Food formulas contain whole human-grade shredded or sliced meats and seafood. Each formula is carefully prepared with a healthy broth to mimic the moisture of live prey.
Zero or Low Carbohydrates
Tiki Pets believes that if it isn't part of cats' natural prey parameters, it shouldn't be in their food, and that includes carbohydrates. In the wild, cats eat little to no carbohydrates, and Tiki Pets has found that diets high in carbohydrates and low in animal protein can lead to health issues. That's why Tiki formulas are grain-free and contain low or zero carbohydrates.
Simple, Fresh Ingredients
All Tiki formulas contain no artificial colors, flavors or preservatives and are made without corn, wheat, soy or fillers.
BEEF, CHICKEN OR SEAFOOD BROTH
Excellent source of moisture similar to that found in natural prey to support healthy kidney, liver and urinary tract functions.
TUNA FISH OIL
Great source of Omega-3 fatty acid, which supports joint functionality and promotes healthy skin and a lustrous coat.
SUNFLOWER SEED OIL
Excellent source of Omega-6 fatty acid, manganese, magnesium, zinc and vitamins E, B1 and A. Contains anti-inflammatory properties.
About Tiki Pets
Tiki Pets prepares food with a nutrient profile that mimics the natural prey for cats and dogs. Ingredients are human grade and contain no grains, GMOs or glutens. All products are sustainably sourced, mercury-free and dolphin safe.
Customer Reviews
Rated

4.6

out of

5

 by

83

reviewers.
Rated

5

out of

5
 by
Cliff65
Not always consistant
My marmalade cats are very picky. I tried all kinds of "stinky" wet food as that is what they prefer. I settled on this one as they really, really liked it. But I have noticed over time that all batches are not the same. Some are very fishy smelling and some smell like grain. My cats often turn up their noses at the batches that are not very fishy smelling. But overall, this is the best product I have found available anywhere, and I will continue buying it. I just wish all batches would be made exactly alike with the powerful fishy smell and taste that they love.
January 11, 2017
Rated

1

out of

5
 by
Nonnie58
Product nothing like what it says.
I was so disappointed. Not at all as like the product I read about.
January 5, 2017
Rated

3

out of

5
 by
Whitehusky
My cat hated it.
I have a 9-year-old cat that wasn't maintaining a healthy weight. Despite trying different brands of dry food, she was underweight due to eating only enough to survive. She is very finicky and wouldn't eat many of the foods I'd buy for her, and those she liked, she was often allergic to them. A friend suggested I switch her to wet food and recommended this brand. I was hesitant because my cat never liked wet food in the past, but if it would make her healthier, I was willing to try it. Based on positive reviews, I went with the ahi tuna flavor. I should've known better than to go with that one because my cat doesn't care for fish. Sure enough, she hated this food. I hoped she would warm up to it, but by the third or fourth can, she ignored it completely. So I went to a pet store and bought a can of four or five different brands to see which one she'd like best, and she really liked Blue Wilderness. So I'm taking her off of the Tiki Cat and putting her on Blue instead. I'm going to buy the new brand in bulk from Chewy now that I know what she likes.
March 31, 2016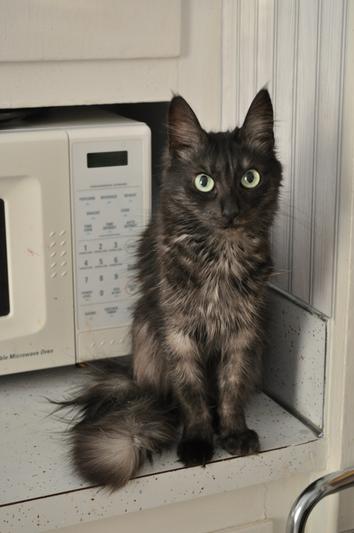 Rated

4

out of

5
 by
Reen
They like it better than Ahi with crab...
...but they don't love it. It looks really nice. Red like ahi tuna should be. Not stinky. Juicy. Flakey. They will eat it but given the choice between the ahi and salmon, or ahi and chicken, they seem to opt for the not ahi every time. Still giving it a 4 for quality. Lessing the one because my guys don't like it. Still recommending you try some if your cats are hardcore fish eaters. All the tiki varieties are really nice food. Definitely worth a try.
September 8, 2016
Rated

5

out of

5
 by
Samm
Cat loves this food!
Perfect for my cat, can is the right size and right amount for him. I just placed another other for this cat food.
September 19, 2016
Rated

5

out of

5
 by
VoodooDarling
Fat Kitty is Slimming Down!
My 13 year-old cat was steadily gaining weight and the vet recommended weaning her off carb-loaded dry kibble, and moving to a grain-free wet food. We've been experimenting with a wide canned brands but my cat has never really taken to any of them with enthusiasm. Until Tiki Cat! She went absolutely mad for the Ahi Tuna flavor and licked the bowl spotless. She's super picky and often gets fatigued with canned food flavors that look like mush, but not this brand. It actually looks and smells like fish. Very high quality. I've slowly weaned her off of dry kibble and now feed her exclusively the Tiki Cat canned food. She's slimmed down over the last six months and her coat, which was greasy, is super soft. I opted for a variety pack for the first shipment to test which flavors she'd like. A mixed bag, but now I know exactly which kind to order going forward. Very happy.
May 22, 2014
Rated

5

out of

5
 by
DebbieDo
Bubba's favorite
I have switched all my fur babies from high carb dry (don't be deceived by "grain free" varieties) to low carb wet after Bubba was diagnosed with diabetes. He likes most of the Tiki tuna combo flavors, but this one is his favorite. If switching from kibble to wet, give your baby time to adjust.
August 20, 2016
Rated

5

out of

5
 by
Danny
Pricey but Gets the Job Done
I haven't tried it myself, so couldn't tell you how it tastes, but the cat seems to like it. Started feeding him wet food a year or so ago to get him on a low-carb diet to lose weight and I wanted one that didn't have nasty additives/fillers that can mess with his urinary tract, which he's had some small issues with in the past. I started with a Tiki Cat mix pack and quickly learned he isn't into the sardine cutlets, but seems to enjoy the tuna varieties a lot. I've fed him other brands of tuna cat food, but this one he seems to take to the most consistently without becoming disinterested in after awhile. Obviously every cat is different, so I'm sure it's still possible yours won't love this brand, but mine sure seems to. I used to order through Amazon but the price would fluctuate a lot and various sellers' stock ran out. I've also had situations where it wasn't packaged well and a can would be ruptured which was nasty to deal with. I decided to order five 12-packs at once on Chewy to qualify for free shipping. The food came promptly and was safely packaged. No ruptured or even dented cans. Will continue to order through Chewy going forward.
June 8, 2015