Weruva Cats in the Kitchen Funk In The Trunk Chicken in Pumpkin Consomme Canned Cat Food
List Price:

$45.36

Price:

$40.80 FREE 1-2 Day Shipping over $49

You Save:

$4.56 (10%)
3.2-oz, case of 24

6-oz, case of 24
Description
The kitchen is so often the heart of the home. It is where our family gathers for meals, where we have our game night, where family bonds grow. We eat there, we laugh there — we feed our pets there. The inspiration for these delectable selections come from feeding our precious Cats in the Kitchen. Bring your cats to the heart of your home and share these savory cuts that are all fit for your kitchen carnivores.
Key Benefits
Convenient, easy to open cans feature a gourmet recipe made with white meat chicken breast and tuna in a nutrient-rich pumpkin consommé.
Recipe contains no grains, starch, or carrageenan
High moisture recipe helps supplements water intake for cat's that don't drink enough water regularly, which helps maintain good urinary and digestive health
Contains taurine which helps guards the heart and added vitamins and minerals to make this delicious food a complete and balanced diet
All of the unique flavors in the Weruva line are ideal for rotational feeding, suitable for all life stages and can be served as a standalone diet or as a topper for dry food
Item Number

58941

Food Texture

Bits in Broth

Brand

Cats in the Kitchen

Food Form

Wet Food

Lifestage

Adult, All Stages

Special Diet

GMO-Free, Grain-Free
Nutritional Info
Ingredients
Chicken Broth, Chicken (Boneless, Skinless, White Breast), Tuna, Pumpkin, Sunflower Seed Oil, Locust Bean Gum, Tricalcium Phosphate, Fish Oil, Guar Gum, Xanthan Gum, Potassium Chloride, Choline Chloride, Taurine, Vitamin E Supplement, Zinc Sulfate, Thiamine Mononitrate (Vitamin B1), Nicotinic Acid (Vitamin B3), Calcium Pantothenate, Vitamin A Supplement, Potassium Iodide, Manganese Sulfate, Ferrous Sulfate, Riboflavin Supplement (Vitamin B2), Pyridoxine Hydrochloride (Vitamin B6), Vitamin D3 Supplement, Copper Sulfate, Folic Acid, Vitamin B12 Supplement.
Caloric Content
95 kcal/6 oz can, 51 kcal/3.2 oz can
Guaranteed Analysis
Crude Protein
10.0% min
Crude Fat
1.6% min
Crude Fiber
0.5% max
Moisture
85.0% max
Ash
2.0% max
Calcium
0.3% max
Phosphorus
0.3% max
Magnesium
0.03% max
Taurine
0.05% min
Feeding Instructions
Feed according to the age, size and activity of your cat. If fed alone, feed 1 oz for each pound of bodyweight daily, best fed twice a day. Your cat should have access to clean, fresh water. Refrigerate after opening.
Transition Instructions
Weruva always recommends switching your cat or dog's diet slowly and to adjust according to your pet's digestive stability. Typically, a 6 day transition suites most pet's needs. We recommend feeding a mix of 25% Weruva & 75% of the previous food for the first two days. For the next two days, feed 50% Weruva & 50% of the previous diet. Days 5 & 6, Feed 75% Weruva with 25% of the previous diet. Your pet should be fully adjusted to an exclusive high-quality Weruva diet thereafter.
Pet lovers also bought...
Customer Reviews
Rated

4.8

out of

5

 by

66

reviewers.
Rated

5

out of

5
 by
Bensmom
My cats love this food, and it's healthy
I have three cats, all under 18 months. I raised them all on Weruva Cats in the Kitchen canned, along with some flavors of Tiki Cat canned. Weruva has more in each can, so more for the money, and less added ingredients they don't need. I tried to keep the amount of fish in their diet down, but they really love Funk in the Trunk - which has chicken and fish. I have to convince the littlest, who is eight months old, to eat anything but at this point. There's something about the pumpkin they really enjoy. Only drawback is occasional gassiness from the pumpkin in the youngest cat only, but he was a sickly runt so has some issues from prior antibiotics, etc. That teen kitten eats two six oz. cans/day of Weruva daily, and hasn't yet transitioned to anything dry. He's growing and gaining, and now has a shiny soft coat. I don't know if it's recommended for kittens, but my three thrived on Weruva CitK. I assume premium non-age specific food is better than cheap kitten food. My vet hasn't complained.
December 29, 2016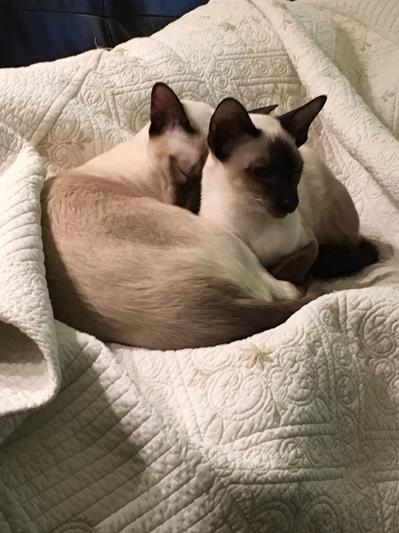 Rated

5

out of

5
 by
Linda68
My cats love it!
I like to feed my cats good foods for their health. Weruva products are no grain which cats need.
January 19, 2017
Rated

5

out of

5
 by
Alex
Our picky cat loves the taste
Our cat is weird when it comes to wet food. She will literally eat any brand of dry food. However, with wet food she was fine with eating unhealthy brands but refused to eat any of the premium wet foods we bought. This even included the Weruva "paw lickin chicken." She would literally refuse to eat healthy wet food even if we didn't give her any other food. She loves tuna and we give her very small treats occasionally (.05 oz/week max). I thought of giving her a tuna based wet food but quickly decided against it because even the best sourced cat food made of tuna has mercury. I noticed that the formula for "funk in the trunk" had traces of tuna. I figured this may be perfect for our cat since she may be motivated by the tuna like smell to eat the food without taking in mercury. It was an absolute success! Not only did she love the food enough to gobble it up; we experimented by adding more water to the food to see if she would still eat it. Even when we added 2X the water that was already in the food she still gobbled it up. This means she is getting the added benefit of drinking even more water then normal. Since proper water intake is very vital to long term cat health; I'm extremely happy with this product. So if you have a cat that's a picky eater I recommend that you try this food.
December 2, 2016
Rated

5

out of

5
 by
MBuck
A lot of good things.
Tried a lot of foods that had pumpkin in them, (our oldest has some issues) and this is the only one that both our boys not only ate, but loved. For some reason they are both also OK with the shredded chicken too. The ingredients all seem to be good, so what's not to like.
December 20, 2016
Rated

5

out of

5
 by
Catman
WELLUVA OR NOTHING
No carregean no vegtables etc etc etc. Cats lick plate clean first sitting.
December 15, 2016
Rated

4

out of

5
 by
Luv2cookny
Looks like real food for a change
My cats are very fussy and they love this food. It is moist but with meat chunks not like the pates. The order came perfectly wrapped and not one can was dented. Thank you Chewey!
December 2, 2016
Rated

5

out of

5
 by
Zatman
Like the pumpkin in it.
Must be good as the cats gobble it down. Haven't had any cat turn it down and it is good for them to have the pumpkin in there diet.
November 19, 2016
Rated

1

out of

5
 by
Gloria
Cats Won't Go Near It
I don't understand .... this has a 5-star rating .... and none of my cats will go near it. Most food they will atleast sniff it, or take a lick or two, but they start to get close to this and they turn away. I tried laying it right in front of them, and they get up and move ... very quickly. Trying to find new food for my itchy cat .... started with the 5-star ratings ... and like this food, it's not working out well. But, they like "some" of the Weruva Pouch foods. Another case of food to put with all the other cases they won't eat. This is getting expensive trying to find food my Torti who ended up itchy with the food she has been eating her entire life. Stopped itching immediately with the Weruva, TikiCat, etc .... but can't find a food she loves enough to eat frequently!
September 11, 2016