Catit Design Senses Circuit Cat Toy
Frequently Bought Together
---
About This Item
Expandable track.
Swirl-patterned ball catches cats' attention.
Peak-a-boo track triggers hunting instinct.
Great for multi-cat homes.
Large openings along the circuit that allows your furry friend to safely reach in and touch the ball.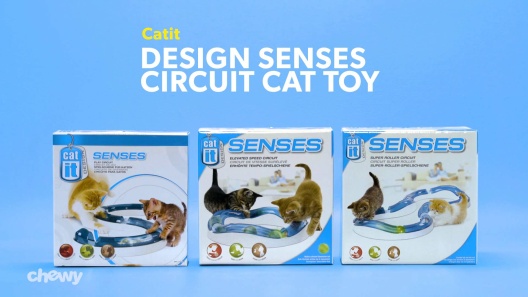 Learn More About Catit From Our Team of Experts
For replacement balls: [Click Here][]
---
Compare Similar Items
| | | | | | |
| --- | --- | --- | --- | --- | --- |
| | | | | | |
| Customer Rating | | | | | |
| Price | | | | | |
| Material | Polyester, Synthetic Fabric | — | Plastic | Plastic | Polyester, Synthetic Fabric |
| Toy Feature | Exercise | Glowing & Light-Up | Exercise | Catnip | Catnip |
| Toy Type | Games & Puzzles | Games & Puzzles | Games & Puzzles | Games & Puzzles | Plush Toys |
| Lifestage | Adult | Adult | Adult | Adult | Adult |
---
Questions & Answers
41 Customer Questions
---
Is it possible to replace the battery in the ball, or do I need to buy a new ball?
Answer by • Aug 18, 2018
The batteries for the ball aren't replaceable, however we offer replacement balls, the Catit Design Senses Circuit Motion Activated Illuminated Balls Cat Toy.
---
i have the super roller circuit. are there end caps for this toy or is it just a continuous circle?
Answer by • Nov 13, 2017
The ends (end caps) have a slight elevation which pushes the ball out from the ends into the track. The cat/kitten moves the ball around the track by using his paw in the holes in top of the track. You can also take any number of the upper covers off to give them easy access.
---
Can the super roller change from a figure 8 to a circle without extra pieces?
Answer by • Jun 29, 2019
This toy can be connected with other circuits to create a customized playtime experience for your cat, however, the pieces must be flat to the ground and a figure 8 position may not allow your cat to properly roll the ball throughout the unit.
---
Does the super roller version include the light-up ball, or do I need to pick that up separately?
Answer by • Nov 20, 2017
The Toy comes with the ball. We also carry the Catit Design Senses Circuit Motion Activated Illuminated Balls Cat Toy if you may need replacements.
---
---
---
By cattoy on Jul 27, 2022
A waste of money
I have 9 cats and 3 of then are 8 weeks old kittens. I bought this toy for all the cats to have fun, sadly the opening of the toy is super narrow, and only the kittens were able to play with it; As a result, I decided to modify it making the top wider, well I was able to cut 2 of the pieces with a utility knife as the material is hard. As I was cutting the plastic the knife slip and cut the palm of my hand long and deep. 12 stitches after and the problem was not solved. Other than that the idea is great, yet the result is not worth it.
---
By sickpuppy419 on Jun 29, 2022
Not for every cat.
I bought this toy 7 months ago and I'm finally writing a review. I have 2 cats, a large orange male and a tuxedo (black and white)female. My male cat wants nothing to do with it. My female can't get enough of it,in fact she has used it so much that I'm now ordering extra balls because she drained the battery in the one I have . My point is,this toy isn't for every cat. BUT..if your cat does like it then it will keep that cat entertained for months (or until you have to buy more balls for it.) I'm thinking I may just buy another one and hook them both together to make a larger track because she loves this thing so much.
---
By Kazuki on Jun 17, 2022
Cat owner for over 60 years
Years ago I bought the original flat toy, which minimally interested my 3 boys for a couple of days. I put it away for a while, as I rotate their toys so they don't get bored with them. When I brought it out again a month or two later, they had even less of a response to it, so I donated it to a shelter. I was excited about this one because of the hills. I thought once over the hills, the ball would gain speed, but the hills are so short height wise and width wise, the ball doesn't gain enough speed. Many times it doesn't even make it over the hills or stops at the bottom of them once the ball makes it over. Perhaps redesigning it with a heavier ball would help. The idea was great, but it appears it was designed more for cat owners appeal, and/or kittens, more than for cats. Owners want toys that will keep both their cats and kittens engaged for long periods of time. With the hills, this looked like a winer. It is not. Kittens may find it fun, but through 60 years of having both kittens and cats, kittens have so much energy they'll find almost any toy fascinating. Add height and width to the hills which means you may have to make the toy longer and test it on older adult cats, 7 years old or so, who need exercise and stimulation so the don't become couch potatoes! I for one would rather pay $50 for a toy my cats play with, then $25 for a toy that gets donated or trashed. Thank you.
---
By fingurl on Jul 23, 2022
Misty loves this!
At first, the ball that came with it was a little intimidating for them, so I replaced it with two table tennis balls and that helped a lot. Misty likes to play with this when I am not around, but I can hear her moving the balls around. Sometimes, she likes to snuggle between the tracks and take a nap!
---
By HollyS on Jul 12, 2022
Fun for all ages!
All three of my cats (ages 10 months to 9 years) love this. When not playing with it, two of them even like just sleeping near or on it. The track is easy to assemble, and while the cats do have a tendency to knock a couple of the top pieces off, it doesn't detract from play, and they are easy to pop back on.
---
By Sylvia on Jul 16, 2022
2 Cats in LOVE
My cats spend most of their time inside, alone for hours. When they do go outside, they are active hunters. So I never know how they will react to a new toy. The Catit Senses has enough varied movement to keep them interested. In fact, sometimes they'll lay on each side and bat the ball back and forth to each other. Highly recommend.
---
By JaxTheCat on Jul 17, 2022
Major parts missing!
Sadly, I want this toy to work but two major parts are missing. The two end caps were not in the box. Oddly, this box looks factory fresh which means the pieces were excluded when originally packaged for sale. Unless this is remidied, I have had my money stolen by a manufacteror who has sold something not as advertised.
---
By Ohgertie on Jun 16, 2022
Fun toy but has its issues
As others have mentioned, the slots are too small for full grown cats paws, but it works well if you don't put on all the track covers. I only cover the 4 raised parts so the ball doesn't fall off the hills. The lighted ball seemed to have a flaw where it wouldn't shut off for a very long time, and now it's dead after 2 months with not a lot of use. My cat seemed to especially like playing with the lit ball at night. It's a pretty cool toy but it could be improved.
---
By OrangeSoda on Jul 9, 2022
Good for kittens; senior cat, not so much
I could see kittens loving this, but our 12 year-old male cat really struggled. The spaces are too small for his arms. He would go after the ball and then he wasn't able to reach it far enough to bat at it. He'd quickly become disinterested. Removing some of the blue top plastic parts didn't help either. I think I played more with this toy than he did.
---
By Kira on Jul 23, 2022
She likes it
My 2 year old cat loves this toy! For an adult cat it is easy for them to pop off the tunnels and get the ball out especially if they are a rough player like my kitty. But she still loves it and now instead of the ball I put treats in it!
---