Catit Design Senses Circuit Cat Toy
By Catit
---
About This Item
Expandable track.
Swirl-patterned ball catches cats' attention.
Peak-a-boo track triggers hunting instinct.
Great for multi-cat homes.
Large openings along the circuit that allows your furry friend to safely reach in and touch the ball.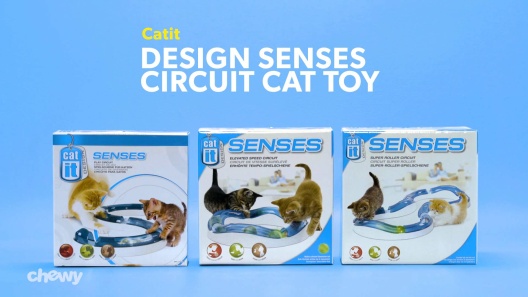 Learn More About Catit From Our Team of Experts
For replacement balls: [Click Here][]
---
Compare Similar Items
| | | | | | |
| --- | --- | --- | --- | --- | --- |
| | | | | | |
| Customer Rating | | | | | |
| Price | | | | | |
| Toy Feature | Exercise | Glowing & Light-Up | Exercise | Bouncy | Exercise |
| Toy Type | Games & Puzzles | Games & Puzzles | Games & Puzzles | Games & Puzzles | Tunnels |
| Material | Polyester | N/A | Plastic | Plastic | Polyester |
| Sport Team | N/A | N/A | N/A | N/A | N/A |
| Compatibility | — | — | — | N/A | — |
---
Questions & Answers
40 Customer Questions
---
Is it possible to replace the battery in the ball, or do I need to buy a new ball?
Answer by • Aug 18, 2018
The batteries for the ball aren't replaceable, however we offer replacement balls, the Catit Design Senses Circuit Motion Activated Illuminated Balls Cat Toy.
---
i have the super roller circuit. are there end caps for this toy or is it just a continuous circle?
Answer by • Nov 13, 2017
The ends (end caps) have a slight elevation which pushes the ball out from the ends into the track. The cat/kitten moves the ball around the track by using his paw in the holes in top of the track. You can also take any number of the upper covers off to give them easy access.
---
Can the super roller change from a figure 8 to a circle without extra pieces?
Answer by • Jun 29, 2019
This toy can be connected with other circuits to create a customized playtime experience for your cat, however, the pieces must be flat to the ground and a figure 8 position may not allow your cat to properly roll the ball throughout the unit.
---
Does the super roller version include the light-up ball, or do I need to pick that up separately?
Answer by • Nov 20, 2017
The Toy comes with the ball. We also carry the Catit Design Senses Circuit Motion Activated Illuminated Balls Cat Toy if you may need replacements.
---
---
---
By Syk0kat on May 8, 2022
Catch Twenty-Two
One of my 2 cats loves his track that he's had for a few years. The track is the same shape as this one. But when he smacks the ball, it races back around to him and he keeps it going. So I thought he would like this one, with the hills and valleys. But, I thought wrong. He hit the ball. Once the ball stopped going around and just stayed in a valley, he lost interest. I ended up putting in the storage room.
---
By catmom on Apr 27, 2022
Just a piece of junk
I don't have all the pieces, and the pieces I do have don't even fit together. I had to guess at how the pieces go and I would love to show you how weird it came out, but the picture won't upload. The ball is on the outside because it keeps coming out because I don't have the domed pieces that go on the end. The instructions are useless. This will go in the trash. Chewy, I don't have money to burn. Do better at what kind of toys you sell. My boy and I are disappointed.
---
By IvyS on May 5, 2022
Both our babies are well entertained
They play individually or together. Often one watching the other chase and pounce to knock the ball around. Has been in the house for only a week, yet so far so good. They've managed to get the ball out, so I've found it in the washroom or under the kitchen table, but just means they chase it around the rooms. I bought a replacement pack, just in case.
---
By Feelinfroggy025 on Mar 27, 2022
My cats are obsessed
My 2 younger cats love playing with this thing however a few of the plastic covers keep falling off. I noticed that some of them have a little clip at the end to hold in place and of course the ones falling off do not have that. Not sure why they all are not the same but I ended up using a heavy duty tape to secure them all in place. This would have been an awesome piece had all the parts been constructed the same.
---
By Maebird on May 3, 2022
Cats are obsessed
It was slightly annoying to build, and the top things come off somewhat easily, but once I got it together my cats loved it. They both go to it when nothing else is going on, even my cat who usually is less entertained by toys. Totally worth it for the price!
---
By ThreeCatsHere on Mar 2, 2022
Well, it was worth a try.
I thought among the three cats we have there'd be one that would really get into it. Turns out us humans are more into it than the kitties! We like showing them how it lights up and we like seeing their reactions which are attentiveness and swat now and then. But in terms of sustained play, or playing by themselves with it, didn't happen. They do care about it when we are sitting by it batting it around but I would rather be playing a wand toy with them if I am going to interact with them around. If I had to do it all over again I would not have bought it but then I would have always wondered if it would have worked for us. We've had it out for a couple weeks now. We will probably pack it up soon as it isn't worth the floor space it's taking. 4 stars because I can see it perhaps working for very young kitties (mine are 1.5 years and older) and it's built nicely.
---
By none on Apr 16, 2022
seemed like a good idea
At first my Aubree and Goolyamo were enthralled by it. But the balls stopped lighting up. So they have lost interest. I am training them to be Service Kitties, and this 'toy' apparently helped them solve a problem that I had created for them with another toy.
---
By Holli on Apr 4, 2022
Lovin' This Toy
I have a high energy orange cat who has fallen in love with this toy. He plays with it daily and it keeps him busy. I like that it is well made and the ball does not come out of the track. I bought extra balls but have not had to replace the original one as yet. I have recommended this toy to my cat owning friends and family.
---
By Samwow on May 3, 2022
A cat's best friend
I've had two versions of these and both cats have loved it! It's a go-to for instant kitty entertainment. For the price, and the fact that you can combine multiple sets together, it makes for a fabulous kitty toy.
---
By Riley on Mar 19, 2022
Kittens love it!!
Hands down best money I've spent on a toy! My two 5 month old kittens absolutely love this track! I got it on a whim in hopes that it would help keep them entertained and active while we are at work. I love the fact that the ball can't come out unless you take the track apart. They're entertained and I'm a happy cat mom so win-win all around!!
---