Catit Flower Plastic Cat Fountain, 100-oz
---
About This Item
Exclusive design provides 3 different water settings to entice selective drinkers—choose between a gentle flow, bubbling top or calm stream.
With no bowl for the water to pool in and a superior filter, this fountain keeps dirt, debris and other nasties out of your kitty's water.
Easily remove and re-attach the flower to strengthen or lessen the bubble flow when in the "bubbling top" mode.
Fountain is simple to assemble and disassemble for cleaning, so there's less hassle for you and more irresistibly clean water for her.
Made of BPA-free materials to be extra-safe and non-toxic for your best bud.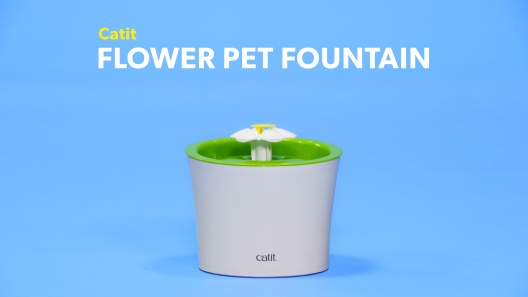 Learn More About Catit From Our Team of Experts
---
Compare Similar Items
| | | | | |
| --- | --- | --- | --- | --- |
| | | | | |
| Customer Rating | | | | |
| Price | | | | |
| Bowl & Storage Feature | BPA-Free, Lead-Free, Tip-Resistant | BPA-Free, Lead-Free, Tip-Resistant | BPA-Free, Lead-Free, Tip-Resistant | Dishwasher-Safe, BPA-Free, Lead-Free, Tip-Resistant |
| Capacity (Max) | 100-oz | 50.7-oz | 100-oz | 80-oz |
| Assembly Required | No | No | No | Yes |
| Material | Plastic | Plastic | Plastic | Plastic |
| Lifestage | Adult | Adult | Adult | Adult |
| Tools Included | — | N/A | N/A | No Tools Required |
| Compatibility | — | N/A | N/A | Plug-In Power |
---
Questions & Answers
60 Customer Questions
---
Does the filter remove fluoride from tap water?
Answer by • Dec 18, 2019
The filter does not remove flouride. The Catit Triple Action filter removes magnesium and calcium from tap water. These minerals can accumulate in your pet's lower urinary tract and lead to urinary tract diseases, which is a common health issue for cats. It also removes odors caused by bacteria and chlorine, and retains stray hairs, sediment and debris.
---
How do I clean the pump for the catit water fountain?
Answer by • Dec 21, 2019
If the pump appears dirty, it's recommended to open the pump and remove the impeller cap and impeller. Next, remove any debris from the impeller, and clean impeller thoroughly with a cotton swab.
---
Regarding cleaning, are the fountain parts dishwasher safe?
Answer by • Feb 22, 2019
This fountain is not dishwasher safe. You should wash and rinse the fountain with a soft sponge and a non-abrasive cleanser.
---
Is it okay to use an extension cord with this fountain?
Answer by • Jul 31, 2019
If an extension cord is necessary, ensure the connection is watertight and dust proof. A cord with a proper rating should be used. A cord rated for less amperes or watts than the appliance rating may overheat. Care should be taken to arrange the cord so that it will not be tripped over or pulled.
---
---
---
By Nick on May 17, 2022
Best Water Fountain
I love this fountain. Its easy to set up & clean. Kitty was slightly hesitant at 1st as he is timid with anything new. But he got over that pretty quick. I can tell he is drinking a lot more. He has a history of kidney stones & it's so important he drinks as much water as possible. This has been a lifesaver. The quality is great & it is very quiet. The cord is somewhat short but I just used an extension cord. This is only a minor complaint because the benefits are much more important to me. Got this at a steal & even had free shipping.
---
By Pagemaster216 on May 7, 2022
Love this fountain
I didn't like how my cats water bowl would get dirty and hairy and when I would wash dishes or my hands the cat would seem to be interested in the running water. For a few months I wasn't even sure if my cat was actually drinking from the fountain but I kept her water bowl out too just in case. After owning this thing for a while now I can say I've seen my cat drink from it many many times now and it's actually really cute too! I love that it filters out all the dirt and hair that she would normally get in her regular water dish. I would suggest buying a big box of replacement filters just to have a bunch on hand although I've only replaced mine once after 3 months of use.
---
By Nicki on May 9, 2022
Does the job
This did the job I wanted it to do and if you keep it filled constantly it doesn't get loud at all. I gave it four stars because I had some trouble getting the pump to work properly-- you have to line it up *just right* for it to actually pump out of the top, apparently even just a smidgen off and it won't work right. So that was irritating. Unfortunately my cat is a jerk and thinks this is a toy and keeps knocking it over, even when it's completely full and I got tired of having to clean up the mess so I went with a giant heavy stoneware dish he so far hasn't been able to budge.
---
By lifesaver on May 18, 2022
fountain of life
Last year I bought a big sturdy stainless steel water fountain. Everyone in my home (2 cats, one dog) walked as far around as they could. MY guy Joe has kidney disease and getting him to drink enough fluids has always been hard. Enter this cute thing. Both cats hang out at the "water fountain" now and Ihave to fill it daily. Too cute!
---
By imded on May 15, 2022
My Cats Keep Ripping It Apart
Fountain is great since we bought it a year although my cats keep ripping it apart. So it's barely working at this point. The construction is too flimsy and easy to pull off. It doesn't have anything holding the flower part in place and it can all be easily ripped out. My carpet would know from the fountain being ripped apart and poured on the carpet.
---
By catlady on May 8, 2022
Seems to work well for our kitten!
We adopted our first kitten about six weeks ago and I wanted to get a fountain to encourage him to drink enough water. His foster had this model so I figured I'd give it a try. He seems to drink from it consistently and it's pretty easy to take apart and clean. Cleaning his litter box also seems to confirm that he's getting enough water. So far no complaints!
---
By Lily on Apr 26, 2022
Perfect for thirsty kitties
My cats are obsessed with trying to drink the water from my fish tank, bath water, and water from cups. This is perfect for encouraging them to drink more and stay hydrated because they love the fresh running water so much more than still water in bowls. They're very polite cats and haven't tried to play with the fountain, but it's very sturdy and would be hard for them to break. They love it :)
---
By galgar on Apr 21, 2022
Cats love it!
Since we got this, our cats are so much more hydrated that they've lost interest in drinking from faucets. The Catit works well and is pretty easy to clean but the instructions for doing so could be much clearer. I had to watch the short video several times to understand the process. And while I knew the fountain should be cleaned regularly, I wasn't sure what that meant. The manufacturer said weekly in response to an email.
---
By KittyMom on May 7, 2022
Flower Cat Fountain
I bought this because my cats like to drink out of the bathroom faucet or tub faucet. It took them about a week to realize they could have water running all the time and not have to wait on me to turn the faucets on to a trickle. I don't know how I lived without it before now.
---
By JoJo on Apr 3, 2022
Took them awhile to finally drink from it!!
My two kitties aren't easy to start on new things and it took them about 2 weeks to eventually decide to drink from it. I left a regular bowl of water and this right next to it so they could try either. Well, they empty their regular bowl of water and didn't touch the the daisy flower at all!! So I took the daisy off and it was a constant bubbling of water! They loved it without the flower and have been happily drinking from it since then!!!! They Love It!! Sincerely, Jo Jo
---