Catit Flower Plastic Cat Fountain, 100-oz
Frequently Bought Together
---
About This Item
Exclusive design provides 3 different water settings to entice selective drinkers—choose between a gentle flow, bubbling top or calm stream.
With no bowl for the water to pool in and a superior filter, this fountain keeps dirt, debris and other nasties out of your kitty's water.
Easily remove and re-attach the flower to strengthen or lessen the bubble flow when in the "bubbling top" mode.
Fountain is simple to assemble and disassemble for cleaning, so there's less hassle for you and more irresistibly clean water for her.
Made of BPA-free materials to be extra-safe and non-toxic for your best bud.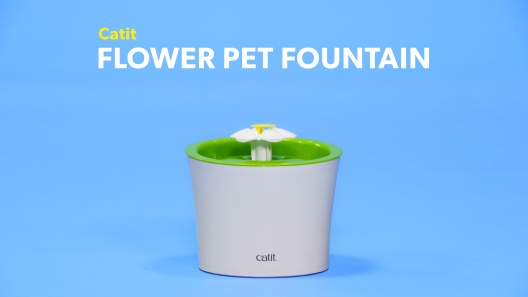 Learn More About Catit From Our Team of Experts
---
Compare Similar Items
| | | | | |
| --- | --- | --- | --- | --- |
| | | | | |
| Customer Rating | | | | |
| Price | | | | |
| Bowl & Storage Feature | BPA-Free, Lead-Free, Tip-Resistant | BPA-Free, Lead-Free, Tip-Resistant | Automatic | Dishwasher-Safe, BPA-Free, Lead-Free, Tip-Resistant |
| Capacity (Max) | 100-oz | 100-oz | 75oz | 80-oz |
| Assembly Required | No | No | N/A | Yes |
| Material | Plastic | Plastic | Plastic | Plastic |
| Lifestage | Adult | Adult | Adult | Adult |
| Tools Included | — | N/A | N/A | No Tools Required |
| Compatibility | — | N/A | N/A | Plug-In Power |
---
Questions & Answers
59 Customer Questions
---
Does the filter remove fluoride from tap water?
Answer by • Dec 18, 2019
The filter does not remove flouride. The Catit Triple Action filter removes magnesium and calcium from tap water. These minerals can accumulate in your pet's lower urinary tract and lead to urinary tract diseases, which is a common health issue for cats. It also removes odors caused by bacteria and chlorine, and retains stray hairs, sediment and debris.
---
How do I clean the pump for the catit water fountain?
Answer by • Dec 21, 2019
If the pump appears dirty, it's recommended to open the pump and remove the impeller cap and impeller. Next, remove any debris from the impeller, and clean impeller thoroughly with a cotton swab.
---
Regarding cleaning, are the fountain parts dishwasher safe?
Answer by • Feb 22, 2019
This fountain is not dishwasher safe. You should wash and rinse the fountain with a soft sponge and a non-abrasive cleanser.
---
Is it okay to use an extension cord with this fountain?
Answer by • Jul 31, 2019
If an extension cord is necessary, ensure the connection is watertight and dust proof. A cord with a proper rating should be used. A cord rated for less amperes or watts than the appliance rating may overheat. Care should be taken to arrange the cord so that it will not be tripped over or pulled.
---
---
---
By Clyde on Jun 9, 2022
Cats love it!
I purchased this as a birthday present for my cat Max that needs to drink more water. Max and my other cat Clyde approve of this fountain and are drinking more water. I took the yellow part out of the flower as Clyde loves to drink from the top of it as he is a larger cat. Max drinks from the water flowing off of the flower petals. It is quiet and easy to assemble. It holds enough water for several days as I found when I went on vacation for three days the cat sitter did not have to refill the water. Clyde is a Maine Coon and loves to play in water and with this fountain he no longer puts his feet in the water to play. The water stays much cleaner so both cats drink more water now.
---
By casharooney on Jun 17, 2022
Great until pump quit
This is my second water fountain. I gave the first one to my son when he moved to a rent house and took our cat with him. I recently adopted a cat and bought this fountain for her. It worked great until one morning when I was surprised that the pump wasn't making it's familiar hum. I fiddled with it, checked the electric outlet but the pump wouldn't work. Now I'm back to a traditional water bowl for my new cat. Not happy about losing money on this fountain.
---
By Marian on Jun 13, 2022
Does Not Work
I purchased this and set it up initially and it worked fine. I was unsure about how often I should change the filter so I changed it after one week. Since then, I have not been able to get the filter to work at all. I see it bubbling up but nothing is coming through the top. There is no way for my cats to drink the water. I may just remove the top and let them drink from the container. I am very dissatisfied with this. I really don't have money to replace this or to purchase another fountain.
---
By Misty on Jun 2, 2022
Even finicky drinkers love it!
First of all, it's darling! Come on, it's a daisy!! But it also resolved an issue of one of our cats who wouldn't drink enough water. All our cats and also our dogs love drinking from it. Took only one day for everyone to catch on. Very quiet, too. It has a little window to see when it needs to be filled up but honestly it's so quiet that when I do hear the pump, I know it needs water added. I originally bought 2...one upstairs, one down. Just bought another one for our bedroom because our eldest cat prefers to hang out there. Don't forget to order a box of filters for it. I always use filtered water in it but am amazed how dirty the fountain filter gets.
---
By Taylor on Jun 11, 2022
cat can tip it over
My cat loved this fountain for awhile, but he has now found a way to tip it and spill the water all over my carpet. I have no idea how to stop him from doing it or why he's doing it. But he has done it twice now and completely soaked my carpet. He bites the lid and takes the whole top portion of the fountain off and can then tip over the fountain. Super bummed as this was a little more spendy and now it seems I won't be able to use it unless I want to have my carpet get soaked.
---
By Archieboy on May 26, 2022
Worked great for a year
This water fountain worked great for about a year but then went downhill very fast. I always routinely changed the filter and cleaned the fountain but after about a year it started to get very gross. I had to start changing the filter about every 1-2 weeks instead of 3-4. There was constantly black build up around all pieces of the fountain. When I would run the pump under water, large black pieces of build up would fall out. I had to start cleaning it every few days and could still never get it completely spotless. Then the filters just stopped doing their job and eventually there was bacterial slime build up on the actual filter. Looked like a slug or big slime bubble. Ended up tossing the whole thing. Changing to a stainless steel water fountain.
---
By catfriend on Jun 16, 2022
It's cute but
of course cats love flowing water, it prevented my cat from jumping up and licking the faucet for a while but after a week I went to clean out the bowl and there was a slime covering every part of the fountain. If you're going to get your cat a fountain get a stainless steel or a ceramic one to avoid the bacteria. I wouldn't say this fountain is worth your time and I regret wasting the money on it.
---
By Lauren on Jun 7, 2022
Cat Favorite
My cat loves this water fountain so much, I have probably bought over 5 of this same fountain. The top is adjustable, so you can adjust the water flow to your kitties preference. Our cat used to love to drink out of the sink, and I feel like this water fountain does a good job of replicating that same feeling and it provides an easy way for cats to get them much-needed hydration. I have bought over five different types of water fountains, and this had always been the favorite.
---
By HighExpectations on Jun 6, 2022
Pros And Cons
I've used this cat fountain, among others, for about 5 years now. There are pros and cons to this fountain. The pros being it's quiet, and the cats seem to like it. I also cannot overlook the ''cute'' factor of this product. Many people have commented on it when they see it. The cons are the filters are pricey and really need to be changed every 3 weeks. Also, don't expect it to last more than a year. In fact, you're lucky to get a year. But for the price that's not bad.
---
By Hank on May 30, 2022
A+ for my cats
All our cats, but especially Hank, the 17+ year old guy, just love this fountain. Hank actually talks to it, too. All the cats much prefer this to a water dish. The stray kittens we have right now stand up to drink from it, rather than use the always available bowl. Make sure you clean it regularly, using a brush or similar to get inside the tubes. It only takes a few minutes, and well worth it. I'm going to get a 2nd one so there will always be a fully dry one when the other is washed and drying.
---