ChickenGuard Locking Combi Extreme Chicken Coop Door Opener & Self Locking Door Kit
---
About This Item
2-in-1 kit helps provides extra security for your hen friends.
The door opener is fully automated to give you peace of mind, flexibility and freedom.
The Extreme Chicken Coop Door Opener features a door lifting capability of 4 kg/ 8 lb.
Door automatically locks when closed to keep predators from lifting it.
Multi-language set-up.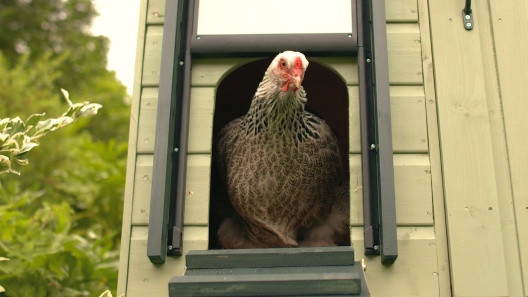 Learn More About ChickenGuard From Our Team of Experts
---
---
Questions & Answers
10 Customer Questions
---
What is the difference between the extreme and regular coop opener (both with the locking door)?
Answer by • Jan 03, 2021
The ChickenGuard Locking Combi Extreme is designed for extreme weather conditions (20 degrees Celsius, -4 degrees Fahrenheit. ).and the motor is upgraded to an impressive 4kg/8lbs capacity. This makes it ideal for use with larger, heavier doors and commercial coops, to keep foxes and other predators out of your hen houses. The ChickenGuard Locking Combi Premium Chicken can lift 1 kg/ 2 lb and operates on temperatures of -10 degrees Celsius and 14 degrees Fahrenheit.
---
I live in an area that has raccoons as well as bear and other predators. from the reviews I read if there is a gap at the top of the door, what's keeping predators from being able to grab the door and pull it out. I realize it has tracks on the sides, is the whole thing made of plastic?
Answer by • Jun 08, 2021
This locking door has been designed to provide the maximum protection against predators for your hens, and therefore provide maximum peace of mind for yourself. It made from 100% recycled tough and durable plastic and features a strong aluminum door.
---
What is the over all size/area needed to install the door, rails and control box?
Answer by • Apr 20, 2021
Please see the attached photo for measurements. Based on these, you will need to calculate the size required, bearing in mind you must leave approximately 3.5 inches between the top of the fully open door and the base of the ChickenGuard unit.
---
what batteries does it require and how long do they last
Answer by • Oct 24, 2021
This door opener is powered by 4 x AA batteries (included) or electric powered via USB (cables not included). There is also a low battery warning to indicate the batteries need to be changed. The red flashing warning light is to let you know when the 4 x AA batteries are getting low. Batteries need replacing approximately every 6 months. Always use 4 x AA disposable batteries. Avoid rechargeable batteries as they can dip in voltage in colder weather.
---
---
---
By ChickenGuard on May 31, 2022
I don't recommend
Motor only worked for 2 weeks. Not I'm trying to figure out what to do since it's past the return date.
---
By ukcat on Nov 24, 2021
Love this!
Decided to get this now the mornings are dark when I leave for work. The instructions are lacking. I emailed the company for a template and they at least sent that promptly, and watched an independent YouTube video with decent instructions. You will need to cut a 10 inch wide x 12 inch tall hole for this door. I used a piece of OSB to create the hole, having removed the hard-wire cloth from a panel of the coop. I then had to build it out by adding wood to the sides, and top and bottom edges to seal the gaps from predators. This makes the height slightly smaller than 12 inches. One chicken used this the first day to leave the coop. The others followed the following day. I typically open the main door midday, so not sure if they know they can get back in the same way they got out. Apart from the poor directions, this has been an excellent purchase. Some of the chickens are quite large and they fit through fine. Set up is with a light sensor, time, or combination of both. I used the timer function and it has worked consistently so far. The door locks in the down position. Very happy with this purchase would highly recommend.
---
By Edgewise on Jan 10, 2022
Babysit your tools
I've had this for for several months and I don't think it has worked more than 5 days in a row yet. Lately the string breaks. Yes the string is plum. Yes the frame is level. Any moisture moves the wood slightly, any frost makes the little butchers twine weak. I run a mixed use farm. This is my full time job. Chicken Guard is my least reliable tool.
---
By Pated on Jan 24, 2022
2nd time buyer
I am surprised that my new chickenguard goes through so many more batteries than my first one. My first one usually lasted 11 months on the batteries and this one lasts only two months. Each time the batteries are replaced you must reset the time and recalibrate the door.
---
By cth12989 on Jan 23, 2022
chicken door
I do not recommend this for anyone that loves in cold weather. Our door has repeatedly froze up. We bought the "extreme" rated door, hoping that it would work in the temperatures that it was advertised for. It did not. Again so not buy if you live in an area that gets snow.
---
By ChrisAnn32 on Oct 6, 2021
Easy install with directions that are lacking.
I wish it was made with more metal than plastic, but I haven't run into any issues with it, yet. Installed and running manual mode for two days now. It did take me three tries to get it calibrated, but trial and error prevailed. This was the only place I found the door and opener packaged and sold together.
---
By Tammy on Sep 18, 2021
Product dead on arrival
Very disappointed would not even come on. Tried different batteries nothing! Now fedex has got return in limbo very frustrating
---
By renee on Jun 5, 2021
Item was bent
Just opened the box for my chicken guard extreme automatic door opener and door and the little metal prongs where you would plug the motor in are bent completely over. The opener was just sliding around in the box when I got it. I just hope it works when I get it all set-up
---
By Alysha on Mar 27, 2021
Highly recommend
First I want to thank Chewy for amazing customer service. I placed an order and received the wrong item but chewy immediately fixed and shipped the correct product the same day I reached out. Thank you! If you have chickens this door is a must! I no longer have to go let the chickens out every morning and I don't have to lock then up at night #lifesaver. I've been using it for about 2 weeks now and am obsessed. My coop is attached to a barn so it gets shade. I use the timer and it works like a charm.
---
By Melissa on Jan 2, 2021
Convenient
The door is pretty good. I'm glad I won't have to rush to get the door open in the AM or PM in the cold Wisconsin weather anymore. There is one thing I would change. I have the door mounted outside of my coop. The back of automatic door does not sit flush with the back of the track. This means there is probably about a 3/8" gap between the door and the outer wall of the coop. I did make the opening on the coop slightly smaller than the door so looking at it from the front, there is no gap. However; looking at directly from the top or bottom, there is a visible gap. Since I have about a 4ft by 4 ft coop, I worry that this will cause drafty conditions for my chickens. A small draft may also come through where the hole for the locking mechanism is. I'm planning on getting some materials to help seal the gaps, but to me, I do feel like that could be remedied if they designed the door to sit flush with the track and the locking mechanism was a notch rather than a hole. Regardless, I do quite like the automatic door feature and am thankful for the convenience. It's fairly easy to install and the chickens caught on right away. With a few modifications it will be the perfect door!
---