Clevercat Top-Entry Litter Box
---
About This Item
Features a unique top-entry design that nearly eliminates tracking, prevents over-the-edge spills which helps to keep your home cleaner.
Keeps litter in, making it excellent for cats who love to dig and kick litter.
Partially covered top reduces litter box odor and helps to keep your home fresh.
It keeps most dogs out so it's perfect for multi-pet homes.
Cats and kittens adapt quickly with no training necessary, and they just love the added privacy.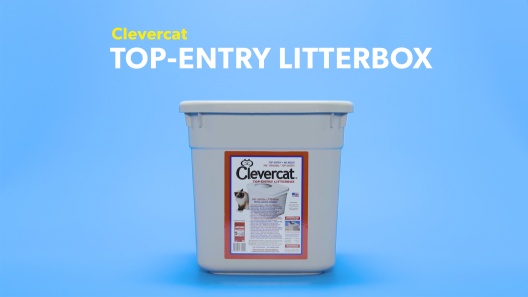 Learn More About Clevercat From Our Team of Experts
---
Compare Similar Items
| | | | | | |
| --- | --- | --- | --- | --- | --- |
| | | | | | |
| Customer Rating | | | | | — |
| Price | | | | | |
| Litter Box Type | Top Entry, Covered | Top Entry, Covered | Top Entry, Covered | Top Entry, Corner, Covered | Covered |
| Material | Plastic | Plastic | Plastic | Plastic | Plastic |
| Lifestage | Adult | Adult | Adult | Adult | Adult |
| Assembly Required | N/A | — | — | N/A | N/A |
| Tools Included | N/A | — | — | N/A | N/A |
| Litter Feature | — | N/A | N/A | — | — |
| Potty Feature | — | N/A | N/A | — | — |
---
Questions & Answers
24 Customer Questions
---
Can it be used without liners?
Answer by • Dec 02, 2017
This litterbox works great on its own and even better with Clevercat Jumbo Litter Box Liners.
---
What liners do you use with this specific one? It looks like this brand doesn't make a liner to go with it and I don't see a liner that will fit it correctly.
Answer by • Aug 17, 2018
The Clevercat jumbo litterbox liners are currently available via the manufacturer.
---
For the dimensions - which is the height, which is the width, and which is the length?
Answer by • Jun 24, 2017
The dimensions of this litter box are 20 inches length x 15 inches width x 15 inches height.
---
Is the bottom completely flat for easy scooping, or are there channels? Thanks
Answer by • Jul 09, 2017
The bottom of the Clevercat Top-Entry Litterbox is flat.
---
---
---
By RhAnJe on May 1, 2022
Tough to Wrestle off the Lid
This litter box lid is great at catching stray litter that clings to either the kitties's paws (3 cats - 4 different litter boxes) or behinds as they exit the litter box. It's sturdy, not falling over. Fantastic for kitties that devote more time to pawing at the litter box sides when they've finished their business than actually answering mother nature's call. I just gave this litter box away because it was really tough to wrestle off the lid when it was time to scoop and clean it. I wouldn't deduct one star because of a persnickety kitty, that's not the fault of the design. I would and did deduct one star because of the unfriendly wrestling off of the lid that happened on the regular. I'd lift one corner, then another, and then two other sides locked on to their opposite sides and it was a wrestling match that I never won, just to scoop and clean. And believe me, I tried all kinds of methods and directions to easily lift off this lid. Just became an annoyance that I didn't want to fuss with any longer. I have another brand of top entry litter box which allows the lid to easily be popped off with just one hand, and without wrestling with it with both hands and unequal leveraging too. I'll stick with that. If this company makes the lid easier to take off, with just one hand, this might be an ideal top entry design.
---
By Sharon on May 4, 2022
Buy this Litterbox
I cannot recommend enough. No urine leaking from the box seams- because there are no seams. 90% of the litter formerly tracked through the house is caught in the textured top. My cats seem to love the privacy (can't really speak for them) since they can either duck down or poke their head out. To introduce, I placed the top-entry box in front of the old litterbox with some used and fresh litter. 2 days later- total transition. I love it.
---
By Bonnie on Apr 29, 2022
Buying my third one
After going through so many other litter boxes I tried Clevercat and loved it for our first cat who some how used to pee sideways so his uring got all over. On this one he did not do that once. When my daughter moved in with her cat I bougjht another one. But I had the first one so long that the coating on the corners where he peed wore out so I purchased another one to replace it! So neat and clean!
---
By Ginger on Apr 14, 2022
I had such high hopes
I feel badly giving this litter box a poor review because I have friends that swear by it. I followed all the directions to acclimate my cats—no lid, added litter from the other boxes as well as urine clumps and feces. Tried it with the top. Tried it near the other boxes, in another room. My two seven year old cats wouldn't go near it. It's been over two weeks, and I now own a very expensive storage bin with a whole in the top.
---
By Angela on May 22, 2022
Less mess!
I have one cat that likes to kick the liter out of the box when using it. I have tried liter boxes with lids and even with doors. Still a mess. This one is so much better! I will get another!
---
By beepboop on Apr 1, 2022
Worth buying
I've had this for a few weeks now, and it was definitely a good upgrade. My cat adjusted to it without any problems, there's less litter on my floor, it's actually easier to clean than his old box, and I feel like the litter box smell is more contained. (Also my dogs have not bothered it which is great as well)
---
By WindyNV on Feb 4, 2022
Top-Entry Litter Box worked for Feliks
When I adopted Feliks in Oct. 2021, I have had a "devil of a time" finding the right litter box. He is a "digger & a thrower". I had a hooded litter box- he threw the litter out the door - I obtained a high entry litter box - he still managed to throw it out the door. All I was doing was sweeping up litter all of the time. I was exasperated as to what to do. I finally tried this Top-Entry Litter Box and the problem has been solved! He took to it right away. I set a low child size wood chair next to it in case he felt it was too high. I have very little litter mess - it's on the large mat underneath the litterbox (where it should be) and not all over the floor. It is a bit difficult to clean because it is big & deep - I take it out in the yard and use the garden hose or clean it with disinfecting wipes. I'm just happy that the problem is resolved!
---
By Obsessedwithcats on Apr 21, 2022
Private privvy
This is the second Clevercat litter box for our household. One is in the laundry room and one in the master bath. The top catches most of the litter and my kitties really like the privacy.
---
By Josie on Feb 24, 2022
Good for a cat who sprays inside a litter box
My cat doesn't go anywhere but the litter box, but he would spray straight back and sometimes it would shoot out the back, even with a high back box. He doesn't spray in this litter box. He seems to love the privacy in this litter box. Highly recommend.
---
By Sophie16 on Dec 30, 2021
Game Changer
I have a cat who...likes to be unnecessary when it comes to covering waste. Everyday used to be like clean up after a day at the beach. Since this thing, he can build sand castles, dig to China, I don't care what cause I wouldn't know the difference. It doesn't contain every bit of scatter - they do have to get out of the box, but is absolutely worth the money and is excellent quality. Could be a bit bigger but that is inconsequential to the overall value of what this purchase is providing. My cats adapted surprisingly quick - and seemed to prefer it at times over their traditional box. Transitioning was literally nothing...no accidents or confusion. Seems like it'd be a good size to accommodate most spaces too.
---