Comfy Cone E-Collar for Dogs & Cats, Black
Frequently Bought Together
---
About This Item
Three fuzzy fastener strips help achieve the ideal cone shape and fit; includes a reflective edge for added safety and elastic loops at the neck to thread your pet's collar through for a secure fit at the neck.
Can be reversed to cover the neck and upper chest; also conforms to doorways, pet doors and other openings to allow full, natural freedom both indoors and out.
High-quality e-collar is made from tight gauge, foam-backed, padded nylon that's water-resistant and easy to clean.
Unique veterinarian-tested and approved design features removable plastic stays that allow you to adjust the rigidity of the cone to fit you and your pet's specific needs.
Opaque material helps keep pets calm by reducing shadows and distorted views that can cause nervousness and stress.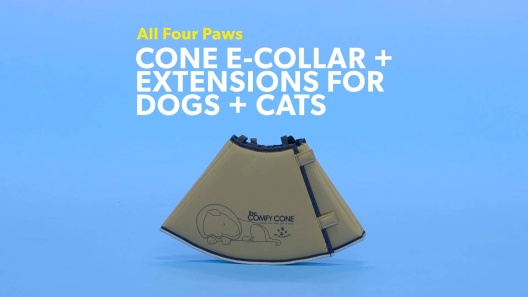 Learn More About All Four Paws From Our Team of Experts
---
Compare Similar Items
| | | | |
| --- | --- | --- | --- |
| | | | |
| Customer Rating | | | |
| Price | | | |
| Breed Size | Large Breeds | Giant Breeds | Medium Breeds, Large Breeds |
| Health Feature | First Aid | First Aid | First Aid |
| Lifestage | Adult | Adult | Adult |
---
Questions & Answers
21 Customer Questions
---
Can they eat and drink with the cone on? Also.is it possible to lock a front paw with it on?
Answer by • Feb 08, 2018
This product prevents pets from reaching the wounded, sensitive or irritated area while still allowing her to walk, eat, sleep and play comfortably.
---
I would love to know the depth measurement of the small collar. Thanks
Answer by • Apr 02, 2020
The neck to snout length is the actual depth of the Comfy Cone from top to bottom. Make sure your pet's snout does not exceed the length of the cone. Please see the attached image for sizing.
---
Is this collar safe to leave on while I'm at work?
Answer by • Jun 09, 2019
As with any medical devices, please supervise your pet when they are wearing it.
---
Anyone use this on a cat or kitten? Does the pet need to wear a collar to use it or can it be used alone?
Answer by • Oct 04, 2017
The Comfy Cone E-Collar for Dogs & Cats does not require a collar to operate correctly.
---
---
---
By Jenks on Aug 29, 2022
Much more comfortable
My dog had to wear the "cone of shame" after getting neutered. This cone seems to be much more comfortable than the one they sent him home in. He was able to sleep comfortably. We did take it off for him to eat. The only drawback is our dog's peripheral was non -existent when wearing the cone. He bumped in things when he walked. This happens in regular translucent cones as well. But I would definitely recommend this over the plastic version!
---
By LindsayCA on Aug 20, 2022
Wrong shape, too cylindrical
I got this in X-Small to use for my 8 lb cat. The base of the neck fit around my cat's neck fine. It was a little loose on the tightest setting however I did not leave it on her long enough to test whether it was snug enough to stay on if she tried to remove it. The main problem for my cat was that the overall shape was more like a cylinder than a cone. It touched her ears/whiskers/chin/top of her head. The product needs to open more / be more of a cone shape in order to work with a cat. I don't think it should touch their whiskers.
---
By Tedders on Aug 9, 2022
Softer but heavier
It seems comfier to lie down in, but is also heavier and not transparent like traditional cones, so our dog had a harder time walking around and would bump into a lot of things since he couldn't see as much. We would leave it on our dog overnight while he was sleeping.
---
By Becca on Aug 31, 2022
Not for my dog
I personally can't recommend this cone as it doesn't work for my dog. No matter what I try or what adjustments I try, he gets it off within 5 seconds tops.
---
By Pmmm on Jun 8, 2022
Definitely seems more comfortable
My dog had one of those standard plastic cones after a surgery. It seemed that it was a little short and she might be able to lick the site. I also thought she was uncomfortable and decided to try this out because it was slightly longer. It worked great. She stopped trying to lick the surgery area and seemed more willing to do things on her own (like eat and drink water, without me having to go old the bowls for her). I think it was she plastic loop/tabs, that with a string or something hold the cone around her neck, on the original cone that were the most uncomfortable. This cone has flexible fabric loops so they don't poke her. This cone is also more easily adjustable so we were able to get a great fit.
---
By Anne on Jun 5, 2022
Can't keep it on a dog with a small head
I needed a cone collar for my large Australian Shepherd, who has a relatively small head compared to his overall size. I just can't keep it on him. Even with his regular collar adjusted to be so tight that it must be really uncomfortable, he grabs the soft cone with his front feet and pulls the whole thing, cone attached to nylon collar, over his head. He can't remove his collar by itself even when adjusted larger, but the big cone gives him a lot of fabric to grab onto and pull. I guess the horribly hard plastic ones from the vet stay on because the dog can't grab the slippery plastic with his paws. It seemed like a good idea, and I'm going to keep it in case I ever need one for my Golden Retriever, who has a much bigger head relative to his neck.
---
By ehlerzajane on May 30, 2022
Perfect for Fragile Skin!
I have had two dogs with Ehlers-Danlos Syndrome (EDS) - a genetic collagen disorder that makes any connective tissue (especially the skin) very fragile and prone to injury. These dogs would get huge lacerations from something as simple as rubbing against the edge of a table, or get cuts on their feet from walking on pavement or pea stone. Because of their EDS, they needed to wear outfits and e-collars to minimize the risk of new injuries or chewing at existing ones. However, regular plastic e-collars were too rigid and could cut their skin. The Comfy Cone was the perfect solution. It is structured enough, especially with the ribs left in, to keep the dogs from reaching their wounds, but soft enough not to create new ones. As a vetmed professional, I also love that it comes in "extra long" sizes, as many breeds have narrow necks that make sizing standard plastic e-collars difficult.
---
By Elizabeth on Jun 28, 2022
Best cone ever
I have a very active pit that knows how to get out of a traditional plastic cone. She cries while she's in then and has trouble sleeping because she's uncomfortable. With this cone she is living her best life. She hasn't taken it off and is able to eat, drink, and lay down/sleep without any issues. I definitely have more peace of mind because she looks more comfortable.
---
By ZMac on Jul 20, 2022
Comfy Cone
This is so much better than the hard plastic cones originally issued. It is more comfortable for my dog and makes it easier for her to eat and drink and also get around the house.It does not hurt your legs when your pet runs into you. I recommend it
---
By DaneMama on Sep 23, 2022
Okay For Surgery
I think this would work well for my Great Dane but I really don't need it and I don't know how to return it
---