Comfy Cone E-Collar for Dogs & Cats, Black
---
About This Item
Three fuzzy fastener strips help achieve the ideal cone shape and fit; includes a reflective edge for added safety and elastic loops at the neck to thread your pet's collar through for a secure fit at the neck.
Can be reversed to cover the neck and upper chest; also conforms to doorways, pet doors and other openings to allow full, natural freedom both indoors and out.
High-quality e-collar is made from tight gauge, foam-backed, padded nylon that's water-resistant and easy to clean.
Unique veterinarian-tested and approved design features removable plastic stays that allow you to adjust the rigidity of the cone to fit you and your pet's specific needs.
Opaque material helps keep pets calm by reducing shadows and distorted views that can cause nervousness and stress.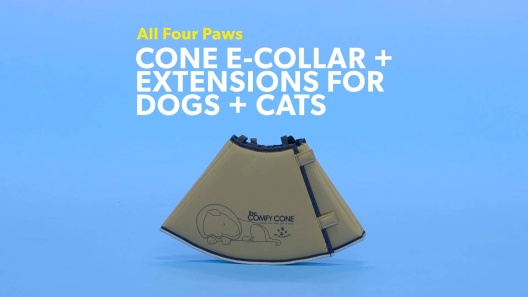 Learn More About All Four Paws From Our Team of Experts
---
Compare Similar Items
| | | | | | |
| --- | --- | --- | --- | --- | --- |
| | | | | | |
| Customer Rating | | | | | |
| Price | | | | | |
| Autoship | — | — | — | — | — |
| Breed Size | Extra Small & Toy Breeds | Extra Small & Toy Breeds | Large Breeds, Medium Breeds, Giant Breeds | N/A | Medium Breeds, Large Breeds, Giant Breeds |
| Health Feature | First Aid | First Aid | First Aid | N/A | First Aid |
| Material | N/A | N/A | N/A | Polypropylene, Plastic | N/A |
| Lifestage | Adult | Adult | Adult | Adult | Adult |
---
Questions & Answers
20 Customer Questions
---
Can they eat and drink with the cone on? Also.is it possible to lock a front paw with it on?
Answer by • Feb 08, 2018
This product prevents pets from reaching the wounded, sensitive or irritated area while still allowing her to walk, eat, sleep and play comfortably.
---
I would love to know the depth measurement of the small collar. Thanks
Answer by • Apr 02, 2020
The neck to snout length is the actual depth of the Comfy Cone from top to bottom. Make sure your pet's snout does not exceed the length of the cone. Please see the attached image for sizing.
---
Is this collar safe to leave on while I'm at work?
Answer by • Jun 09, 2019
As with any medical devices, please supervise your pet when they are wearing it.
---
Anyone use this on a cat or kitten? Does the pet need to wear a collar to use it or can it be used alone?
Answer by • Oct 04, 2017
The Comfy Cone E-Collar for Dogs & Cats does not require a collar to operate correctly.
---
---
---
By Durable on Apr 28, 2022
Sturdy, Comfortable product
My dog is 120 pounds of muscle and stubbornness! He has successfully seen the demise of two prior cones. This one has lasted! The elastic loops that go around the collar did not hold against him lodging the cone in a bush and the subsequent tugging. That is more indicative of his force than the quality of the product. The velcro holding the cone together does its job despite being covered in long dog fur! I keep the stays removed. My dog sleeps soundly with this cone in place. The material allows for easy cleaning and quick drying. Would definitely recommend.
---
By Laps on Apr 16, 2022
Best E Collar
My dog recently underwent surgery and was discharged with a typical clear plastic E collar and while effective in preventing him licking the surgical site, it was terribly uncomfortable for him, especially when trying to lay down and rest. Plus the clear type collar is completely stiff, with no 'give' when he encountered doorways, etc. Then I found the Comfy Cone, immediately purchased it from Chewy and he was noticeably less anxious wearing it, and remained so for the two weeks it was required. The Comfy Cone is also very easy to put on and take off and also to clean. Its a big advantage over the typical clear plastic collars.
---
By bluebarrypaws on Apr 12, 2022
do not recommend
I was so excited for this to work. I read the reviews, saw the pics and banked on it working for my pup. He was neutered today and I made the mistake of taking his plastic cone off (the one from the hospital) and putting this on. It's super easy for my dog to take off. Most importantly, the real reason I bought it was because I was excited about bending it the other way so that he could scratch his face if needed. Unfortunately, when wearing it in the other (advertised) direction, he face plants onto the floor literally hurting himself on the process because his legs get trapped in the cone. He's not a short legged dog. Very frustrated with this.
---
By Mango on May 7, 2022
Did not work
My dog did not like this cone at all, and it was MUCH easier to just use the cone provided after her surgery. I don't think she liked that it was opaque, and it didn't seem that comfortable since it was fairly heavy/cumbersome as compared to the regular clear plastic cone. I would just use the cone provided, or get the nicer-type clear, plastic cones.
---
By Poordoggie on Apr 10, 2022
If your pet needs to wear one, this is about as good as it can get
All cones are a bother, both for your dog and for you, but if your pet needs to wear one, this is the way to go. Our dog tolerated it very well. When fastened to his collar with the elastic loops, it didn't budge and he couldn't slip his head out of it. The Velcro fastening is VERY STRONG! And I felt better that he had some padding and that the collar wasn't as stiff as those clear plastic ones. The literature that came with it indicated that you should put the extra Velcro covers over any exposed Velcro tabs. Unfortunately, our collar didn't include any extra Vecro, so the exposed tabs did pick up lint. The collar didn't actually mold around his head, but it did have a little give so he could rest comfortably. Unlike some reviews, our dog didn't seem to mind not having any peripheral vision. HOWEVER, when I measured him, he was just under the top limit for the size I bought. I should have stepped up to the next size. He couldn't reach his incision, but it was pretty close and we had to watch him carefully for a day to make sure that he really couldn't lick or scratch himself. If your dog is on the cusp of the sizing, I'd recommend getting a larger size. I thought the collar was a bit pricey, but figured I would stash it away (it folds flat) in case we needed it in the future. However, by the end of ten days, the edging is pretty well worn so if we need it again, we'll have to figure out something to cover the edge of the collar (maybe Duct Tape). All in all, we have been satisfied with this product.
---
By sd590 on Apr 10, 2022
Big help for a tough time
My vet recommended the Comfy Cone and I'm so glad she did. While we waited for it to arrive, my pup and I were stuck w a plastic cone that was stiff, made him fearful, it was more like an annoying obstruction around my dog's head, and it didn't work w my dog's collar. But, the CC was as described (comfy, like in the picture w his head lying down on it, and more squish/give when bumping into things) and it kept my dog protected. It worked w his collar, so we could resume our walks. He was much, much happier.
---
By Tina on Apr 1, 2022
Disappointed
I purchased this item based on the reviews. I purchased the Xtra large based on the chart provided. I spent the entire day monitoring my dog to make sure this product worked. I liked it better than the plastic e-collar. The moment I left my dog unattended after feeling confident the collar worked. My dog was able to reach his incision and remove his stitches.
---
By Skye on Apr 12, 2022
Great cone, get this one
This "alternative" backwards cone idea is good, i'm going to try that with mine ( i have this cone but never tried is backwards). Its a great cone highly recommended -- so superior to the one from the vet (it was a large plastic cone, dog and owners hated it, was quite a like a battering ram). This cone is shorter than vet's in a good way, still blocks him, but he can "see" without windows and it so much softer, doesn't hurt you if you he wacks you with it.
---
By Dillinger on Mar 20, 2022
Helped solve allergy issues
I never write reviews for anything so take my word for it. My pitbull suffers from severe allergies. So much so that at one point we thought we would have to put him down. He is on daily medication which helps but he would get staph infections every couple months due to his low immune system and he constantly licked his feet. Well, this cone was a last effort to help keep him healthy and it worked! It's comfortable enough he can wear it when we aren't home or aren't around him. He hasn't had a break out or feet issues since we got it. He weighs 75 pounds and I got the XL
---
By Anna on Mar 19, 2022
Comfy Cone Collar
The comfy cone collar is just what my pup needed. The plastic one from the vet was way too large; it stuck out past her snout a lot, like a huge satellite dish. She was receiving sonic messages from aliens (haha). This one (medium) fit great around her neck, and has little elastic loops to attach a collar. It is easy to take off and put on. The only possible detriment is the length of the cone just goes past her snout a couple inches, which is perfect for the mini schnauzer. It would be too short for our dachshund's longer snout. If in doubt, order next size up; there are 3 Velcro strips for sizing.
---