Cool Runners Pet Tube Soft Kennel Car Crate with Carrying Case
Temporarily Out of Stock
Get notified when this item is back in stock.
Compare Similar Items
| | | | | | |
| --- | --- | --- | --- | --- | --- |
| | | | | | |
| Customer Rating | | | | | |
| Price | | | | | |
| Material | Nylon, Mesh, Synthetic Fabric | Polyester, Synthetic Fabric | Polyester, Synthetic Fabric, Natural Fabric | Mesh, Synthetic Fabric | Polyester, Synthetic Fabric |
| Breed Size | Extra Small Breeds, Small Breeds, Medium Breeds | Small Breeds, Medium Breeds | Extra Small Breeds, Small Breeds, Medium Breeds | Medium Breeds | Extra Small Breeds, Small Breeds |
| Features | Collapsible, Carry Bag, Water-resistant | Seat Belt Loop | Machine-washable | Removable Pad, Collapsible, Seat Belt Loop, Water-resistant | Collapsible, Interior Tether |
---
About This Item
Ensures your pets ride safely in the backseat and protects your seat from messes, scratches and dander.
Adjustable design can expand to fit your dog or cat, and even multiple pets.
Secure the ride with adjustable straps that can be safely secured to the backseat headrests.
Keeps your pal cool with plenty of mesh windows, and also lets him see the view while he rides.
Great for going to the vet, the park or to agility training, and collapses down for hassle-free storage.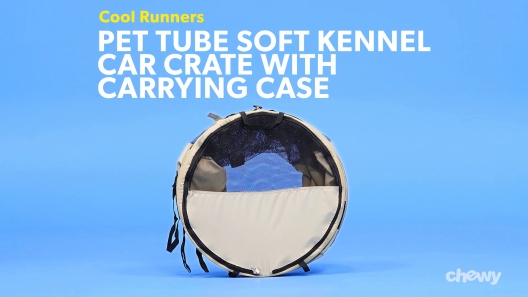 Learn More About Cool Runners From Our Team of Experts
---
---
Questions & Answers
18 Customer Questions
---
My dog weighs 50 lbs. Would she be comfortable in this tube?
Answer by • Aug 23, 2020
This crate is recommended for pets weighing up to 20 pounds.
---
How do I adjust size?
Answer by • Aug 23, 2019
This kennel can be expanded and reduced to fit your back seat. To reduce in size push together and use hook and loop fasteners to hold in place.
---
Does the tube open at both ends? What is the maximum length? Is the nylon waterproof?
Answer by • Jul 17, 2018
The tube opens on one end, and the maximum length of this product is 47 inches. The Nylon fabric is water resistant.
---
How is the dog secured inside the crate?
Answer by • Jul 05, 2021
There is not a harness clip inside the tube. There isn't anything to keep the dog stable per se. the tube is meant as a way to keep the dog from getting tossed around the vehicle or prevent them from climbing around the vehicle.
---
---
---
By Ellie on Oct 31, 2022
BEST THING EVER!!!!
I literally NEVER write reviews, but holy mackerel is this the best purchase I have ever made!! I recommend it to everyone who has a pet small enough to fit inside (cat, dog, lizard, you name it)! I got this when my cat was a kitten because I knew that I would be doing long car road trips with him, and did practice drives with him on the weekend. For short drives (30 min or less) he doesn't mind being in his carrier, but for longer drives he would howl enough to shatter eardrums. So as a solution, I tried this, and life has been forever changed. He doesn't howl at all, and lets out no more than 5 small meows during the drive (usually less)! I put a blanket down for him, and can keep an eye on him while driving through the mesh (and he can keep an eye on me). He learned really quickly to climb out of his carrier and into his tube, and back out again when we arrive at our destination. The headrest attachments make me feel very safe that he won't go rolling forward in the event of a rapid stop, and it's very easy to take in and out. It even comes with stakes so you can bring the tube outside for camping! I have used this for road trips as short as 3.5 hours, and as long as ~10 hours each day for 3 days while moving, and he has NEVER freaked out in the tube. What's even better is for long drives, I can put in a small litter box and food so that all of his needs are taken care of. Genuinely BEST PURCHASE EVER!!! If you have an anxious cat (or dog or lizard), or are going on a long road trip and can spare the back seat of your car, this is an absolute MUST!!! I am a total cheapskate, and this is so worth the money that it's not even funny. I literally cannot recommend this enough - if I could give it 50 stars I would! I only recommend things I stand behind 100%, and I only write reviews for things I recommend 200% - which is genuinely only this product. SO FANTASTIC!!!!!!!!!!
---
By MommaDeb on Nov 28, 2022
This was just what I needed
What a wonderful and safe way to travel with my pups. I added a crate mat on the bottom so they could snuggle in and they were very content.
---
By JLWinATL on May 16, 2022
Won't work for anxious dogs and the opening is on the wrong side
I have a dog that gets really anxious in the car and has to be contained. We thought giving him a bit more room might help things, so we tried this out and he tore through the mesh in just a few minutes. This definitely is NOT a good solution for anxious dogs, but probably a perfectly good solution for dogs that enjoy the car. It does however only zip open on one end, and that end is on the passenger side, which means if you're driving the dogs around on your own, you have to circle the car to get them in and out. (To be fair, it is shown in the picture that way but I didn't realize you couldn't turn it to face the other way based on where the straps to fasten it to the seat are sewn on.)
---
By Alice on May 29, 2022
Perfect for wandering dogs
I've always used a hammock style car seat protector in the back, but lately my slightly senile 17 yo dog has been getting up in the middle of car rides to walk around in the back, most of the time resulting in her falling into the footrest area behind my seat. This tube still allows her to wander but it keeps her from falling! So far no tears, but I'll probably put a blanket in there just because it's kind of slippery. She's a 23 lb medium sized dog.
---
By Katie on Apr 25, 2022
Cat doesn't hate it!
Our cat, Ivy, has a lot of trouble with road trips, even the 10 minutes to the vet. She screams and screams and hates her carrier. We got her this to make our move from IL to OR easier. We haven't moved yet, but we opened it up for her to explore and she actually did! She stayed in it for a few minutes which was great. It's made of really nice material and folds up so nice and compact. I think it will definitely make Ivy more at ease having room to roam the backseat but without us worrying about her jumping down on our feet or having to stay copped up in her carrier.
---
By bludogrunner on Dec 17, 2021
Great Idea but cheap materiel and construction
I bought this because I cannot fit two crates in the back of my car and was hoping to keep the dogs in one place e.g. not on my head while driving but still more contained than just using a seat belt: The idea I love and I've seen other tubes like this for double or three times as much. There is a reason. The material and mesh is very thin. The zipper sticks and the stitching is poor. Maybe a very calm, very small pet that doesn't really need containment is fine in this but any other pet will tear it just getting in and out and I give that zipper about 5 uses before it breaks. I will try this to see how I like the idea … and then order the $169 version if it fits. I would not recommend or buy again. I was not expecting amazing for $50 but this is thinner than shopping bag.
---
By Silver99 on Dec 28, 2021
Keeps hair in one place
I got this to put in new car and since my Jeep is my dog car and has dog hair sprinkled everywhere I wanted my 2nd car to be dog hair free so far so good had it a few months now and they love it which is crazy since they never been in a kennel. It's a soft kennel so not sure if it will be safe and for sure very flimsy. If they could make material stronger it would be 5 stars. Totally nice for quick transports tho if everyday use I will prob tear quickly. I place a soft blanket in the tube for comfort.
---
By Jessica on Sep 24, 2021
Travel Tube Review
So excited to have found this product! It's exactly what I needed for my upcoming move. I've been struggling to find something for my cat that would fit in the back of my two door vehicle and this tube works perfectly. The material is a bit thin so I could see how it might tear easily but it's ultra flexible. The tube is also plenty big enough for my 20 pound cat to move around and I can even fit a litter box in the tube.
---
By PistolPete on Aug 23, 2021
Great Item
I bought this Item to keep my two very small Chihuahua's in the back of my car. Before I bought this, my dogs were everywhere from my lap to under my seats to up in the back window, It was getting out of control. My only regret about this purchase is I did not buy it much sooner. My dogs actually jump into my car and get in their secured safe place on their own. It is wonderful.
---
By Dani on Dec 26, 2021
Ripped in two hours
My carrier ripped within two hours of a road trip. Sad given the price paid.
---