Coolaroo Steel-Framed Elevated Dog Bed
Frequently Bought Together
---
About This Item
The fabric is crafted from a breathable high-density polyethylene (HDPE) fabric that may help eliminate hot spots.
The off-the-ground design promotes increased airflow on all sides of the bed, which helps keep your pet cool and creates low-impact areas to pressure points and joints.
The lightweight, durable, powder-coated steel frame is suitable for pets of all sizes.
The cover material is resistant to fleas, mites, mold and mildew.
The portable design is great for indoor and outdoor use.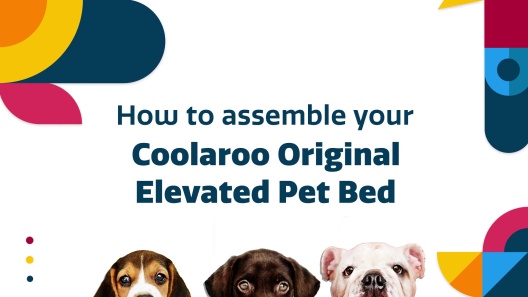 Learn More About Coolaroo From Our Team of Experts
---
Compare Similar Items
| | | | | | |
| --- | --- | --- | --- | --- | --- |
| | | | | | |
| Customer Rating | | | | | |
| Price | | | | | |
| Bed Feature | Outdoor, Waterproof, Water-resistant, Cooling | Water-resistant, Outdoor, Machine-washable | — | — | — |
| Cover Material | Synthetic Fabric | Polyester, Synthetic Fabric | Polyester, Synthetic Fabric | Polyester, Synthetic Fabric | Polyester, Synthetic Fabric |
| Lifestage | Puppy, Adult | Puppy, Adult | Adult | Adult | Adult |
| Breed Size | Giant Breeds, Large Breeds | Large Breeds, Giant Breeds | Large Breeds | Small Breeds, Medium Breeds | Large Breeds |
| Bed Type | Elevated | Elevated | Elevated | Elevated | Elevated |
| Pattern | Solid | Solid | Solid | Solid | Solid |
| Bed Shape | Rectangular | Rectangular | Rectangular | Rectangular | Rectangular |
---
Questions & Answers
40 Customer Questions
---
Does this have rubber on bottom of feet for non slipping on tile floors?
Answer by • Oct 19, 2017
This Bed does not have rubber caps, but there are hard plastic inserts that go up into the hollow leg, and it covers the bottom so that it won't scratch your floor.
---
What is the length and width of the fabric only?
Answer by • Jul 02, 2018
The dimensions of the small cover is 28 x 21.5 inches, the medium cover is 35 x 25.5 inches and the large cover is 43.5 x 31.5 inches.
---
Is Coolaroo good for incontinent dogs
Answer by • Oct 26, 2017
This product will work for a pup that suffers from incontinence.
---
Are the measurements given the size of the sleeping area or including the length of the legs that extend past the fabric?
Answer by • Apr 19, 2018
The measurements include the legs extending past the fabric.
---
---
---
By CarlaY on Aug 29, 2022
Love this bed!!!
This is a great bed. It's sturdy, well made and the gray is a nice color. The only complaint I have about this bed is the assembly. This had to be the hardest thing I've ever put together. It wasn't as easy as the video made it to be. It bows when you get all the screws in it and when you tighten them down the bed straightens up. Now that I've had the experience of putting this bed together I would definitely buy it again. Paris was afraid of it at first so I put her bed on top and she hopped right on it. The cats even like this bed. I still get a good laugh every time I think about putting this bed together.
---
By Kels on Sep 17, 2022
Flimsy
This dog bed, while very affordable, is very flimsy. If you stand it on its side which I do to store it while not in use, the frame wants to twist. Also, the mesh material does not seen very supportive. My 90 pound German Shepard is almost on the ground while laying on it due to the amount that the material stretches. We'll see how long this bed lasts.
---
By Sox4Me on Aug 9, 2022
Been using these for YEARS
I've been using these Coolaroo beds for many many YEARS and I and all of my dogs LOVE them. I always have 2 or 3 of these beds, and they stay outside 365 days a year, and hold up to sun, rain, and snow. I keep a few spare covers on hand, and replace them every couple of years or so. I even mounted one of these beds to the back of my kayak to give my pups more room to lay down when we're on the river. For the people who say they are hard to put together, they must not know how to use a screwdriver. They go together very easily. Just do the long legs first, then slip in the short braces. The cot has tension on it to keep it from sagging, so you have to use a little bit of muscle on the last one, but not enough to comment about. I'm so glad to see Chewey is carrying these now! I had been getting them from another source for the past 10+ years at least, probably longer. The frames hold up great -- I did have two of them where the screw rusted after several years and I couldn't get it out, to replace the cover, but it lasted a long time and was ready to be replaced anyway. My latest puppy decided to do some chewing on one of these, but I patched it, and he's past the chewing stage, so we're back in business. I absolutely love the quality of the bed for a very reasonable price. My dogs just love laying on them.
---
By Sammy on Sep 22, 2022
Not the best
My dog has a habit of chewing up soft beds over time so I thought the cloth over metal frame would prevent damage, but my dog will not get into the bed. Something about it makes her nervous and she avoids it. Also, it was a little difficult to put together as the holes did not line up well.
---
By Bchocdog on Aug 31, 2022
Great for dogs and toddlers
I was worried reading other reviews that this would be difficult to assemble. It wasn't. I'm 37 weeks pregnant and it took me 5-10 min, with the help of my two-year-old assistant. Just don't tighten the screws too early. One dog loves it, my daughter loves it, the other dog isn't so sure about it yet but I'm guessing he'll come around.
---
By AZHiker on Aug 28, 2022
Great for the great outdoors
I do a lot of work outside around my desert home and got this so my pup could be out there with me without having to lie on the ground, where there are all sorts of creepy crawlers and biting bugs. He took to it instantly and obeys my "stay" command as long as I find a shady spot for him! He's a 40+ pounder who has all sorts of room to stretch and sprawl on the large-sized bed.
---
By Dcip3 on Sep 17, 2022
Easy to assemble but also easy to chew
Easy to assemble but not a good choice for active chewers. For some reason the company placed their logo tag on the top surface and our dog insisted on chewing on that and then headed for the corners to chew those as well. This might will work well for dogs that do not chew.
---
By Elise on Aug 17, 2022
Our puppy loves these beds!
We bought this second bed to keep at my parents house, and our puppy settles down so much better on this than on the floor or on a fluffy bed (that he'll try to throw around). We also have this bed in green at our house. At the beginning of teething, he would try to bite the corners of the material and slightly ripped 2 areas, but luckily if we put toys on top of the corners, he no longer tries to tear the bed apart
---
By Angie on Aug 28, 2022
My dogs love to go to bed
I bought this to train my dogs to go to the "bed" when the doorbell rang, because they are always excited to greet visitors. It works great. They love it and they quickly learned to stay there until I let them off. I also send them there when I'm cooking, no more dogs underfoot!
---
By Sarah on Aug 17, 2022
Extra hands and some heat!
As some reviewers have noted, this was very difficult to assemble. You need AT LEAST four hands to hold, stretch, and bolt the four corners. In my case, even with six hands working on it, we still couldn't get the fourth corner to reach until we left it out in the sun so the plastic could be stretched more. THEN we could finally connect the fourth bolt. Good luck!
---