Current USA Satellite Plus Pro Freshwater Aquarium LED Light
Must enter code FALL2022 at checkout to redeem
---
About This Item
24-hour on/off timer with a 15-minute sunrise and 15-minute sunset keeps your tank on a rhythmic light cycle.
High-energy SMD LED chips promote strong plant growth while producing a stunning shimmer. Perfect light balance for even the most demanding freshwater aquaria and aquascapes.
6,500 white LEDs combined with RGB (red, green, and blue) provide an adjustable color spectrum control for incredible color rendition.
Four freshwater optimized preset colors and two memory locations for custom color spectrums.
Ultra-thin design fits a wide variety of aquariums. Easy programming via wireless IR remote or touch key pad.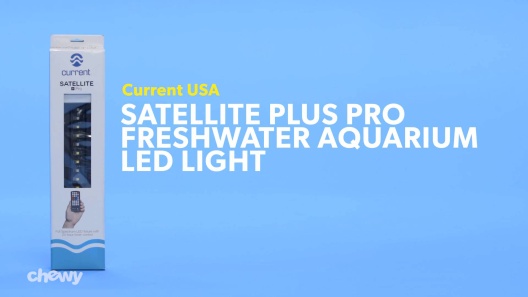 Learn More About Current USA From Our Team of Experts
---
Compare Similar Items
| | | | | | |
| --- | --- | --- | --- | --- | --- |
| | | | | | |
| Customer Rating | | | — | | |
| Price | | | | | |
| Fish Type | Tropical Freshwater | Tropical Freshwater | Tropical Freshwater, Discus | Tropical Freshwater | Marine Fish |
| Aquarium Type | Freshwater | Freshwater | Freshwater | Freshwater | Saltwater |
| Material | Plastic | Plastic | Aluminum, Stainless Steel, Metal | — | Plastic |
---
Questions & Answers
17 Customer Questions
---
Can this light be used on an open tank?
Answer by • Aug 14, 2018
This product can be placed on the top of the aquarium while it's open.
---
Can this light be programmed to have different light levels during the day in addition to sunrise and sunset?
Answer by • May 13, 2018
This light does have on-demand dynamic modes, but they cannot be incorporated into a programmed lighting schedule. You can adjust the intensity and time of sunrise, sunset, daylight, and moonlight, as well as manually adjusting the color spectrum as you wish.
---
Do you need two of theses for a 55 gal tank, day and night ?
Answer by • Dec 26, 2017
For a 55 gallon tank you'd need just 1 of the 48-60 inch light.
---
Would this work for a terrarium for plants? I'm assuming so because its leds but I don't know.
Answer by • Aug 25, 2021
The full spectrum of light is perfect for strong plant growth and is designed specifically for freshwater aquariums.
---
---
---
By Brigitte on Sep 15, 2021
Absolutely stunning!!
Lights are beautiful! I have had it for over a year now with no issues. I love the colorful display. Simply awesome
---
By brandon on Apr 4, 2020
current usa sat. plus pro
the color rendition is very nice for ciclids or all green planted tanks, the red spectrum leaves much to desire. cardinal tetras and neons lose a lot of thier reds. and plants look washed out . I bought 3- 36-48 fixtures for over a 40 gallon breeder. I took off two finnex 36 planted plus. three fixture are about the same par as 1 finnex light. the leds are simply not strong enough and if you decide to jump up to the next level In current usa's lineup just know the price per fixture almost triples. I like the light build quality and the functions are easy to use but if you are trying to grow any plant that is more than the most under demanding plants look elsewhere. I will add a few of my tanks for experience reference. and a picture of the lights. Which you can see do not put out as much light even in the photo.
---
By Julie on Aug 7, 2018
Worth the cost
I've been wanting this for a long time, but wasn't sure it was worth the cost. I finally made the investment and my fish seem to be a lot happier. They no longer hide constantly and seem to appreciate the realistic sunlight and moonlight feature. The led sunlight setting brings out the vibrant colors of my yellow lab cichlids. These fish never looked so good. Huge viewing enhancement over flourescent lighting.
---
By CrazySchnauzerMom on Aug 8, 2018
Program won't work
I've had one of these lights for over a year now and have had no problems with it so I bought a new one for another terrarium that I have and I cannot get the program to 'stick'. It's driving me crazy so I've been manually turning it on and off every day. As soon as I get it to work I'll give it 5 stars. I need to call Currant USA to get help programming it.
---
By Supplier on Nov 5, 2018
Works as advertised.
Once knowing that 3 seconds go faster then you realize it's easy to setup!
---
By DebiS on Oct 26, 2018
Already broken
I've had this for less than 2 months & it's already broken. Save your money!
---
By BabyGelle on Sep 27, 2018
awesome light
we love it. It works exactly like we hoped it would. we get to change the setting to what we want it at.
---
By Petdad on Jun 25, 2018
So far great light
Plants are responding great to the upgrade. All the livestock seems to be enjoying the simulated sun.
---
By Megan on Apr 27, 2018
Excellent light
I bought this light for my 36 gal bow front and it's the best light that I've owned. My plants are growing so much faster and the features are a wonderful bonus.
---
By JustMark on Dec 3, 2017
Great light.
Let me start out by saying that overall this light is well done. The is light very bright on full output and they give you four different types of daylight to choose from on the remote. You can also tailor the output of your daylight setting which is very nice. You also have a moonlight setting which you can also set exactly how you want. Also the quality of the light is good and it feels and looks well made. This Plus Pro comes with a ramp timer that will ramp your daylight up at your on time and down at your off time. I think this the best way to run any aquarium lighting as it's so much more natural.After the ramp down the moonlight setting will be on until the daylight starts again. If you don't want any moonlight then you can adjust each color value to zero, and it will then ramp down to zero output. I took a star off because at this price point they should have given a few things more attention. Like the super cheap looking "feet" that extend out. They look like black coated wire and a better made, clear option would be nicer. Also the ramp timer is only up and down for daylight which is cheesy. These timers cost nothing to make and they could at least include another channel. And on that note the ramp up/down should be revert to an oranger, more appealing sunrise/sunset look. Again circuits are cheap to include (I manufacture them for a living). I also have a Finnex planted + on a tank and from a purely aesthetic standpoint it looks way better when doing its sunrise/sunset. Oh well, overall though this is a very nice light that has not given me any issues during setup or while on in the several weeks that I've been running it.
---