Ark Naturals Sea "Mobility" Joint Rescue Beef Jerky Dog Treats, 9-oz bag
Was:

$16.99

Price:

$11.57 FREE 1-2 Day Shipping over $49

You Save:

$5.42 (32%)
Description
Every dog knows a strip of beef jerky is good for the taste buds. Ark Naturals makes beef jerky good for the body, too! Sea "Mobility" Joint Rescue Beef Jerky Dog Treats from Ark Naturals have 500mg of joint-supporting glucosamine in every single strip. Active pets and those suffering from a loss of mobility due to aging love the taste, and their bodies love the benefit!
Key Benefits
Made with real, USDA beef
Delicious, jerky chews that your dog will love
No wheat, corn, soy, hormones, antibiotics or by-products
Vet recommended for reducing joint inflammation and improving joint mobility and function by combining glucosamine, MSM, chondroitin and sea cucumber, which is used for relieving arthritis symptoms
Safe for dogs 12 weeks and older. Beneficial for active, senior and service dogs to keep them at their healthiest
Item Number

50451

Brand

Sea Mobility Joint Rescue

Breed Size

All Breeds, Small, Medium, Large

Food Form

Treats

Lifestage

Adult, Senior, All Stages

Made in

United States

Special Diet

No Corn No Wheat No Soy
Nutritional Info
Ingredients
Beef, Rice Flour, Maple Syrup, Glucosamine, Gelatin, Cultured Whey, Salt, Glycerin, Chondroitin Sulfate, Tapioca Starch, Sea Cucumber, MSM, Natural Smoke Flavor, Fish Oil, Evening Primrose Oil, Mixed Tocopherols.
Customer Reviews
Rated

4.6

out of

5

 by

35

reviewers.
Rated

5

out of

5
 by
Doggiedaddy
Pet treats
A really great find with Chewy! Cut the cost of treats l have been buying elsewhere from between 22 and 39% for the same brand products. Rapid service and home delivery are a major plus.D
August 11, 2016
Rated

5

out of

5
 by
Alsmom
These should be called "Miracle Strips"
Al is our mixed breed rescue of 13 years had vestibular disease . He couldn't get his legs to stay under him. I was shopping in an organic store and happened to see they carried dog food. Al has several allergies and I saw the joint rescue. Well rescue they did!! It's also hard to find all beef anything. Al is allergic to chicken an wheat. Al started stretching and trying to use the steps without help. After 2 weeks he was walking and navigating steps on his own. Could this have happened without "joint rescue", maybe but I know he was taking alot of other things without any signs of marked improvement. He also loves them and looks for his strips every day. Al loves them an he is very finicky. Thank you Joint Rescue.
November 10, 2015
Rated

5

out of

5
 by
Dala
Health treats!
I'm always look for treats that all three of my dogs will like and that are good for them. My dogs LOVE these treats and I feel good giving them something that is also beneficial to their health.
May 31, 2016
Rated

5

out of

5
 by
Elle111
I love this product
My Rat terrier/Chihuahua Dakota loves this treat I give her one square a day to help with the week knees so the glucosamine seems to have really strengthen her knees and she just runs all over the place now without limping I love this product it really seems to have helped her.
May 16, 2016
Rated

5

out of

5
 by
ddSLC
great product
I have used this product for the last year, and it's made a significant difference in my dog's joint health. She is a 11 year-old lhasa apso and chow mix and weighs about 32 lbs. She was very sensitive about anyone touching her hip area and had occasional limping due to arthritis. Since she started this product, we noticed a difference within 2 months. She is now fine with us touching her hips, and can run up and down the stairs like a puppy again. She walks 3-4 miles daily without issues now. My vet recommended starting prescription medications at first, but this is a much better alternative!
April 21, 2015
Rated

5

out of

5
 by
Renegade
Joint Rescue Treat
The Ark Naturals Sea Mobility Joint Rescue Beef Jerky Dog Treats are excellent. Gave my 8 year old poodle mix and within a month saw a difference in her energy and running. She loves the taste of the treats too.
March 30, 2016
Rated

4

out of

5
 by
CaseysMom
Preventative & Good Tasting
Our "soon-to-be 4 yr old" Golden Retriever, Casey, loves these. It's good to know we are not only giving her something she likes, but something that's also good for her, too.
March 21, 2016
Rated

3

out of

5
 by
BobNapa
Disappointing quality standard slips
Our Springer Spaniel loves the product but the last two orders of three packages each arrived totally dried out hard and white in color. Chewy replaced the order but shipped 3 packages from the same batch number totally dried out. The product used to look like beef jerky dark in color and moist. Will be switching to another gluclosimine maybe away from Chewy.
January 16, 2016
Rated

4

out of

5
 by
jtendi
My dogs love them!
I have three dogs, small (terrior-12y), medium (lab-1y) and large (Lab/Great dane mix-6y). The terrier seems to be getting around better since he's been getting them. The Lab just loves to gobble them up. The Lab/Dane mix has hip issues when running and he seems to be getting around much better. Not so stiff when he gets up off his pillow. The only drawback is that I have to give him about 8 a day for his size and that makes the bag go quickly. Overall, I love them!
August 7, 2015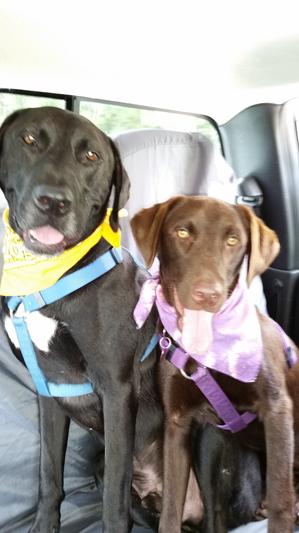 Rated

5

out of

5
 by
Randy10
Excellent Product
I just placed my 2nd. order. I was highly satisfied, I definitely recommend this product, to anyone who has a larger breed, or any other breed size dog. : ) I have a 115 lb. Bull Mastiff, I adopted him from an animal rescue about a year ago. As with many larger breed dogs, he has had joint and hip problems, and I've noticed a dramatic increase in his mobility after just a week of giving him these treats. I hope this review will be a help to someone whose looking for a great supplement. Thank you. God Bless!!!
March 17, 2014
Rated

5

out of

5
 by
Skip
Very benifical
My dog loves it and you can see the benefits in his health
January 29, 2016
Rated

5

out of

5
 by
Shar46
Effective joint help for dogs
I've used these joint rescue treats for over a year and they do help. I have 2 senior dogs and use these for a treat when we return from a walk. My Vet has approved them, and said one a day would be optimal.
November 17, 2015
Rated

1

out of

5
 by
Margaret
Dried out.
Unfortunately the Joint Rescue Beef Jerky Dog Treats were dried out. I normally buy them locally, but ordered them this time. The ones I buy locally are moist. I checked the expiration date and it was good. Not sure what happened with these.
September 29, 2015
Rated

5

out of

5
 by
Janet4
Mobility improved in 2 days
My 17 (almost) year old dog had almost immediate results in joint comfort and movement. Walks became joyful again. He loves the beef, and also all the other flavors, great variety! I am also careful to avoid pet foods and supplements from China. So this is all American! We both could not be more pleased. Love all Ark Naturals products!
December 18, 2013
Rated

5

out of

5
 by
mummy
Everette the 10 year old baby Golden Retriever loves these.
Everette's dad keeps the bag of Ark Naturals Dog Treats in his bedside drawer and whenever Everette gives dad a goo-goo look dad gives him a beef flavored treat. We are afraid that Everette is going to learn how to open the bedside drawer and eat the whole bag of Ark Natural beef treats.
August 14, 2012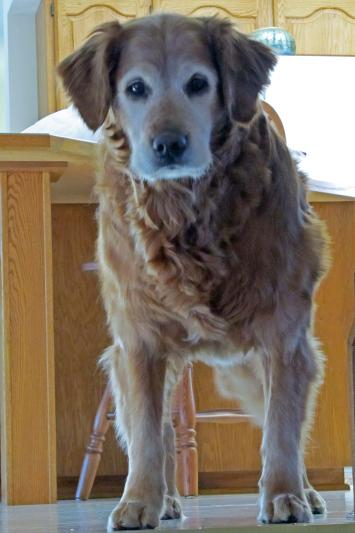 Rated

5

out of

5
 by
dogpack
A Joint -Supporting Treat
I have been given my golden retrievers and black labs these treats because of the joint-supporting glucosamine. They like it and it helps their joints. They have been given these treats for several years to maintain the health of their joints.
January 25, 2015
Rated

5

out of

5
 by
Red75
Tasty supplement
I have tried other joint supplements. My dogs would turn their noses right up. These smell just like beef. My dogs just inhale them. The only problem is putting the bag away. They always are trying to get seconds!
June 3, 2012
Rated

5

out of

5
 by
Jillie
This product is made in the USA!
I love that I found something for my fur baby that is healthy, good for her and she loves it. Glucosamine helps her joints, plus it is American made! Thanks!
December 4, 2013
Rated

5

out of

5
 by
Mikosmom
Best price to dose
Glucosamine and chondroitin helped our old dog when he developed arthritis, and these treats deliver the best dose for the price, plus, everyone eats them.
November 19, 2013
Rated

5

out of

5
 by
PAMZ
My dog LOVES these treats !
These are great, healthy treats for your best friend. My Aussie just LOVES these treats. The prices and availability on Chewy.com are great as well !
December 17, 2012
Rated

5

out of

5
 by
LPea1
My dogs love this treat!
One of the favorites of the house... They practically come running when they see me pull out the bag!. Can't do without these!..
April 9, 2014
Rated

5

out of

5
 by
HOLLEE
Joint Rescue
My dog just loves them! When you get the bites you can use them as a training tool. Plus they are really good for them.
August 11, 2014
Rated

2

out of

5
 by
Elidane
Tummy issues
My great Danes seem to have stomach issues with this product, but it may be ok for dogs that don't have stomach issues.
July 22, 2013
Rated

4

out of

5
 by
MzLuna
Wonderful stuff !!!
Thanks so much for this great product! Our cocker spaniel rescue folks use these and they truly help.
September 15, 2014
Rated

4

out of

5
 by
hunnybear
Smaller pieces than I expected
Dogs liked these; pieces were way smaller than I thought or wanted. Probably will not order again.
May 23, 2014
Rated

5

out of

5
 by
Bmmf
Two Thumbs Up
My 3 boxers really liked this product, kept wanting more!
February 22, 2015
Rated

5

out of

5
 by
Luccadogs
Great for joint issues and tasty too-so my dog says!!
Natural ingredients, one of the better joint supplements in a super tasty treat!
June 18, 2014