Blue Buffalo Wilderness Trail Treats Chicken Jerky Grain-Free Dog Treats, 3.25-oz
Was:

$12.99

Price:

$4.99 FREE 1-2 Day Shipping over $49

You Save:

$8.00 (62%)
Description
Blue Buffalo Wilderness Jerky is a hearty, protein-packed chicken strip with more than enough taste to satisfy the wolf spirit in your canine carnivore. Made with the finest natural ingredients, Wilderness Jerky is a wholesome treat that will help support your dog's strength, health and vitality. High-quality poultry makes Blue Wilderness Jerky the perfect treat for dogs who are fed a grain-free or raw diet. It's jerky with a wild side!
Key Benefits
All natural, high-quality, jerky treats made from real chicken. Grain and gluten-free for dogs with food allergies
High in protein and are aimed to satisfy your dog's wolf spirit with a chewy texture to help clean the teeth and gums
Wilderness jerky is a wholesome treat that helps support your dog's strength, health and vitality
No chicken/poultry by-product meals, just real ingredients. No grains, gluten, corn, wheat or soy
No artificial preservatives, colors or flavors, just natural jerky chews for dogs of all sizes and ages
Item Number

46946

Brand

Blue Wilderness

Breed Size

All Breeds, Small, Medium, Large

Food Form

Treats

Lifestage

Adult, All Stages

Made in

United States

Special Diet

High-Protein, Grain-Free, Gluten Free, No Corn No Wheat No Soy
Nutritional Info
Ingredients
Chicken, Sugar, Salt.
Caloric Content
2,116 kcal/kg
| Guaranteed Analysis | |
| --- | --- |
| Crude Protein | 50.0% min |
| Crude Fat | 2.0% min |
| Crude Fiber | 2.0% max |
| Moisture | 38.0% max |
Feeding Instructions
BLUE Wilderness Jerky is intended for intermittent or supplemental feeding only. For maximum freshness: Be sure to store your BLUE Wilderness Jerky treats in a cool, dry place. To keep them as fresh as possible, we recommend refrigerating after opening.
Pet lovers also bought...
Customer Reviews
Rated

4.5

out of

5

 by

119

reviewers.
Rated

5

out of

5
 by
Candiemom
Our dog is hooked on this jerky!
It's not what I think, it's what our queen of the house Candie thinks-- she gives it two paws up!!
August 20, 2016
Rated

3

out of

5
 by
shortround
Treat sizes
My dog loves these treats the only issues is that when I first starting purchasing them they were in one piece slice of treat now they are in small crumbles not treat size. Now I get handful scrap sizes, disappointed in that.
July 29, 2016
Rated

3

out of

5
 by
Katie
Blue Buffalo Jerky Treat a Disappointment
Although our dogs did like the taste, the package came with a lot of small pieces rather than whole "slices."
July 8, 2016
Rated

4

out of

5
 by
tana77
So hard that they splinter... worries me to give to my dog...
I have 2 adult mini schnauzers, male and female. My boy (adopted) is bigger than most minis, and it even worries me when I give him this chicken jerky. It seems to splinter. This might be ok for a bigger dog, like the German Shepard that I used to have. But even then, I would be worried about the splintering. On the upside, it is real chicken cuts. But if you are going to feed this treat to big dogs, it would be very expensive. So I hope that Blue Buffalo (who I love), works on this issue, and makes the wilderness grain-free jerky treats easier and safer for dogs to chew. Thank you Blue Buffalo for so many other great treats, and thank you chewy.com for your great prices, and stellar customer service.
January 27, 2016
Rated

3

out of

5
 by
Gg260
Wouldn't buy again.
The pieces are rather small. I was expecting strips of jerky....not bite size pieces. Also..for the price there's not much in the bag. It does smell like real grilled chicken and my dogs do seem to really enjoy it though. Aa!!
June 22, 2016
Rated

5

out of

5
 by
Pugit
Dogs love them. Skimpy though!
Yummy, need a little more in the package. Just a teaser.
June 14, 2016
Rated

5

out of

5
 by
SiberianHusky
Great quality
My dog loves these natural dried chicken treats. They smell like real chicken (so don't think it's going to be a "chicken" smell, it's the real, strong stuff). These are very high quality and potent and fresh. Would buy again.
June 1, 2016
Rated

5

out of

5
 by
Chatty
My Dog Loves Them!
My dog knows when I'm about to give her the chicken jerky. She wags her tail and starts licking her lips. I get the satisfaction of knowing she loves them and also that they're healthy for her. Just wish you'd make them in bigger packs and cut the price a little.
May 10, 2016
Rated

5

out of

5
 by
gretchen1
my dog loves them
excellent treat my dog loves them. i i give her just one a day
May 30, 2016
Rated

5

out of

5
 by
Kimberly
Duke loves these!
Our German Shepherd Dog, Duke went crazy for these! They are hard and take a minute for him to devour which I like as it isnt the usual gulp and swallow motion. He actually has to chew these up. I feel like I'm being a responsible owner by giving him treats without artificial colors or preservatives and I look for that when buying treats. These are fast becoming one of Duke's favorite treats.
April 8, 2016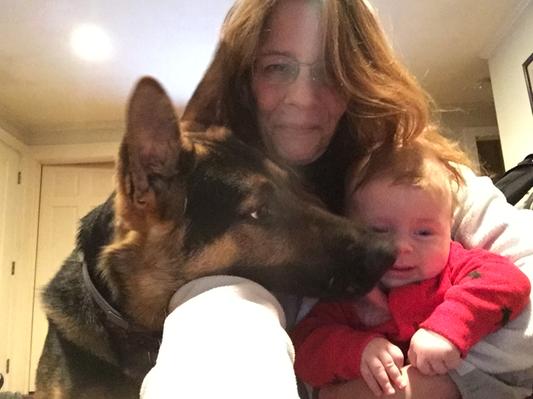 Rated

5

out of

5
 by
Kelly
My dogs love them
My 5 dachshunds love these, we use to feed them to our dogs yrs ago but they weren't blue buffalo brand, we quit after we found out they were made in China. So when I saw blue buffalo had them and made it n the USA I was happy. I only wish they came in bigger bags
April 30, 2016
Rated

5

out of

5
 by
Bodhi
Great all Chicken treat!
I love to fed this to my dog, periodically! Would give to him a lot more often if it wasn't so expensive, but then, the best treats always are. Pure Chicken, the best!
May 7, 2016
Rated

1

out of

5
 by
Laf4rea
made my chihuahua throw up
I bought these for my Rottweiler puppy (80lbs puppy) and my chihuahua wanted a bite. So I cut a very small piece for her to try. She threw up later that day like 10 times to get it out of her stomach. They did not digest at all. So, now I wont even give them to my Rottweiler for fear he would get a stomach ache.
March 24, 2016
Rated

5

out of

5
 by
Tammy
Dog loved this treat!
I needed to find treats that will keep my dog busy AND be good for her. I ordered this product since it had great ingredients. My dog LOVED them! Very happy with these treats!! I just got the turkey ones.
April 7, 2016
Rated

5

out of

5
 by
IziesMom
My dog can't get enough
When my dog hears the bag rustling, she goes nuts. So, I will go with that it is highly recommended and delicious. Love Blue brand. All good and quality ingredients for my baby dog.
March 25, 2016
Rated

5

out of

5
 by
Marys
My Yorkie loves them
I would recommend these to everyone who has a dog.
April 5, 2016
Rated

5

out of

5
 by
Bobdi
My dog loves this product
This product is a healthy choice for a treat. It appears to be grain free and my dog loves this treat.
March 25, 2016
Rated

4

out of

5
 by
Andrea3
Soft and chewable
This treat was a huge hit with all three of my dogs. My smallest 5 lb dog is obsessed with these and even stands on her back legs just begging me to give her a second little piece! With that being said.. the chicken pieces are incredibly small. Which is a downside for my golden retriever that doesn't get to chew much when I feed her these.. even though she loves the pieces she gets! Also not much product comes in the bag. But is a perfect treat for my small 5 lb and my 10 lb dog.
October 17, 2015
Rated

5

out of

5
 by
Wickie
Picky Dogs Like Them
I have two Yorkies who are very picky eaters and they love the Blue Buffalo Chicken Jerky treats. I wanted to take a minute to comment on your service which I consider to be outstanding. My orders are always delivered promptly and I have never had a problem. On one occasion I ordered the wrong size item. Rather than have me return the item you shipped the correct size and had me contribute the incorrect item to a local rescue. Outstanding. Thanks again.
September 29, 2015
Rated

5

out of

5
 by
puppypowerdd
Great product!
My cat and grand puppy are on grain free diets! They both eat these for treats!
February 24, 2016
Rated

5

out of

5
 by
RoccoM
Great treats
My yellow lab loves these treats. Real chicken, easy to break off into reward size pieces... Will be buying again!
February 9, 2016
Rated

4

out of

5
 by
goldilocks0613
Good treat
My girls (Rat Terriers) really like these. One of them is a picky eater, too !
January 15, 2016
Rated

2

out of

5
 by
Mainemom
Sugar and salt
Really? Yes, chicken is the first ingredient, but the 2nd ingredient is molasses, and the third salt. I would REALLY like to offer my dogs chicken jerky made in the US vs China, but the dogs certainly don't need sugar in their treats. Maybe salt is used to help preserve? (although the Dogswell jerky treats don't have sugar or salt and my dogs LOVE those). What dog doesn't love a strip of dried meat/poultry - sugar isn't needed to make them like it if the product is real.
January 10, 2014
Rated

4

out of

5
 by
Cilla
Great quality, little pricey
We tried the Blue Buffalo jerky after not buying any jerky treats for awhile due to a number of recalls (not Blue Buffalo). I love that this brand is made in the US and our boxer seems to like the treat too. However- it's a pretty small bag for $8-$9. We will probably go back to the Blue Buffalo Grain Free Biscuits just because we get more for our money. If you're looking for a jerky treat for your pup I highly recommend this one.
May 26, 2015
Rated

5

out of

5
 by
SouSou1106
Great product-safe and natural.
We really love this product. I have a one and a half year old red nose pit bull angel girl -like many other pibbles-especially red noses-she has serious skin allergies AND a very sensitive tummy. When we started her on the Blue Buffalo Blue Wilderness Chicken(the food that matches this treat), it really saved her. And this is basically the only treat that doesn't upset her skin or tummy. And she goes wild over it! It's worth the price-break it up into smaller pieces.
June 5, 2014
Rated

5

out of

5
 by
Makiks
Amazing
My dog is so picky when it comes to food and she absolutely loves these treats!!!
January 22, 2016
Rated

5

out of

5
 by
Toots4626
Made in the USA jerky treats- Awesome!
My dogs go crazy for these and I am so nervous about buying them with the recall awhile back with the ones made in China. Now I make sure that they are made in the USA. My dogs love them and my cat also goes crazy for them! My cat will actually open the back pull out the treats, drop some to the floor for the dogs and then proceed to eat her cut! I have to hide these treats! Cat will eat right through the bag!
December 25, 2014
Rated

5

out of

5
 by
debstagirl
Blue buffalo wilderness jerky
My small dog has allergies to beef rice and dairy. A lot of other jerky will say 100% chicken but he breaks into his read skin and itching with other jerky so I worry rice or beef is in there somewhere. This treat he has no problems with. They are a little expensive for a small amount but I get them at chewy for the best price. Great quality. My dog couldn't eat treats without these due to his allergies
January 29, 2015
Rated

5

out of

5
 by
2DogHouseHold
This is way over priced for the amount you get in a bag.
Don't get me wrong, my dogs loved it, heck I thought about tasting it myself, I mean it smelled great ( just like chicken lol ). BUT, yup a big BUT, very small pieces and only 2 really halfway decent size pieces. I love the product but not worth the price for what you get. Everything else is great good wholesome ingredients, Chicken, Molasses, and salt, no grains or fillers.We have 2 Shelties so it's not cost wise for us.
January 28, 2013
Rated

5

out of

5
 by
SavingsinSeconds
My dog loved these.
My dog is small to medium, so we have to give her smallish treats; otherwise she can choke on them. She loved these chicken jerky pieces. They are small enough that she could enjoy them without us cutting them into smaller pieces. She also seemed to enjoy the flavor. We'd definitely order these again. We received Blue Buffalo Wilderness Trail Treats Chicken Dog Jerky to sample. These opinions are 100% mine.
December 29, 2012