Buddy Belts Dog Harness Extra Soft Liners
List Price:

$15.99

Price:

$9.99 FREE 1-2 Day Shipping over $49

You Save:

$6.00 (38%)
Size 2

Size 3

Size 3.5/4

Size 5

Size 6
Description
Removable BB Liners are available for sensitive dogs, and for added comfort. Made of extra soft leather. Available in all sizes to fit any Buddy Belt. Each purchase contains a pair of BB Liners that velcro onto the Buddy Belt Harness leg loops.
Key Benefits
Removable lines for your Buddy Belt add an extra layer of comfort.
They're perfect for sensitive dogs that can get skin irritation easily.
Made from extra soft leather for added coziness.
Available in a variety of sizes to fit every Buddy belt.
Liners easy attach to the belt with velcro onto the leg loops.
*Please note: Buddy belt is not included.
Item Number

62209

Made in

Canada
Customer Reviews
Rated

4

out of

5

 by

12

reviewers.
Rated

5

out of

5
 by
Hardysmom
Best dachshund harness
I purchased this for my newest dachshund (my other 3 already hadone them. This is the best fitting harness I have found for my awkward shaped dogs. It puts no pressure on their trachea, and is secure.
January 19, 2017
Rated

2

out of

5
 by
aayala
ill fit
the liners don't fit properly or comfortably on the harness.
December 9, 2016
Rated

5

out of

5
 by
doglover4
Soft perfect fit
Until the buddy belt is worn in a bit my Frenchton needed the added comfort. It fits perfectly is very soft. I would have preferred black because my pup is black and it would not stand out as much but it works for what it was intended for.
May 20, 2016
Rated

5

out of

5
 by
DAGMAR
BUDDEY HARNESS
AT long last (well one year) I have found a harness that my sweet little Maltese cannot chew easily. Previous harnesses were made of a plastic fiber of some sort and he loved to chew them. He went through 7 in the last year. And yes I left them on him because putting it on prior to going out was too much. In training it was important to get out quickly sometimes. So this harness is comfortable, cute, and out of range for him to chew. It also has a large enough loop to hook his leash on that I don't have to struggle to get that attached. I am a happy dog walker.
July 30, 2014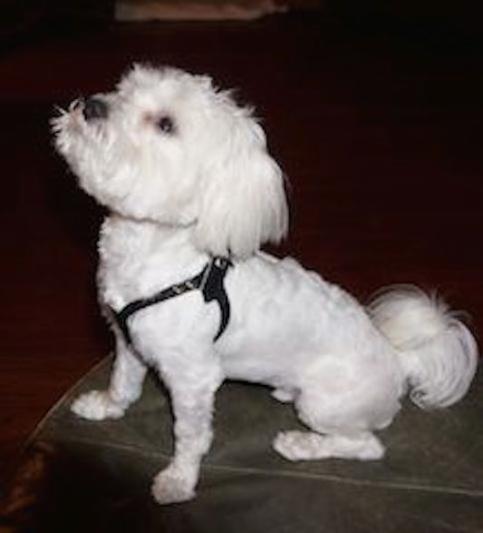 Rated

4

out of

5
 by
MindysMom
Yes! Nice.
I love the design! Nice! I would change the "O" ring for the leash clip to a "D" ring. The "O" presses on her shoulder. Be sure to measure your dog. Measurements on this harness are accurate!
January 25, 2016
Rated

1

out of

5
 by
Kim0001
Doesn't work
I thought it would be lambs wool. It is leather. The Buddy belt leather is just as soft. But could not get it on. It was smaller than the harness/belt. No way can you get it to go around and stay on. So don't bother with it. Don't think it is needed, it may cause more rubbing and problems anyway.
October 11, 2015
Rated

2

out of

5
 by
Gigi
Too bulky.
Need to cut to fit harness size 3.5. Sending back.
December 16, 2015
Rated

5

out of

5
 by
Ogaboo
My dog likes the belt this is great
Sweetpea has a throat problem and this solves her not wanting to take walks.
August 1, 2015