Chuckit! Ultra Rubber Ball
Was:

$9.99

Price:

$6.03 FREE 1-2 Day Shipping over $49

You Save:

$3.96 (40%)
Small, 2 pack

Medium, 2 pack

X-Large

Large

XX-Large
Description
Trees, rocks, earth...it doesn't matter what these bouncy balls hit, they're gonna fly! Try the Chuckit! Ultra Rubber ball for hours of fun, with bouncy balls that keep on going long after being flung from the Launcher or thrown. The natural rubber is easy to wipe off and floats on water, too. Available in multiple sizes to fit any launcher.
Key Benefits
High bouncing balls that can be used in the water for a splashing good time
Designed specifically for the game of fetch
Features and extra-thick rubber core and quality material that floats
Bright color gives increased visibility and help prevent balls from getting lost
Compatible with the Chuckit! Ball Launchers
Item Number

53235

Brand

Petmate

Toy Feature

Floatable
Pet lovers also bought...
Customer Reviews
Rated

4.9

out of

5

 by

353

reviewers.
Rated

5

out of

5
 by
IloveBrandi
My go to ball!
I am in love with these balls! I got one when I first got my pitbull 3 years ago and it JUST NOW got a crack in it. I ordered 3 more (1 being a sqeeker) on here just last week (I can't believe how cheap they are for the great quality) I would not choose any other ball. Also, my boyfriend has had the same chuckit ball for over 5 years and is also very pleased with it. I highly recommend these. They do float, and are very easy to clean if it gets dirty. I scrubbed my ball after 2yrs of play and it literally looked brand new. The only con is that the XL ball is a little less durable as it has more air volume inside so since my dog mainly just chews it the popback I guess you'd call it was not as good as the large ball over time (the large ball is harder than the XL). Also the bounce on the XL is not as good over time. Out of the 2 sizes I would definitely choose the large. (the XL was a bit big so it also makes sense) Still my dog and I were very happy with it. Will DEFINATELY be giving some chuckits as gifts for friends and their people. :-)
December 6, 2016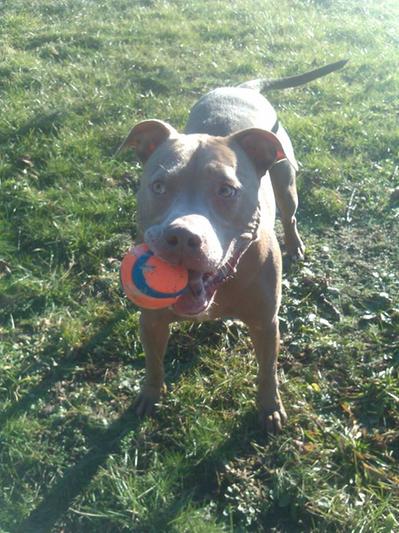 Rated

5

out of

5
 by
Whiteshield
Durable ball
This ball lasts and lasts. Other tennis ball types my dog would crunch down on and they were trash. This one he can chew on and not break. It bounces nice, which my Doxiebull really likes, and it is soft rubber. If you have a dog with a strong jaw, like mine, then get this ball you won't be disappointed.
January 15, 2017
Rated

5

out of

5
 by
MarP
My dogs favorite toy!
I got this ball and the launcher and my dog LOVES it. He even gets excited when other people have chuck it's at the park. I especially love this ball because it's safe for him to chew(which is does-and it's never destroyed). I used to have tennis balls but my vet said they are unsafe for dogs to chew on. These balls are worth it and cheaper here on chewey than in stores!
January 10, 2017
Rated

3

out of

5
 by
JennyRMK
Beware the Water
We lost 3/4 of these balls in the pond. One lasted quite a few days of throwing and was by far the funnest, we were really surprised when it sank or got stuck in the mud (or however it went under and did not come back up...) The other two were lost pretty much the same day in just a few throws. We have one that has lasted since the beginning and still floats, but now we squeeze the water out of it before we throw it, we don't want to lose this one.. So always monitor how much water gets into these balls before you throw them, there is the tiniest little hole to allow the ball to breathe, but if too much water gets in it-- poof. Gone. So if you are getting these to play in the water, be diligent on making sure they don't have any water in them, because otherwise these are good balls that fly far and are really brightly colored so the dog always sees them. Apollo loves them so much he cried when he first lost his in the pond. The entire dog park thought I had hurt him or something-- boy did he wail!
June 1, 2016
Rated

5

out of

5
 by
Stella
sturdy
Great value. My dog is a pitbull who loves to chew on the ball after retrieving. Holds up great.
January 14, 2017
Rated

5

out of

5
 by
ng59602
Much better than a tennis ball
I have a ball-obsessed Lab/Rott and this is her new favorite possession. Well made, I expect is will last a very long time. It's also very easy for her to find in the snow.
January 13, 2017
Rated

5

out of

5
 by
Hannah
My dog can't tear it apart!
Hannah can chew through most toys in minutes but not this one! She gets to gnaw at it and I don't have to pick up hundreds of pieces of a demised toy
January 11, 2017
Rated

5

out of

5
 by
LRSparky
Chuckit Rubber ball
My dog Romeo loves those balls! he has to have it near him or in his mouth at all times!!!!
January 11, 2017