Evanger's Grain-Free Duck Canned Dog & Cat Food, 6-oz, case of 24
List Price:

$67.99

Price:

$47.63 FREE 1-2 Day Shipping over $49

You Save:

$20.36 (30%)
Description
Liven up meal time with Evanger's exotic grain-free game meats. A great mixer with Evanger's Dry Foods or Vegetarian formula. This is an excellent choice for pets with other food allergies. These are packed in convenient 6 oz pop-top cans.
Key Benefits
Easy open cans featuring a natural, grain-free recipe for dogs and cats made with real duck
Simple recipe with single source protein is ideal for pets with food sensitivities or allergies
Perfect for protein rotation diets or as yummy food toppers for Evanger's dry food recipes to liven up dinner time
Recipes contains no corn, wheat, soy, artificial colors or flavors
Made in the USA!
Item Number

52616

Food Texture

Pate

Breed Size

All Breeds, Small, Medium, Large

Food Form

Wet Food

Lifestage

All Stages, Adult

Made in

United States

Special Diet

No Corn No Wheat No Soy, Grain-Free, Gluten Free, Limited Ingredient Diet
Nutritional Info
Ingredients
Duck, Water Sufficient for Processing, Liver, Guar Gum.
Pet lovers also bought...
Customer Reviews
Rated

3.4

out of

5

 by

14

reviewers.
Rated

5

out of

5
 by
StandardMom
Love the Limited Ingredients & My dog Loves the Taste
My dog is on a single protein source. Duck. I like to mix in canned food with his kibble to make his meals more interesting. I found most canned duck products sneak in turkey or chicken broth to keep costs down I suppose, but that defeats the purpose of being a single protein. This product seems to be true to it's label. (although it doesn't actually say the source of the liver that is used) It has a nice texture, and my dog loves it. I think because it is made for dogs and cats the flavor and smell is amped up. I like the small cans as I open one fresh each day and use a little as a topper over each of his 2-3 his daily meals. I also use it to fill his Kong toy. Although its not any cheaper online than in the store I like ease of getting a whole case delivered at one time. It works for me and my dog.
January 14, 2017
Rated

3

out of

5
 by
DrJim
Cats Won't Even Taste It
I've bought four flavors of Evanger's food and my cats won't eat any of them. In fact, one cat will usually taste any food for the first time, but he won't even taste any of these. The dog, on the other hand, will eat them, but he will eat most anything, so I don't know if he counts or not. My advice is to get one can and see if your cat will eat it before you buy a whole case.
May 18, 2016
Rated

5

out of

5
 by
Doug
good food!
Rosco (my dog) loves all the Evanger products. And the 3 neighbor dogs do too, food is better at my house and they know what time in the AM and PM dinner is served!
March 20, 2016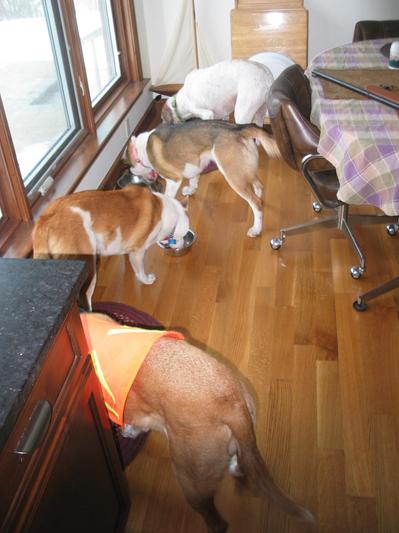 Rated

1

out of

5
 by
yorkiepowered
Waste of money
I thought this would be high protein and healthy. It is too high in fat content 9% to be healthy. This much fat in a dog's diet can send him into an episode of pancreatitis. Besides, with that much fat content, the dog will have diarrhea and the protein will just pass right through. It actually looks no different than the duck and sweet potato formula except the amount of fat which pours out.
May 28, 2014
Rated

4

out of

5
 by
mlbqt
Secret Sauce
Our dogs each eat 4 cups of Orijen for meals. We use the small Evangers cans as the "secret sauce" rotating flavors.
November 18, 2015
Rated

1

out of

5
 by
Geisty
VERY DISTASTEFUL TO CATS AND DOGS ...
Unfortunately, my cats just hate this stuff and won't eat it. Neither will my dog. Even the outside feral cats whom I often feed turn up their noses at Evanger's DUCK ... I strongly feel that I wasted money on this product. I do not recommend it under any circumstances ... it simply very distasteful to cats and dogs ... TM
May 17, 2013
Rated

5

out of

5
 by
Animallover629
My 2 dogs love this food!
I have 2 very picky eaters a German Shepherd and a Lab.. I mix a half a can with there dry food and they gobble it right up!!
August 31, 2015
Rated

5

out of

5
 by
mdevs
Some of the best food that you can feed your cat(s)
I have been buying this product along with a few of the other Evanger's cat/dog food (rabbit and pheasant). These three (duck, rabbit, pheasant), are all among the three best things for your cat to eat. House cats are supposed to eat the food that would be in their diet if they were still wild animals. They are not supposed to eat processed foods, carbs, or some of the other things that get put into some pet foods (such as gravy, vegetables, or even cheese). One great thing about this food is that it only contains four ingredients. It does contain animal byproducts (feather, bone, tendon, etc); this may sound unpleasant to a human, but a cat's body is perfectly suited to eating an entire small animal, and these byproducts are very healthy for cats. Many other foods will add things such as vegetables, gravy, and even cheese, which are all unhealthy for cats. Cats are carbohydrate and lactose intolerant, so it is best to avoid any sugars, dairy, and fruit/veggies. Yes, they may enjoy eating food like that, but it's not healthy for them and it should not make up a significant portion of their diet. I will admit that this food does not smell good. Frankly, it kind of stinks, but it is not made for me to enjoy. I just want to make sure that I am getting the best food that I can get for my cats, and they both really enjoy this food. I have spoken with my vet about their diets in great detail, and I am convinced that this food is some of the best stuff that you can get to feed to a house cat. Moreover, the Evanger's brand contains less ingredients (which is a good thing) and is generally more affordable than other comparable brands. As a serving tip, I would recommend adding hot water to the wet food and mixing it up thoroughly. Many cats will not drink water, but they do need it and including it in their diet will insure that they are well hydrated. The water also aids in digestion. I usually add about 3/4 a can of water per one can of food. It will be rather soupy so it is best to serve it in a deep dish or a bowl.
October 14, 2015