Four Paws Comfort Control Dog Harness, Blue
Was:

$11.85

Price:

$4.91 FREE 1-2 Day Shipping over $49

You Save:

$6.94 (59%)
X-Small

Small

Medium

Large

X-Large
Description
The coolest pups need to wear a cool color to show off their go-with-the-flow personality, and Four Paws has them covered. Literally! The Four Paws Blue Comfort Control Dog Harness is a breathable mesh harness that lets in plenty of airflow while giving your pet pal a sense of style and security, and giving you a tug-free trip around the block.
Key Benefits
Made of lightweight neoprene mesh with durable stitching and construction, making this a long-lasting harness
Reduces tugging and pulling by applying pressure on the chest of your dog
Adjustable nylon strap provides the perfect fit that is comfortable on your pup
Back hook harness provides you with complete, tug free control
Available in multiple sizes so that you can find the perfect fit for your dog
Item Number

65348

Breed Size

Small, Medium

Material

Neoprene
Size
| Size | Weight | Chest Measurements | Neck Measurements |
| --- | --- | --- | --- |
| X-Small | 3-4 pounds | 11-13 inches | 7-8 inches |
| Small | 5-7 pounds | 14-16 inches | 8-10 inches |
| Medium | 7-10 pounds | 16-19 inches | 10-13 inches |
| Large | 11-18 pounds | 19-23 inches | 13-15 inches |
| X-Large | 20-29 pounds | 20-29 inches | 15-17 inches |
Pet lovers also bought...
Customer Reviews
Rated

4.3

out of

5

 by

95

reviewers.
Rated

1

out of

5
 by
careyj321
Stretched out and too big
Bought this for a male rat terrier (17 lb. 18 in chest). Bought a Large as that is what the size chart recommended. It was slightly too big so I decided to try it anyway. After 2 weeks of moderate use it had stretched considerably and became pretty useless. I don't like the design either. I felt like it pulled at his throat instead of chest. Dog is not a bad leash puller but this harness made it difficult to keep him in check. If you are set on getting it then buy smaller.
July 11, 2016
Rated

5

out of

5
 by
Timberwolf
excellent harness when fitted properly
I have used Four Paws harnesses for a number of dogs. They are easy to put on and take off, secure and comfortable for the dog, when fitted properly. In fitting a dog the guidelines provided are helpful. but it is also important to consider the shape of the dog. My 16 pound Cavalier King Charles Spaniel is long and slim. Her neck and chest measurements indicate a medium harness, but her weight suggests a large. The medium is a perfect fit.
July 16, 2016
Rated

2

out of

5
 by
Char
It is really small compared to most other manufacturers sizes in these.
It is really small compared to most other manufacturers sizes in these.
August 11, 2016
Rated

2

out of

5
 by
Luvmysheltie
Product does not fit large dogs
I have 1 50 lb. Sheltie and an extra large barely fit around his neck and he has a summer haircut. Much too tight and did not go around his chest. Very disappointed but not worth returning as it was only $5.00.
August 3, 2016
Rated

5

out of

5
 by
Julie
Perfect Harness
Just what we ordered. Now we have pink and blue. Great to grab her quickly if she tries to chase something. So cute and practical.
August 5, 2016
Rated

2

out of

5
 by
acapulco64
we have husky
she is strong and these is very easy to open and slap me back supposed to be safe for all dogs is not please careful when you buy it we used it once
August 1, 2016
Rated

5

out of

5
 by
SAMMYSMOM
Greatest Harness ever.
We had purchases two of these harness' for our dog and they worked out wonderfully. Our niece just got a little dog and we decided Toby needed a Four Paws harness too - he immediately put his head in the harness and just loves it :) couldn't be happier.
July 21, 2016
Rated

5

out of

5
 by
MitchnBarb
A good fit for a tiny dog!
Lightweight, sturdy and a great value. Our 3.5 lb Yorkie was really difficult to find a harness for. This works great and it's much happier than when we used the type of harness with velcro because that noise scared him and his long fur would get caught in the velcro fasteners and pull. Glad we found it.
July 14, 2016
Rated

5

out of

5
 by
Steve
Perfect for for my Yorkishon size medium
Love chewy.com! They are the best in customer care and have fair pricing
July 28, 2016
Rated

3

out of

5
 by
Jack2068
Get at least one size larger than you think.
I love the way it's made, ordered the size and it was too small. I'll find another and pass this to a rescue.
July 15, 2016
Rated

3

out of

5
 by
jerrysquid
Not happy withthis
I bought this to replace a harness my Pomeranian had chewed thru. Her first one was a more rigid one so I tried this thinking it looked more comfy and maybe she wouldn't chew it. First I bought the same sized measurements as her old one which was a small. It fit over her head perfectly but the piece that runs along the chest wasn't long enough and so the chest strap was way too small. So I ordered a medium. It fit her chest but was too roomy in the neck and allowed her to dip her chin and chew right thru the neck. I was so disappointed because it's a very soft, kind of spongy material and doesn't have a bunch of buckles and adjustment things to make it uncomfortable. But I guess that's what I'll have to go back to. This didn't even last her a week.
November 17, 2015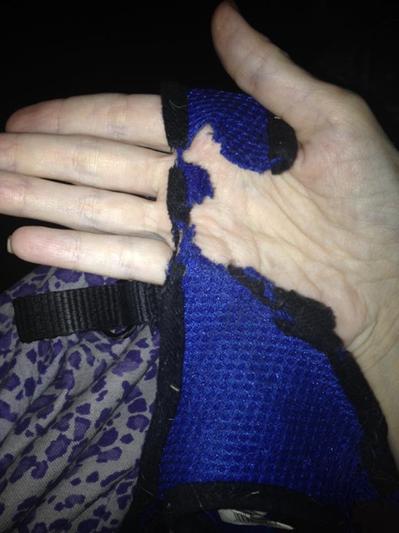 Rated

5

out of

5
 by
Cooper
Great Item!
Great harness for the money. After measuring Roscoe and ordering the size indicated it fit perfectly.
June 3, 2016
Rated

4

out of

5
 by
Atlaslovesit
Great harness for large cat
I have a 25lb Maine coon mix. He's too big for most harnesses made for cats but loves going out to walk with the dogs. This harness allows me to keep control at all times and not have to worry about him escaping.
May 1, 2016
Rated

5

out of

5
 by
donna
harness
Love the harnesses Perfect for summer I got different sizes because my babies are 4 to 14 pound and all fit
May 12, 2016
Rated

2

out of

5
 by
Bob22
Product misleading
I ordered the product (harness) because it said x-large. When I received it, it was x-large for a dog measuring up to 28 inches across the chest. My golden retriever measures 33 inches. Other x-large harnesses give the measurements in inches along with sizes. This product did not so I will return it or give it away.
April 9, 2016
Rated

5

out of

5
 by
Weezie
the collars seem to be very comfortable for my dogs
I think the price is very reasonable. Also, they are very sturdy, and seem to be comfortable for my dogs. I take them off at night and put them back on in the morning and they seem to want me to put them back on, they stand very still while I put them back on.
April 9, 2016
Rated

5

out of

5
 by
larrysmom
watch the size chart
I ordered this harness along with a harness to be used in the car. I ordered the car harness in a medium to fit our highland terrier. I didn't read the description thoroughly though when ordering this collar and I also ordered a medium. well the car harness fits wonderfully but this one unfortunately fits a much smaller dog (up to 10 lbs.) not gonna work and costs too much to send back for the correct size, oh well lesson learned. but the price was great and the shipping was quick. next time I will read the guidelines for EACH product before I order.
December 10, 2015
Rated

5

out of

5
 by
MrRomances
Excellent item
Sizing is an issue, I have a small dog. So I first ordered a small. The small is for a mouse ..i But when you get the right size t is great
April 14, 2016
Rated

5

out of

5
 by
Mergs
Harnesd quality and comfortable
My 8 week old pup is comfortable in this Gooby product
April 22, 2016
Rated

5

out of

5
 by
cedar
Great for Puppies
Ordering again but only blue? Pink is more expensive for no apparent reason?
April 18, 2016
Rated

3

out of

5
 by
cb66
Mixed Feelings
I like the concept of this harness but I am not convinced it is as strong as a leather one. The leather ones rub being the front legs which is the reason I purchased these. The measurements need to consider the head size. I have Shih Tzu's and find the harness to be snug when putting over the head and one of my Shih Tzus, when fitting the head, it is then too loose in the chest and allows one of his front legs to eventually get through the neck opening and have it then across his torso instead of the neck. I have adjusted it repeatedly and have found no solution with this design.
August 6, 2015
Rated

5

out of

5
 by
Steelersma
Nice Jacket Harness
This Jacket Harness was bought for my year old Pug/Jack Russell Mix, and he is a bit plump around the mid-section, so I was hoping that the measuring chart that was on site was correct (cause as we all know, some places do not know how to measure..), anyway it fit my boy perfect and it is like a mesh material so that your dog can breathe and if you have a Pug or similar smashed nose breed than anything that will help them breathe easier is a bonus... I would highly recommend buying anything I need for my 2 fur-kids from Chewy.com.. They offer awesome products and they are cheaper than most for same product..
April 10, 2014
Rated

4

out of

5
 by
Aggiedb2
Good Harness for Puppy!
Cute harness is comfortable for our puppy. Good purchase.
March 27, 2016
Rated

5

out of

5
 by
HugsDad
Great Product -- Delicious, too!
I like this product so well that I am buying my THIRD. Why ... He grew out of the first one and, he decided to "remove" the second one. His method of "removal" was to chew through the strap that goes around his belly and, just for good measure, chew the fasteners to the point of uselessness. The lesson is: 1. Nothing is puppy-proof, even a great halter like this one; 2. When you put "puppy" to bed, REMOVE the halter. Have yet to find any on-line vendor as good as Chewy. Their customer support is "over the top".
August 21, 2015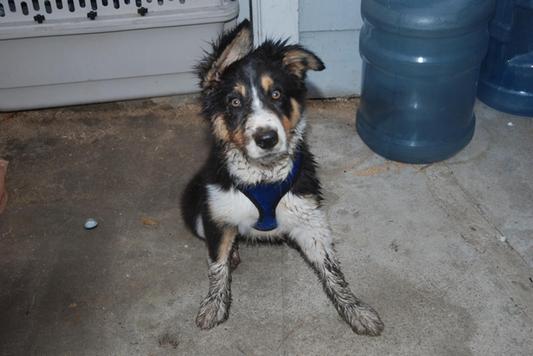 Rated

3

out of

5
 by
Calvin
Slip-over collar not useful
I was a little surprised none of the reviews mentioned that the part of the harness that sits where the collar is has to slip over the dogs head, which my dog hated, because it has to be smaller than their head to stay on their neck so it was a tight squeeze. I ended up cutting the collar part and attaching another clip.
January 23, 2016
Rated

5

out of

5
 by
Chick
Harness Review
This was just what I wanted for my dog and it fits really good. I looked in other stores but I could not find what I was look for.
March 9, 2016
Rated

5

out of

5
 by
Lorraine73
Excellent product
Purchased as our pet outgrew the original one we received when we adopted her fron a shelter. This item is great so much better than a coller for a small dog walking on a leach.sadie
February 23, 2016
Rated

1

out of

5
 by
jewelaa
Too small
I did measure my dog but it was still too small. Nothing wrong with the quality, just didn't fit. He has a lot of hair which I guess was the problem.
February 29, 2016
Rated

5

out of

5
 by
christinelal
Harness
Great fit as I have two yorkies who seem to be able to squeeze out of regular harnesses - these fit great and are safe.......... Love the color, fit and so do they
February 19, 2016
Rated

4

out of

5
 by
Booboo
Harness is secure
I have a havanese puppy who is currently around 12 lbs so I got the large size and it fits him well.
February 29, 2016