FURminator Soft Slicker Brush For Dogs
Was:

$20.99

Price:

$10.50 FREE 1-2 Day Shipping over $49

You Save:

$10.49 (50%)
Description
A well groomed pet is a happy, healthy pet. But, there are many reasons that frequent visits to your pet stylist aren't always possible. With FURminator's new line of professional quality grooming tools, you can get near professional results at home.
Key Benefits
Ideal for silky and wiry coats to remove stubborn mats and tangles without damaging the coat
Features straight bristles on one side and bent bristles on the other side
Dual flex head design follows natural contours of your dog's body, while keeping the bristles in their ideal working position 
Ergonomic handle is secure and comfortable in your hand
Anti-microbial plastic helps keep germs and bacteria at a minimum
Item Number

55200

Breed Size

Large
Customer Reviews
Rated

4.4

out of

5

 by

16

reviewers.
Rated

5

out of

5
 by
Eudie1
Best thing ever.
Hi, I just had to tell you how wonderful the slicker brush is. My dog is a Shipoo and has a coat that constantly gets knots all over her body. She does not like being groomed and cries like a baby when I try to comb her. so I end up cutting out the knots. She looks like a mess. I brushed her with the Furminator SLlcker when it arrived and I could not believe how great it worked. She let me brush her as I normally try to do, and all the mats and knots came out immediately with me using a gentle stroke. I have used the regular Furminator that cuts out the knots and mats but she doesn't like that. WIth this sSlicker there was no tugging of the fur and no crying from either of us.. She sat still and in around a minute or two I was able to brush her whole coat. She weighs 12 lbs. just to give you an idea of her size. Her coat was mat and knot free. It is so easy to use that I will use it every day now Her coat should grow out to a nice length so I should be able to give her a nice trim. I can not say enough about the brush. I used the angled bristles first and then went over hre coat with the straight side.
February 4, 2013
Rated

5

out of

5
 by
Aloah
Furminator Dog Brush
This brush was just what I needed, two brushes in one! Gets rid of mats on one side and smooths out on the other. Aloah Johnson
September 18, 2016
Rated

3

out of

5
 by
Shammy
Awkward to use
So I ordered this brush on the good reviews it has. The head flexes so that too much pressure can't be put onto the dog's skin (in theory, it is flexible, though). The top of the brush has a good 2" of hard plastic, which can make it hard to "see" where you are brushing, especially on ears and mustaches/faces. It does get the loose hair out and detangle just fine. The straight pins are for "finishing" and the bent are for "detangling." The straight pins don't really do anything more special than the bent pins do. This is a replacement for the safari slicker brush I had. I will recommend you go with a simpler slicker.
January 21, 2015
Rated

2

out of

5
 by
DoodleDude
It's just okay...
So the package showed up beat to all get out. The brush packaging was scuffed up pretty badly. It did not effect the slickers performance. The handle is VERY awkward, and short, making this a tool hard to use. I have Standard Poodles and Goldendoodles Brushing is a daily thing and this brush does not cause brush burn that I have found but it is not easy on the hands. the strait pin side does not seem to do anything at all. I never buy this again.
March 26, 2015
Rated

4

out of

5
 by
bobozbobo
Very good slicker brush
Although I was expecting something revolutionary being that it was from the FURminator people, it seems to just be a very good slicker brush that is 2 sided and comes with a case. I bought it for a golden retriever/chow mix and it does work fine but it didn't have her or me doing backflips. It is definitely a softer bristle which she does like and it does flow smoothly through her hair. If you need a slicker brush, you should give this one a try.
June 1, 2013
Rated

4

out of

5
 by
MelRat
Pretty good brush
I have 2 dogs, a labradoodle and a shih-tzu/terrier mix. This brush does well on both dogs. It glides through their coat, and doesn't yank, pull, or snag. I do find it hard to clean and the "pins" of the brush are quite sharp. I accidentally pricked my finger while cleaning it out. The protective case doesn't stay together and really doesn't fit on the brush. I bought it on sale and it was worth the price.
February 28, 2014
Rated

4

out of

5
 by
knowsbolos
Excellent quality and value
I am a breeder of the Bolognese breed, and their coats are extremely challenging to keep from matting. This new flexible slicker is a huge improvement over the old slickers. Very little tugging on the coats of the dogs, which keeps them more calm, and the flex feature also helps the groomer from getting "wrist fatigue".
October 30, 2013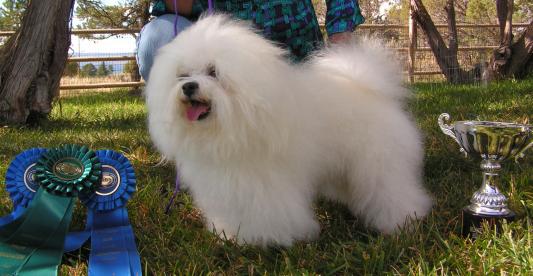 Rated

5

out of

5
 by
Bichonlove
Great user-friendly brush!
It's a great brush. My bichons seem to like the metal bristles better than a normal slicker. Like the way it conforms to the body. Great for brushing out legs. I ordered the small size.
September 2, 2015