Grandma Lucy's Artisan Grain-Free Pork Freeze-Dried Dog Food
List Price:

$105.99

Price:

$74.09 FREE 1-2 Day Shipping on this item

You Save:

$31.90 (30%)
Description
Since 1999, Grandma Lucy's has maintained a reputation for making only the best pet treats and are constantly developing new products packed with leading-edge nutrition and innovative design. That is why when you choose any of Grandma Lucy's many products, you know you are making the right choice for your pet.
Key Benefits
Easy to prepare freeze-dried recipe: just add warm water, mix and serve. Ready in just 3 minutes!
With premium ingredients like USDA pork that is hormone and antibiotic free, potato, flaxseed, apples, blueberries, and cranberries
A great option for pets prone to food sensitivities and digestive upset. Rich in natural omega fatty acids that help maintain a healthy skin and coat and healthy joints
All natural, with no grains, by-products, preservatives or GMOs
Provides complete and balanced nutrition for all life stages
Item Number

51344

Breed Size

All Breeds, Small, Medium, Large

Food Form

Dehydrated, Freeze-Dried

Lifestage

Adult, All Stages

Made in

United States

Special Diet

GMO-Free, Grain-Free
Nutritional Info
Ingredients
USDA Pork, Potatoes, Flax, Sweet Potatoes, Carrots, Celery, Apples, Bananas, Blueberry, Cranberries, Pumpkin, Garlic, Rosemary, Vitamin A, Vitamin D3, Vitamin E, Niacin, Iron, Calcium, Phosphorus, Zinc, Riboflavin, Thiamin, Potassium, Manganese, Chloride, Copper, Magnesium, Pyridoxine, Cyanocobalamin.
Caloric Content
4,134 kcal/kg , 469 kcal/cup
| Guaranteed Analysis | |
| --- | --- |
| Crude Protein | 34.0% min |
| Crude Fat | 14.0% min |
| Crude Fiber | 6.7% max |
| Moisture | 6.7% max |
| Calcium | 1.3% min |
| Phosphorus | 1.0% min |
| Magnesium | 0.16% max |
Feeding Instructions
For each cup of Grandma Lucy's add 1-2 cups of warm water, mix and serve, ready in 3 minutes.
Transition Instructions
Most pets transition from their current food to Grandma Lucy's within 7-10 days. Here at Grandma Lucy's we believe that the slower the better when it comes to transitioning your pet as it always yields the most favorable results. Starting with small amounts of Grandma Lucy's initially and gradually increasing the amount over time.
Pet lovers also bought...
Customer Reviews
Rated

4.5

out of

5

 by

28

reviewers.
Rated

3

out of

5
 by
LouWho
Quality Ingredients But Not Suited For My Small Dogs
In the beginning the dogs were very picky about eating this food. They are both under 10lbs and I cut the recommended daily feeding in half and it was still too much for their tummies. I wondered why they would not eat it quickly like their other food so I tasted it. I know "Yuck" but it was pretty bland so I made some broth and mixed it with that instead of water and they liked it. They will not eat the Celery though. They still were not thrilled and I figured they missed the crunch of the other food so I now give them 1tbls made with 2tbls of broth and add less than an 1/8 cup of their original kibble 2 X a Day and no more throwing up the food. I don't think I will re-order as my poms don't really care for it. My Pups are ages 12 and 13yrs and 1 is 9lbs the other is 7lbs.
January 4, 2017
Rated

4

out of

5
 by
Bailey6
Overall very favorable
At first my very picky eater that can only eat pork liked Grandma Lucy's dog food - then as days went on she became more and more fussy about eating it! I am on a reassuring order and think I should change the frequency of delivery as it will take a good 2-3 months for her to finish this bag. Thank you very much.
December 19, 2016
Rated

5

out of

5
 by
MagsK
Easy to Make
I love how easy it is to make. My 8lb Chihuahua and 60lb German Shorthair both love the food. It is great when we go camping. It doesn't take up any room and all you need is water to mix and they can eat the same food. It is a great alternative to canned soft food!
December 13, 2016
Rated

5

out of

5
 by
FCRguy
Dehydrated way to go!
Our dog loves this stuff & it's so convenient. Easy to prep any quantity you need. We use as a topper on dry food.
November 16, 2016
Rated

3

out of

5
 by
SarcasticLipStick
We were unsure but taste buds don't lie!
I have a 14lb shiba inu named Kiko and she is a SUPER PICKY eater. Shes allergic to chicken and various other things and after 4 days of debating on whether to buy this product i splurged and bought it for her. Shes only had dry kibble and the first day i gave it to her she snuffed her nose up at it. The second day she ate it like it was going out of style and now prefers to be fed with a spoon, rotten i know. There was no large chunks of meat at the top as i was expecting. Rather it was lost in the content of the powdery bag but after digging for a good while i found a few good pieces. They do not rehydrate in the bowl as u put water in with the powder so MAKE SURE you put them in seperate hot water for a good hour or so to let them get soft. Then add to the mash. It does smell good though!!!! And Kiko eats and eats and makes a happy plate!!! But my standard male poodle will not even acknowledge it! Try adding some of their usual kibble to it!!!! ALL in all, its a good product, just wish there was less carrots and more meat! :D
February 20, 2014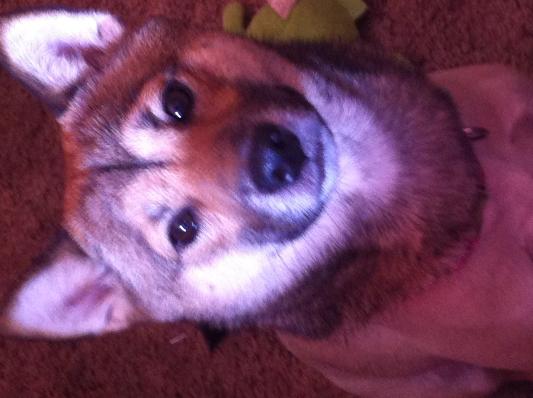 Rated

5

out of

5
 by
Deborah
One of the best products ont he market for snesitive tummies
This is the next best thing to raw. All ingredients are dehydrated, meaning they are not cooked at high temperatures so nutritional integrity remains intact and ingredients are simple - what you'd put on your own plate. They are also human grade, not slaughterhouse and mill scrapings! I love the chunks of "example meat" they place on top so you can see the quality of the meat that is ground into the rest of the food. I use these as special treats! This is a perfect food for senior dogs, picky eaters who need an enticement (used as a gravy) a food to wean puppies on, convalescing dogs, or "gulpers" who choke on kibble. It smells like Sunday dinner! The variety of proteins available is excellent and keeps food boredom away. The one caveat is that it is not a good choice as a sole diet for large breeds as the amount of water required to reconstitute per meal is extensive and, in our case, led a completely house trained dog (standard poodle) to have piddle accidents in the house. But for small breeds, this doesn't seem to be a problem at all. For me , its greatest value is for weaning puppies. I know they are getting great, solid nutrition of the highest possible quality and the texture is soft and I can control its consistency and temperature.
August 15, 2016
Rated

5

out of

5
 by
Michelle
Great for puppies
I have both a 10 month old and an 11 week old. both are lab pit mixes. I give them this once a day mixed in with their kibble. Its sort of a treat. Both dogs scarf it down! Definitely make sure to mix it with warm water. I got lazy one day, mixed it with cold and it did not get to its normal volume. The meat chunks are a nice bonus, mine were mixed in when I got the bag. It was always a surprise to see which pup got it in their bowl! Buying again now!
September 26, 2016
Rated

5

out of

5
 by
Susan
Great product for senior dogs!
We switched our 2 miniature poodles over to this when they were getting older and having sensitivity to the raw Bravo diet they had been on since birth. They both like this and have been healthy and happy with new diet.
August 16, 2016