Hill's Prescription Diet i/d Digestive Care Original Low Fat Canned Dog Food, 13-oz, case of 12
List Price:

$40.19

Price:

$33.49 FREE 1-2 Day Shipping over $49

You Save:

$6.70 (17%)
Description
Inappropriate levels of fat in the blood, inability to digest protein, or lack of digestive enzymes can affect your dog's digestive health. Efficient digestion is essential for your dog to be able to build and repair tissues and obtain energy, and for these reasons it is important to feed a food that is formulated to help support digestive health. For many dogs experiencing digestive challenges, it's also very important to feed a food with a low fat level. At Hill's, nutritionists and veterinarians have developed clinical nutrition especially formulated to help manage dogs with challenging digestive health problems.
Key Benefits
Clinically proven with highly digestible nutrition for dogs with digestive challenges
Prebiotic fibers promote growth of beneficial bacteria
Includes ginger to help calm and soothe the GI tract to keep your pup happy
Omega 3 fatty acids to support GI recovery as well as skin and coat health
Clinically proven antioxidants to support a healthy immune system
Special Note
Hill's Prescription Diets require a veterinary prescription. This product will not be shipped until a copy of a valid prescription authorization is faxed to 1-800-619-7973 or e-mailed to rx@chewy.com.
Item Number

69765

Food Texture

Pate

Brand

Hill's

Breed Size

All Breeds, Small, Medium, Large

Food Form

Wet Food

Lifestage

Adult, Senior

Made in

United States

Special Diet

Prescription Food, Sensitive Digestion, Weight Control
Nutritional Info
Ingredients
Water, Turkey Liver, Pork Liver, Rice, Egg White, Rice Flour, Pork By-Product, Whole Grain Corn, Egg Product, Flaxseed, Dried Beet Pulp, Oat Fiber, Calcium Carbonate, Chicken Liver Flavor, Soybean Oil, Ginger Root Powder, Potassium Chloride, Sodium Tripolyphosphate, Choline Chloride, Iodized Salt, Vitamin E Supplement, Taurine, L-Carnitine, Ascorbic Acid (Source of Vitamin C), Thiamine Mononitrate, Zinc Oxide, Ferrous Sulfate, Beta-Carotene, Copper Sulfate, Niacin, Manganous Oxide, Pyridoxine Hydrochloride, Calcium Pantothenate, Vitamin B12 Supplement, Riboflavin, Biotin, Calcium Iodate, Vitamin D3 Supplement, Folic Acid, Sodium Selenite.
Caloric Content
351 kcal/13 oz can
| Guaranteed Analysis | |
| --- | --- |
| Crude Protein | 5.2% min |
| Crude Fat | 1.7% min |
| Crude Fat | 4.0% max |
| Crude Fiber | 0.8% max |
Feeding Instructions
Adjust feeding amounts as necessary to maintain optimal weight. If you are unsure, ask your veterinarian. For best results & safety practices: Cover and refrigerate unused portion. Gradually transition to your pets new food over a 7 day period. Split the recommended daily amount into smaller portions and feed throughout the day. Exclusively feed the recommended Prescription Diet dry food, wet food and treats. Keep fresh water available at all times. Have your veterinarian monitor your pets condition.
Transition Instructions
A gradual transition to a new pet food is important to avoid digestive upset. To transition, mix your pet's current food with the new food. Over 7 days, gradually decrease the amount of the current pet food while increasing the amount of new pet food. In some cases, your veterinarian may recommend no transition or a shorter transition time.
Pet lovers also bought...
Customer Reviews
Rated

4.8

out of

5

 by

238

reviewers.
Rated

5

out of

5
 by
Banshee1
Good food
Vet recommended for my older dog. He loves it. Price at Chewy is better than Vet and it is delivered to my door. No more running to town to buy, especially in the winter.
January 2, 2017
Rated

5

out of

5
 by
Hankhammer1
Great product and service
We could not be happier with the auto-shipping feature and discounted case pricing offered on this product.
December 28, 2016
Rated

5

out of

5
 by
Woody42
Worth every penny
Our dog Woody who is not overweight was suffering from high cholesterol. Veterinarian changed his diet from dry dog food to D/I low fat canned food and Woody is improving and he loves his food. When I first ordered this food it was more expensive than dried food. I think if you put a quarter in a jar every time your pet made you smile you would still be ahead.
December 23, 2016
Rated

5

out of

5
 by
cruiser
Great for my overweight Otterhound
My 12 year old Otterhound weighed in at 120 pounds last month so my Vet put her on this food to lose some weight. She has now lost four pounds. Judith
December 27, 2016
Rated

4

out of

5
 by
Kitty01
Taste, Texture, and Top
The taste must be great, my dog Roy loves it. My cat also sampled it and gave it an 8 (she never give higher than 8 to anything, you know how cats are.) The texture is FIRM and smooth, no stew here. it takes some gentle chopping and mixing to include Roy's regular daily tablet medications. The top is not flip-off tab type, it requires using a can opener. Not a deal breaker, but if they can make all the other flavors faster to open, why not this one? Having said all that, Roy is bit overweight and I am hoping this Low Fat variety will help him lose a couple of pounds. Cutting back treats would help also, but try explaining that to Roy. Kitty gets it. She won't touch his treats.
December 2, 2016
Rated

5

out of

5
 by
EthicalPatriot
Ideal for an older dog
Both the ID canned and dry dog food are perfect for our 14 year old pit with GI issues. Thankfully she loves the taste of both and is back on track.
December 20, 2016
Rated

5

out of

5
 by
lita
digestive care
my 3lb dog 10 yrs old. had issue with digesting ...vet recommended this product she love it and no more issues with her digesting system. highly recommended.
December 15, 2016
Rated

1

out of

5
 by
Geewoman1
Prescription diet is not for every dog
Unfortunately our dog would not eat it. Doesn't mean that the product is not good, it just means that our dog doesn't find it appetizing enough to eat.
December 15, 2016
Rated

5

out of

5
 by
Nancy
Dogs that cannot eat product that are high in fat this product is for them.
My dog loves his food he barks until you put it down. Reilly never did that before.
December 12, 2016
Rated

4

out of

5
 by
BigBoy
HE LIKES IT AND IS HAPPY
our vet said we needed to keep our dog on a special diet from now on and he seems happy with his food. Yes!
December 13, 2016
Rated

5

out of

5
 by
Juju
Ordered wrong item and was SURPRISED!
This product works great for my 12 year old yorkie-poo. She weigh 10 lbs, has high triglycerides and has been on a low-fat diet her entire life. I just transitioned her from dry food to Science Diet i/d low fat per her Vet's recommendation. Piper loves it and is feeling great. Now for a high recommendation of chewy.com -- Not wanting to pick up the product from my vet every time I needed it, I searched online and found chewy.com. After realizing that I mistakenly ordered a case of the regular i/d I gave chewy.com a call to see if I could return it for a case of the low fat i/d. Without hesitation they said absolutely. Refunded my account immediately and waived shipping on the case of low-fat being shipped the following business day. "No need to return the case that you have, just donate it to a shelter or vet" he said. I was amazed. "We like to pay it forward." I thanked him profusely and donated the case I had received. Customer Service at its very best. Needless to say, they'll be getting repeat business from me.
March 12, 2016
Rated

5

out of

5
 by
malou42
Great
Angel has been on this for 1 year. It has helped her a lot.
December 2, 2016
Rated

5

out of

5
 by
CotoJeff
Just what the doctor ordered!
Dogs love it and do much better now that they are eating it.
November 30, 2016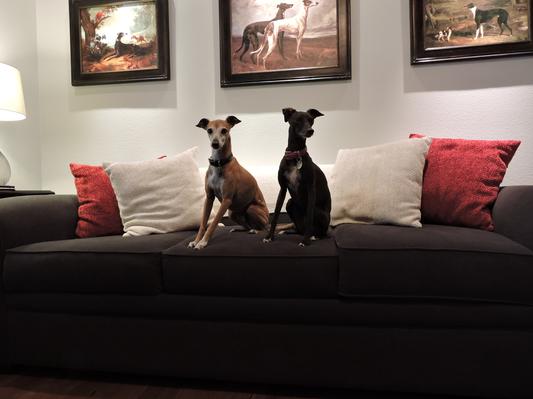 Rated

5

out of

5
 by
Jack
The product is great.
My dog really does like the low fat. I wasn't sure if she would eat it since eating the regular.
December 3, 2016
Rated

5

out of

5
 by
Penelope
Love this product and the service
This is the very product that my vet recommended at a good price and the convenience of having it delivered is such a nice bonus!
November 27, 2016
Rated

5

out of

5
 by
Lolly
Gentle and healthy
My dog has IBS and many of the other healthy brands still gave her colitis. Hills ID is great and she hasn't had any issues. She also lost weight. She loves the food and her activity level is back to normal. I love this product.
November 26, 2016
Rated

5

out of

5
 by
marhur
My dogs love this food.
I was feeding my dogs another brand and they had so much gas. I read if their body doesn't digest the food well, they can get gassy. I switched to this food and they are fine - plus the house no longer stinks! I am so happy they love the food. I get the large cans for my Lab and the small cans for my silky terrier. The large cans have larger chunks. I do like the stew the best since the "non-stew" chicken flavor comes gelled and I have to cut it up. My dog likes the stew better also.
November 15, 2016
Rated

5

out of

5
 by
Ninita59
Product is excellent
My little darlinf is doing so much better, after feeding him this digestive product. I need to order some more!!!
November 20, 2016
Rated

5

out of

5
 by
Boop
This product is perfect for maintaining good health
Lucy just loves the flavor and gobbles it up at dinner time
November 24, 2016
Rated

5

out of

5
 by
Becky
My dog loves this food!
After being diagnosed with pancreatitis, our dog was prescribed this food. She can hardly wait to get the food in her bowl, and she licks her bowl clean every time. She also scratches her empty bowl wanting more of this food! She has gained some weight back, and seems to be doing well. The only negative thing I can say about this food is that it is too expensive.
November 11, 2016
Rated

4

out of

5
 by
PenelopesMom
Good product, just pricey
My Yorkshire Terrier was diagnosed with Irritable Bowel Disease & Protein Losing Nephropathy at age 3. Her little tummy was filling up with fluid & she had bouts of vomiting & diahrrea. Her vet recommended a low fat & low protein diet to manage both. Low fat for the Irritable Bowel Disease & Low protein for the Nephropathy. She also takes a low dose diuretic to help her kidneys function as best as they can. I was initially concrrned about the pork liver & dried beet pulp, but I trust my vet, so we gave it a try. She has been on this regimen for just about a year & a half & couldn't be doing better. I feed her a mixture of the cans & ID Low Fat Kibble. The only concerns are: 1. The cost. My vet charges $32 for a 12 can case & $33 for an 8 LB bag of kibble which lasts about 10 weeks. Thank goodness she is a small dog & doesn't eat much. 2. She's not wild about the taste. She won't eat the kibble by itself at all...I have to mix it with the canned. Even then, I often have to plead with her to eat, or feed her by hand, which isn't good. We also have a male Yorkie (same age) with no dietary restrictions. He LOVES this stuff, so I've learned to let him in the room when I feed her. She still really isn't thrilled with it, but will eat it just to keep it away from him! Lol...whatever works, I guess. She has been doing well on the diet, no further fluid buildups. She does still have the occasional bout with vomiting & diahrrea, but nothing like before, so the cost is well worth it. I just wish it tasted better for her sake. If she liked the taste a little better, I'd gladly rate it 5+ stars!!
November 14, 2016
Rated

5

out of

5
 by
Deedee7691
She likes this one
My dog has to eat low fat dog food. I have tried many brands, including both Hill's Prescription original flavor (this one) and the chicken stew, Royal Canin, and Purina OM over the years. And I can say with a open can, side by side comparison, she likes this one best. If you're on the fence, hope this helps. The other cons with all prescription dog foods is the price and it's not as tasty as regular dog food, so a picky dog may have problems. My vet suggested small amounts of boiled chicken with it. (Have your vet advise). Also Hill's Original is the only can that does not come with a pop top. You will have to drag out the ole can opener. Hope they change that.
October 20, 2016
Rated

5

out of

5
 by
Tripod
Where do I enter a title?
Our Stormy loves it, and he eats it every day. He loves Hill's Prescription Diet i/d Digestive Care Original Low Fat Canned Dog Food.
November 14, 2016
Rated

5

out of

5
 by
John
Good dogfood
My dog is having "irritable bowel syndrome" or the equivalent. This food was the vet's recommendation. It helps a lot.
November 11, 2016
Rated

5

out of

5
 by
Cher123
Both small dogs love this food!
The Hill's lo-fat diet was prescribed for our 12 year old Bichon, but his little pal Clyde, our very picky poodle, also loves it! Both dogs are doing well.
November 8, 2016
Rated

5

out of

5
 by
Alex
Great deal on Hill's
The new customer sale and the auto ship discount made me able to afford my dogs dietary needs. The food was exact,y the same as the cans from the vet and shipped quickly and with great care.
November 5, 2016
Rated

5

out of

5
 by
OldInlet
Working well for my schnauzer with intestinal issues.
This food, in combination with a couple of drugs, has helped my mini-schnauzer with her intestinal problems.
November 7, 2016
Rated

5

out of

5
 by
Tonka7
Great Product
Our Jack Russell terrier has to have a low fat diet and Hills i/d diet is the best. He really likes it and it's saving his life.
November 5, 2016
Rated

5

out of

5
 by
artsyme
Perfect for my pup
I purchased this food for my dog who has extreme food sensitivities. You can't purchase this in a store in our city, so it's nice to be able to order it online in a case. It's also less expensive than at the vet. I feel good about Science Diet being a great product for dogs with special dietary needs. Ellie loves the food and I love the fact that she doesn't get sick anymore.
October 23, 2016
Rated

5

out of

5
 by
Wayne
I/D soft dog food
The product has been great. Easier than running by the vet to pick up more cans.
November 1, 2016