Hill's Prescription Diet k/d Kidney Care with Chicken Dry Dog Food
List Price:

$106.79

Price:

$88.99 FREE 1-2 Day Shipping on this item

You Save:

$17.80 (17%)
8.5-lb bag

17.6-lb bag

27.5-lb bag
Description
Kidneys are important because they remove waste substances from the blood, and maintain the normal balance of fluid and minerals within the body. Once kidney damage occurs, the consequences are usually irreversible. Hill's nutritionists and veterinarians developed Prescription Diet k/d, clinical nutrition especially formulated to support your dog's kidney health. In fact, k/d is clinically tested nutrition to improve and lengthen quality of life.
Key Benefits
Protects kidney and heart function with targeted levels of high quality protein
Boosts vitality and energy with controlled phosphorus and low sodium
Supports appetite and eating enjoyment to keep your dog eating a healthy amount
Sustains healthy body condition while supporting lean muscle
Feed your dog clinically tested nutrition to improve and lengthen his quality of life
Special Note
Hill's Prescription Diets require a veterinary prescription. This product will not be shipped until a copy of a valid prescription authorization is faxed to 1-800-619-7973 or e-mailed to rx@chewy.com.
Item Number

87466

Weight

27.5 pounds

Brand

Hill's, Science Diet

Breed Size

All Breeds, Small, Medium, Large

Food Form

Dry Food

Lifestage

Adult

Made in

United States

Special Diet

Prescription Food
Nutritional Info
Ingredients
Brewers Rice, Pork Fat, Chicken, Egg Product, Flaxseed, Whole Grain Corn, Whole Grain Sorghum, Dried Beet Pulp, Chicken Liver Flavor, Powdered Cellulose, Soybean Oil, Lactic Acid, Pork Liver Flavor, Calcium Carbonate, Potassium Chloride, L-Lysine, Choline Chloride, Potassium Citrate, Vitamins (Vitamin E Supplement, L-Ascorbyl-2-Polyphosphate (Source of Vitamin C), Niacin Supplement, Thiamine Mononitrate, Pyridoxine Hydrochloride, Calcium Pantothenate, Vitamin A Supplement, Riboflavin Supplement, Vitamin B12 Supplement, Biotin, Folic Acid, Vitamin D3 Supplement), L-Threonine, Iodized Salt, Taurine, Minerals (Ferrous Sulfate, Zinc Oxide, Copper Sulfate, Manganous Oxide, Calcium Iodate, Sodium Selenite), Mixed Tocopherols for Freshness, L-Tryptophan, Dl-Methionine, Natural Flavors, Beta-Carotene.
Caloric Content
398 kcal/cup
| Guaranteed Analysis | |
| --- | --- |
| Crude Protein | 12.0% min |
| Crude Protein | 16.0% max |
| Crude Fat | 17.0% min |
| Crude Fiber | 5.0% max |
| Calcium | 0.4% min |
| Phosphorus | 0.15% min |
| Phosphorus | 0.5% max |
| Sodium | 0.28% max |
| Vitamin C | 85 mg/kg min |
| Vitamin E | 450 IU/kg min |
Feeding Instructions
Adjust feeding amounts as necessary to maintain optimal weight. If you are unsure, ask your veterinarian. For best results & safety practices: Gradually transition to your pets new food over a 7 day period. Exclusively feed the recommended Prescription Diet dry food, wet food and treats. Keep fresh water available at all times. Have your veterinarian monitor your pets condition.
Transition Instructions
A gradual transition to a new pet food is important to avoid digestive upset. To transition, mix your pet's current food with the new food. Over 7 days, gradually decrease the amount of the current pet food while increasing the amount of new pet food. In some cases, your veterinarian may recommend no transition or a shorter transition time.
Pet lovers also bought...
Customer Reviews
Rated

4.7

out of

5

 by

216

reviewers.
Rated

5

out of

5
 by
Bonez
My dog loves this stuff!
My dog has recently been diagnoised with kidney diseases and I have been worried sick about having to change his diet. I have been purchasing this through my vet and its pretty expensive. When I found it on Chewy.com I was very excited to see that it is a little cheaper! Every bit helps! Great price and great product!
December 21, 2016
Rated

2

out of

5
 by
LadyDi
Probably good for dogs with kidney issues, but only if the dog will eat it!
I ordered this Rx food for my Golden Retriever, who had never been a picky eater. He refused to eat it, even when I know he was hungry! He waited eagerly for his food, sniffed it and just walked away...even when we tried mixing in some yummy wet food that I know he liked! The product may be desirable for dogs with kidney issues, but only if they will eat it! In my opinion, I think many dogs will find the palatability of this dry food to be not to their liking!
December 11, 2016
Rated

5

out of

5
 by
Baby2005
Awesome k/d food
My dog loves the food, actually he loves it more than his normal Blue Buffalo food. He ate it without hesitation. The food doesn't look dry as other regular dry food. I'm very happy with the purchase. Highly recommended if your dogs need k/do food.
December 17, 2016
Rated

5

out of

5
 by
doglover
Just what the doctor ordered
Service was great, product is what the doctor ordered, ease of ordering is simple. All and all we are happy with Chewy.com.
December 19, 2016
Rated

5

out of

5
 by
Robert50
The Kidney diet food was a big hit with TEDDY. He is an old guy and has started having many special needs.
My dog likes it better than the food he was eating before. He really likes it with a spoon of the wet food stirred in with the dry. I hope it helps the old guys kidney function, I want him to hang in with me for as long as possible.
December 16, 2016
Rated

3

out of

5
 by
Animec12
My dog doesn't like it :-(
First, the service from Chewy was good, the delivery etc...I gave 3 stars because my dog doesn't like it at all and this kind of food is expensive.I totally wasted my money in this one. I don't know if the problem is the odor that the food have but she couldn't eat it. I have the package almost new and I don' t want to enforce her to eat something that she doesn't want to eat.
December 6, 2016
Rated

5

out of

5
 by
Linda
CHEWY.......
When you need a special diet for a pet, Chewy can be counted on for such a fast service, your head will spin!! THANKS, Chewy!
December 12, 2016
Rated

2

out of

5
 by
Diane
Corn the 6th ingredient
I hate there is so much corn.Not only do I have a dog with beginning renal failure,but now an itchy one as well.
December 12, 2016
Rated

5

out of

5
 by
ted43
Outstanding!
What I ordered actually arrived and it only took 2 or 3 days for delivery.
December 9, 2016
Rated

5

out of

5
 by
Poodlefan
I have been using the product for a while, and switched to Chewy because of the poor service I received from our veterinarian's practice.
My vet decided not to carry this brand, and did not come through with promised food to transition to the brand he will be carrying. I decided to ditch the vet for food and go with Chewy. After bad service from the vet's staff, it was a joy to be able to get this taken care of with a phone call and have the food conveniently delivered to my front door! No more phone calls not returned, promises not kept, not to mention the added convenience of not stopping at the vet's to pick up the food. I wish I had done this a long time ago, but better late than never!
November 20, 2016
Rated

5

out of

5
 by
Eddie
My lab loves this food
I ordered this food around noon one day and I received the order by 4 pm the very next day. Great service
December 6, 2016
Rated

5

out of

5
 by
BullieMom
Patsy loves it!
I have noticed a big improvement in Patsy's health since she has been eating this prescription food. And, she does love it which is a great plus.
December 2, 2016
Rated

5

out of

5
 by
OldGote
FREE Delivery and at least 10% cheaper than local sources
Our local sources have ONLY Original flavor of K/D Canned and Dry food. Our 14-yr old German Shepard mix LOVES this flavor. We mix a couple of Tablespoons of Canned K/D with slightly less than 1-Cup of Dry K/D twice per day. Any K/D food ordered from Chewy is at least 10% less expensive than our local sources, PLUS FREE Delivery to our Front Door. Even "regular" FREE Delivery arrived at our door in just 4 Business Days.
November 19, 2016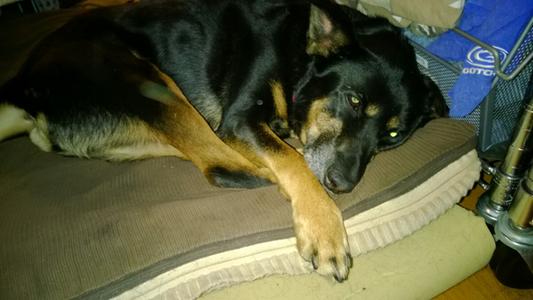 Rated

5

out of

5
 by
DannyPanik7
Hill's Prescription Diet k/d Kidney Care
My dog had some health issues and our vet recommended this. We've used it before on other pets so we know it works, fixed him up good. Danny Panik
November 21, 2016
Rated

5

out of

5
 by
Karma7
Great food!
My dog loves this new formula of the k/d. She "woofs" it right down. Having it delivered to my door instead of picking it up at the vet was amazing! For a dog with special dietary needs, I feel great about feeding her this food.
November 18, 2016
Rated

5

out of

5
 by
Jenny
Great
Great over all! The bag is a big bag. Will order again, my dog eats the food.
November 14, 2016
Rated

3

out of

5
 by
ThePilatesLady5
My German Shepherd is a very picky eater and she doesn't like this prescrption food.
We ordered this brand as our German Shepherd didn't like the other brand we were using. I think it's just the prescription diet food she dislikes. It's probably a good product but she walks by her food dish.
November 10, 2016
Rated

5

out of

5
 by
Archery
Great product
Excellent experience with product and Chewy. Thx for the great service.
November 10, 2016
Rated

4

out of

5
 by
Jimmy
This item was prescribed by our veterinarian. Chewy has a better price .
Bought this product from Chewy for a good price. It arrived in 2 days.
November 8, 2016
Rated

3

out of

5
 by
pedrosmom
Thoughts on KD Kibble for Dogs
I have an 11-year-old Labrador male Dog guide who has had to eat KD kibble since June. It has kept his numbers just above the normal range. But he has generally been a picky eater from the time I've had him and he really doesn't like the food. My vet tells me a lot of dogs do not like it because of the lower protein levels. He would pick out anything I would add to the food such as small amounts of finely diced chicken, or even any type of sauce on the food. So now he just has to eat it dry. He has held out for as long as 48 hours. To prevent this from continuing to happen, I have found that if I split feed at the times he really likes, such as 5pm and 10pm, rather than morning and evening, he will accept the food a little better; if your dog is like mine you might consider finding the times of day your dog might be most receptive. I considered the canned food but I'm not convinced my dog wouldn't pick it out and leave the kibble once again; right now the schedule change has been the key to successfully having him eat on a regular basis.
October 27, 2014
Rated

5

out of

5
 by
GracieRose2
My dog loves this food.
Recently found out our beloved dog has the early stages of kidney disease. Our vet recommended this food. Our dog loves it. Chewy took care of getting the prescription information from our vet and we now have it auto-shipped each month.
October 28, 2016
Rated

5

out of

5
 by
Ken13104
Prescription dog food
With the introductory discount my purchase was a savings over my veterinary price. Without the discount. There is no saving. When it is time to buy again I will check your price vs my veterinarians
October 28, 2016
Rated

5

out of

5
 by
buddy3
This is a presciption dog food.
My vet informed me my dog's kidney functions has responded well to the food
October 26, 2016
Rated

5

out of

5
 by
Aurora
Great product
My dog actually likes this food and has been eating everyday which is unusual for her!
October 19, 2016
Rated

5

out of

5
 by
Robe
great service, great product!
great service, great product, easy to use website and great everything
October 17, 2016
Rated

5

out of

5
 by
Moose15
My dog loves this food!
My dog is at the beginning stages of kidney issues so this product was recommended by our vet. My dog has always been a "picky" eater but not with this food. She gets very excited at meal time now and eats it all right away.
October 9, 2016
Rated

4

out of

5
 by
Sally
Sally loves it!
Great product , I am very happy with the Hills k/d Have used the Purina N/F and am happy with the change.
September 29, 2016
Rated

4

out of

5
 by
Gina
great value
We have used this food before, loved the convenience of the delivery to my door! The coupon was also great! Hope they will offer more discounts in the future!!
September 26, 2016
Rated

5

out of

5
 by
Charliebrown
Great Food
Our vet placed our 11 year old Lab on this food due to early kidney disease. He loves the food and it does not bother any of his many allergies. He acts like he is feeling better and is more alert and happy. We plan to continue using this food.
September 18, 2016
Rated

5

out of

5
 by
JuJu
Great results!
After 4 weeks on KD my labs blood work is finally in the normal range. Hopefully I can expect this for the rest of his life.
September 19, 2016