Hill's Prescription Diet w/d Digestive/Weight/Glucose Management with Chicken Canned Dog Food, 13-oz, case of 12
List Price:

$38.99

Price:

$32.49 FREE 1-2 Day Shipping over $49

You Save:

$6.50 (17%)
Description
Weight control, glucose management, and digestive support for dogs prone to excess weight gain. Some dogs can be more prone to gain weight than others. Weight problems can be successfully managed through changes in your dog's food. At Hill's, nutritionists and veterinarians have developed clinical nutrition especially formulated to provide complete and balanced nutrition to manage dogs prone to weight gain. Prescription Diet w/d also helps dogs maintain normal blood glucose levels and promotes healthy digestion.
Key Benefits
Clinically tested nutrition specially formulated to support your dog's weight management
Low in fat, calories, magnesium and sodium to help maintain a healthy weight
Contains clinically proven antioxidants to support a healthy immune system
Helps metabolize fat and maintain lean muscle while promoting urinary tract health
Using therapeutic L-carnitine levels and an optimal blend of soluble and insoluble fiber, this delicious formula helps dogs with weight, digestive and glucose management
Special Note
Hill's Prescription Diets require a veterinary prescription. This product will not be shipped until a copy of a valid prescription authorization is faxed to 1-800-619-7973 or e-mailed to rx@chewy.com.
Item Number

69796

Food Texture

Pate

Brand

Hill's

Breed Size

All Breeds, Small, Medium, Large

Food Form

Wet Food

Lifestage

Adult

Made in

United States

Special Diet

Prescription Food, Sensitive Digestion, Weight Control
Nutritional Info
Ingredients
Water, Egg Product, Whole Grain Corn, Chicken, Cracked Pearled Barley, Pork Liver, Powdered Cellulose, Chicken Liver Flavor, Soybean Oil, Potassium Chloride, Calcium Sulfate, Choline Chloride, Calcium Carbonate, Vitamins (Vitamin E Supplement, Ascorbic Acid (Source of Vitamin C), Thiamine Mononitrate, Niacin Supplement, Calcium Pantothenate, Vitamin B12 Supplement, Pyridoxine Hydrochloride, Biotin, Vitamin D3 Supplement, Riboflavin Supplement, Folic Acid), Iodized Salt, Minerals (Zinc Oxide, Ferrous Sulfate, Manganous Oxide, Copper Sulfate, Calcium Iodate, Sodium Selenite), Taurine, L-Tryptophan, L-Carnitine, Beta-Carotene.
Caloric Content
329 kcal/13 oz can
| Guaranteed Analysis | |
| --- | --- |
| Crude Protein | 4.0% min |
| Crude Fat | 2.0% min |
| Crude Fiber | 5.0% max |
Feeding Instructions
Adjust feeding amounts as necessary to maintain optimal weight. If you are unsure, ask your veterinarian. For best results & safety practices: Cover & refrigerate unused portion. Gradually transition to your pets new food over a 7 day period. Exclusively feed the recommended Prescription Diet® dry food, canned food, & treats Keep fresh water available at all times. Have your veterinarian monitor your pets condition.
Transition Instructions
A gradual transition to a new pet food is important to avoid digestive upset. To transition, mix your pet's current food with the new food. Over 7 days, gradually decrease the amount of the current pet food while increasing the amount of new pet food. In some cases, your veterinarian may recommend no transition or a shorter transition time.
Pet lovers also bought...
Customer Reviews
Rated

4.7

out of

5

 by

222

reviewers.
Rated

5

out of

5
 by
greengater
Diabetic dog thrives on this
Our Vizsla was recently diagnosed with diabetes, and his vet prescribed Hill's prescription diet w/d. Our dog eats it enthusiastically every 12 hours. Because he can get insulin only if he eats, it is great to see him eager for his Hill's every meal. Hill's is making the adjustment to his diabetes treatment much easier for his humans.
December 18, 2016
Rated

5

out of

5
 by
Lovedogs
Great price for prescription food
This is the exact product prescribed by the vet but at a much better price than the vets office!!. Save lots of money.
December 23, 2016
Rated

5

out of

5
 by
Tony
Quick, accurate service
My vet seemed to always be out of the w/d food. Ordered it from Chewy and had it in Two days! Much more convenient and very easy to order.
December 19, 2016
Rated

5

out of

5
 by
Ziggy
Good tasting
Our corgi was diagnosised with diabetes three weeks ago and canine wd food was recommended. We mix it with the dry canine wd food and our dog gobbles it up. They also have the wd food with chicken and vegetables that we are ordering next. This is a high quality food for dogs and was recommended by our veterinarian.
December 19, 2016
Rated

5

out of

5
 by
Kim15
Delivery to my door was awesome!
I chose to sign up for auto-shipping of my dog's prescription dog food because PetSmart was constantly out of stock and my dog has to have it. Thanks Chewy for offering a better alternative!
December 2, 2016
Rated

5

out of

5
 by
Max10
Diabetic dog enjoys his new food
I was skeptical about switching dog food for my recently diagnosed diabetic dog because he tends to be picky with his food but he really enjoys this! It's been 1 1/2 months since we switched his food and started a low dose insulin shot and so far he is doing great. Price is much better than my local vet and coupons/ discount also helps.
November 28, 2016
Rated

5

out of

5
 by
SuzyQ
Excellent customer service.
Our Bichon, Abby, is diabetic and eats Hill's Science Diet dry food supplemented by Hill's Science Diet w/d canned food. Since this is by prescription only, it can be difficult to find. Thankfully, I found the Chewy website. They carry the canned food we need and, they provide fast, excellent customer service.
November 17, 2016
Rated

5

out of

5
 by
BZ4547
This product is excellent for canines !!
Product is formulated for dogs with diabetes and weight issues !!! Works well !!! Highly satisfied with product !!!
November 25, 2016
Rated

5

out of

5
 by
WineyGma
Healthy food for my dog
This Hill's prescription food (W/D) food was prescribed for my dog because she was having difficulty with digesting and processing her food. She had chronic diarrhea. Since eating this food for over a year she has not had recurring events. She eats the food willingly and is happy at meal times. I recommend this food when it is necessary. One additional feature of this food is that she stays at a very acceptable weight also without limiting her food.
November 7, 2016
Rated

5

out of

5
 by
Socksie
Great product
Our poodle that is 10years old just got diagnosed being diabetic and also having pancreaitis. This food was highly recommended by our trusted vet as complete diet change for our baby.
November 13, 2016
Rated

1

out of

5
 by
noname
Diabetic dog food
My dog hates it! He is a West Highland terrier that has developed diabetes and needs a diabetic dog food. He ate one can and that was enough for him. He was a finicky eater before.
November 12, 2016
Rated

5

out of

5
 by
andyb613
Good Stuff!
I had feed my small dog dry food for a long time. I was concerned he would not like this new food. I was wrong, he really likes it, although sometimes I have to add a little boiled chicken to get him to eat it all.
November 10, 2016
Rated

5

out of

5
 by
NancyD
Both my dogs love w/d!
Chewy.com is the best! Great pricing, easy online ordering, autoship and free shipping! What more can I ask for?
November 4, 2016
Rated

5

out of

5
 by
Luckydogowner
Dogs love product
2 small breed dogs that are picky eaters and have digestive issues eat this without a problem.
October 30, 2016
Rated

5

out of

5
 by
DENNIS
Prescribed for diabetic dogs
The product is for a diabetic dog which we have been using for a year. What we like about chewy was the expedience in handling our request and the option to schedule follow delivery.
October 25, 2016
Rated

5

out of

5
 by
DEBRA2
MY DOG HAS BEEN USING THIS FOR YEARS!
I LOVE GETTING MY PETS FOOD DIRECTLY FROM CHEWY TO MY DOOR. IT'S JUST ONE LESS ERRAND TO RUN!
November 1, 2016
Rated

5

out of

5
 by
Muffysmo
Muffy my diabetic dog
Muffy loves this Hills WD. We had her on something else and I would have to hand feed her. I love the fast delivery from Chewy. Thanks for making my life easier.
October 29, 2016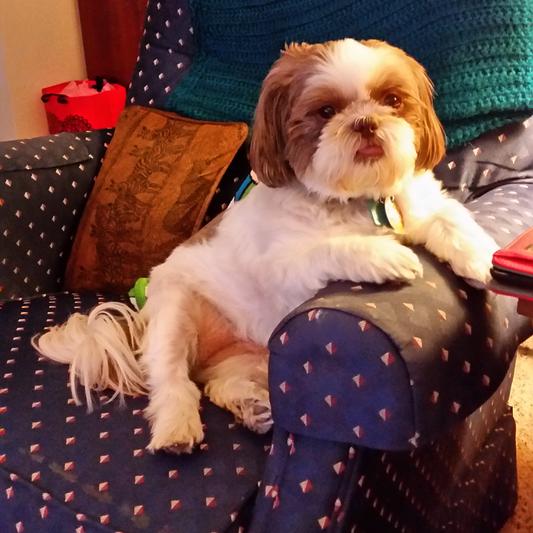 Rated

2

out of

5
 by
MargO
Dog got tire of the food and would not eat.
I tried everything and finally cooked some chicken breast to mix in with the food to get her to eat it. She has diabetes, so she is on a restricted diet. It is frustrating enough to have to give her shots twice a day, without her not eating the food. How much insulin she gets depends upon how much food she eats. It is very difficult to gage how much insulin to give her when she won't eat the food or just eats a few bites.
October 14, 2016
Rated

5

out of

5
 by
Grammy2
My dog loves it!
I normally order the Chicken Stew dog food, but ordered this by mistake. Much to my surprise, my dog likes this even more than the stew! Thank you for making it so tasty!
October 21, 2016
Rated

1

out of

5
 by
Sandyd
Hills Glucose Management dog food
This stuff is nasty. The texture is like wallpaper paste and our dog won't eat it. I tried holding food but had to feed him something else to control the insulin levels.
October 24, 2016
Rated

5

out of

5
 by
Birdie
Special Products for Special Pets
Wish I could feed my Aussie something that is more exciting…but, she has digestive issues, and this product has gotten her system back on track. She enjoys it, so I am happy to have found something that her vet has recommended, that pleases her. Lesson learned, here…what might appeal to a human, may not be what is best for a dog. I appreciate being able to order this in bulk from Chewy.
October 7, 2016
Rated

5

out of

5
 by
monicaf1
loved the food
my dog is very happy with it,also it suits my dogs health very well
October 18, 2016
Rated

5

out of

5
 by
Smokey
Great service/fast shipping!
Our dog loves this canned food and it's good for him! Our first order came so quickly and now we have auto ship! Totally a win/win situation!
October 11, 2016
Rated

5

out of

5
 by
YorkieMom
My yorkie loves it!
This was my first purchase from Chewy and they were fast calling my vet for approval and shipping the food right away. I moved and it's too far to the vet so Chewy delivers conveniently to my door!
September 29, 2016
Rated

1

out of

5
 by
Momma23
No thank you
My 10 year maltipoo as just recently diagnosed with diabetes and was in need of a glucose management diet. The first option was this hills w/d formula which is also what the vet suggested. The wet food is sticky I've had to water it down just to moisten it my dog is completely uninterested in the food. After ordering $$$ dollars worth of this food wet and dry now I'm stuck with it and the task of finding a new food. Worst of all twice now I have opened the can of wet food and gone to mush it up with water and found a dead fly mixed in the food!!! Disgusting!! I will be taking this up with the manufacturer I am hoping to recieve some form of refund as this is unaceptable to feed my dog. Do not order this food please research low glycemic dog food diets there are others out there. No to hills!!
June 5, 2016
Rated

5

out of

5
 by
Bailey46
Expensive, but works
Our 12 year old standard poodle has had chronic diarrhea for several years. The only thing that has controlled it is an exclusive diet of W/D food; dry kibble and canned. As long as he stays on the W/D his bowel movements are "normal", no diarrhea. It's expensive and not nutritionally dense so we feed much more than would be required with a standard diet. Consequently there is a much higher volume of stools, but again no diarrhea. He likes it and is doing well from an energy and nutrition perspective. I was skeptical but this is a case where you get what you pay for.
August 25, 2016
Rated

5

out of

5
 by
Laura71
Great product
My English Bulldog is 11 years old and has been on the dry Hill's Prescription Wd for years. Recently I had noticed he wasn't too excited about eating it anymore. After examination from his vet that there wasn't some underlying medical condition causing him to not want his food, I tried just a small amount of the Hill's Prescription WD can food mixed with the dry food. What a difference! He's so excited to eat now and really seems happy and looks forward to meals again!
August 25, 2016
Rated

5

out of

5
 by
zuri
Great for dog dibetic
The vet said this is the only dog food to keep my dog alive, she is doing well and the product is great, came shipped in a chewy box and all cans were in excellent condition
September 14, 2016
Rated

4

out of

5
 by
Dave
mistake
Wasn't product I was wanting but this error was buyer not seller. I didn't explore product enough. Service was excellent
August 29, 2016
Rated

2

out of

5
 by
LeeAnna52
My dogs are losing weight.
My dogs are losing weight, but that's because they won't eat it. They dislike the taste.
August 28, 2016