Hill's Science Diet Adult Advanced Fitness Small Bites Dry Dog Food
Was:

$52.99

Price:

$43.45 FREE 1-2 Day Shipping over $49

You Save:

$9.54 (18%)
5-lb bag

17.5-lb bag

38.5-lb bag
Description
Hill's Science Diet Adult Advanced Fitness Small Bites dog food provides precisely balanced nutrition for a visible difference in dogs who prefer a smaller kibble. 
Key Benefits
Exclusive blend of omega-6 fatty acids, vitamin E and other nutrients nourishes the skin and promotes a noticeably shiny coat in 30 days
Clinically proven antioxidant blend with vitamins C and vitamins E to help support a healthy immune system
Natural, high quality, easy-to-digest ingredients with no artificial colors, flavors or preservatives for a flavorful, nutritious meal
Highly digestible, high quality protein to help maintain lean muscle and high quality fiber, fatty acids and antioxidants to support healthy digestion, skin and coat and a strong immune system
Recommended for adult dogs 1-6 years of age
Item Number

52704

Weight

38.5 pounds

Brand

Hill's

Breed Size

Extra Small, Small

Food Form

Dry Food

Lifestage

Adult

Made in

United States
Nutritional Info
Ingredients
Chicken, Whole Grain Wheat, Brewers Rice, Whole Grain Sorghum, Corn Gluten Meal, Whole Grain Corn, Chicken Meal, Chicken Liver Flavor, Pork Fat, Dried Beet Pulp, Soybean Oil, Lactic Acid, Flaxseed, Potassium Chloride, Iodized Salt, Choline Chloride, Calcium Carbonate, Vitamins (Vitamin E Supplement, L-Ascorbyl-2-Polyphosphate (Source of Vitamin C), Niacin Supplement, Thiamine Mononitrate, Vitamin A Supplement, Calcium Pantothenate, Biotin, Vitamin B12 Supplement, Pyridoxine Hydrochloride, Riboflavin Supplement, Folic Acid, Vitamin D3 Supplement), Minerals (Ferrous Sulfate, Zinc Oxide, Copper Sulfate, Manganous Oxide, Calcium Iodate, Sodium Selenite), Taurine, Oat Fiber, Mixed Tocopherols for Freshness, Phosphoric Acid, Beta-Carotene, Natural Flavors, Dried Apples, Dried Broccoli, Dried Carrots, Dried Cranberries, Dried Peas.
Caloric Content
363 kcal/cup
| Guaranteed Analysis | |
| --- | --- |
| Crude Protein | 21.0% min |
| Crude Fat | 12.5% min |
| Crude Fiber | 3.0% max |
| Vitamin C | 85 mg/kg min |
| Vitamin E | 400 IU/kg min |
| Omega 6 Fatty Acids | 2.5% min |
Feeding Instructions
Adjust feeding amounts as necessary to maintain optimal weight. If you are unsure, ask your veterinarian. New to this food? Mix increasing amounts of your pets new food with decreasing amounts of the old food over a 7-day period. Keep fresh water available at all times! Your pets nutritional needs may change as they age. Ask your vet at every checkup. Science Diet is available in a wide variety of dry foods, wet foods and treats for your pets unique needs.
Transition Instructions
A gradual transition to a new pet food is important to avoid digestive upset. To transition, mix your pet's current food with the new food. Over 7 days, gradually decrease the amount of the current pet food while increasing the amount of new pet food.
Pet lovers also bought...
Precisely Balanced Nutrition for Adult Dogs
Hill's Science Diet adult dog food provides precisely balanced, easy-to-digest nutrition for a visible difference in adult dogs. These yummy recipes are specially formulated for dogs 1-6 years of age to help improve skin and coat health, maintain strong, lean muscles and support immunity.
Vets' #1 Choice to Feed Their Own Pets
More than anyone, veterinarians know a healthy dog food when they see one. That's why they give Hill's Science Diet to their own dogs more than any other brand. Hill's works with pet nutritionists to develop recipes with the best dog food standards in mind. These recipes are designed to keep your furry family member healthy and strong so he can enjoy more moments of overwhelming happiness.
The Science Behind Happy
With over 220 veterinarians, Ph.D. nutritionists and food scientists working every day around the world, Hill's is able to create new products and improve existing ones that help your pet live a long, healthy and full life. They pride themselves on wholesome ingredients, precise nutrition and high-quality standards in pet food because they know firsthand that when your cat is healthier, she's happier too.
Natural Recipes Made in the USA
Hill's is proudly made in the USA with only high-quality protein. Real chicken, lamb or salmon is the first ingredient, along with other natural ingredients sourced from North America, Europe and New Zealand-all free of artificial colors, flavors and preservatives.
Fresh, Whole Food Ingredients
Hill's uses high-quality ingredients to provide the proper balance of essential nutrients for optimal health. Guided by evidence-based research, Hill's formulas are precisely balanced to meet each pet's specific life-stage, size or special needs.
DRIED BEET PULP
Excellent insoluble fiber source that supports healthy digestion, and the prebiotic fiber stimulates the growth of the favorable gut bacteria (probiotics).
GROUND FLAXSEED
Rich in Omega-3 fatty acids that improve the shine of the pet's coat and high in fiber that helps move food through the digestive system.
CARROTS
Excellent source of B vitamins and vitamin C and contains the most carotene of any vegetable as well as high levels of antioxidants that provide protection against free radicals.
CRANBERRIES
Excellent source of vitamin C and unique natural source of tannins (astringents found in plants) that help prevent harmful bacteria from thriving in the urinary tract.
APPLES
Good source of antioxidants, vitamin A, vitamin C and dietary fiber, which helps with joint problems and promotes overall gastrointestinal health.
BROCCOLI
Great source of fiber and vitamin C and boosts the immune system, supports skin and heart health and helps the body release toxins.
About Hill's Pet Nutrition
For more than 70 years, Hill's Pet Nutrition has helped enrich and lengthen the special relationship between people and their pets by putting their passion for balanced pet nutrition into everything they do. With a dedicated team of veterinarians and pet nutritionists involved in the development of all their products, Hill's is able to ensure high-quality pet food to help all pets live a happy and healthy life.
Customer Reviews
Rated

4.8

out of

5

 by

118

reviewers.
Rated

5

out of

5
 by
Tabasco
Healthy Pet
My Chihuahua is 9 years old. I think he has done very well with this pet food. He seems to really like it. Its small bits make it easy for him to chew up. Your delivery service was great too...
December 30, 2016
Rated

5

out of

5
 by
MacGyver
Excellent service!
The order arrived quicker than expected! Very convenient! Thanks for the great service
December 25, 2016
Rated

5

out of

5
 by
Tramsey
This product is the best
I like the convenience of making a phone call and its delivered to the door. No more having to lift heavy bags of dog food. I think the prices are cheaper. And the service is the best! It almost like having a vet on the phone, not only can I buy the products I need but they're willing to answer questions about my pets Thanks Chewy for everything you do for my Shady Grady and Sadie Lady!!! We Love you!!!
December 20, 2016
Rated

5

out of

5
 by
3893a
I have fed my dogs this product for years.
Same Science Diet food that I have bought for years but your prices are great and the delivery was prompt, clean and so much easier for me. I signed up for auto-delivery ONLY because the delivery date can be adjusted according to my needs. What more could I ask for from Chewy!
December 19, 2016
Rated

5

out of

5
 by
Fatima78
picky dogs love this food
My Corgi and Shitzuhuahua love this food. They have driven me nuts in the past, just letting me know they do not like the varieties I have tried. I'll stick with this, and next month, Chewy will have an order from me.
December 15, 2016
Rated

4

out of

5
 by
Jerry13
Convenient
I am glad I found you, My dog is happy and I love the convenience and service just keep the price down. Thank You jerry wayne
December 12, 2016
Rated

5

out of

5
 by
Furrbabymom
Great dog food for my two Pomeranians
I love this dog food. And my dogs love it. One of my furr babies os a rescue dog. And they told me he was a picky eater and from day one he has ate this food.
December 4, 2016
Rated

5

out of

5
 by
SueRN
Only feed my dogs Science Diet
I have 3 completely different breeds of dogs and Science Diet is the only one that suits all three.
December 4, 2016
Rated

3

out of

5
 by
Sheryl
Dog did not like flavor.
I have a picky eater and he does not like this flavor. I was really surprised when my daughter's dog, not a picky eater, turned her nose up at this flavor too.
November 16, 2016
Rated

5

out of

5
 by
Maemae0378
Small bites is what our girls prefer
Science Diet Adult Fitness is great quality food. We have been on it for 10 years recommended by our Vet. All of our fur babies love it, especially the small bites blend. Our Saint Bernard will only eat the small bites blend so it's great Science Diet offers it. The girls stomach is never upset and their coats always look great.
November 15, 2016
Rated

5

out of

5
 by
buckibabe
great!
most of our herd (4 dogs) are chubby!!! and they love this food! I have to guard the slow ones so the piggies don't eat theirs! Rita
November 14, 2016
Rated

5

out of

5
 by
Ilovedogs1
Pup loves the taste
This bag is good for me because I can order it once every 8 weeks without worry. My pup loves the taste(so do the wild raccoons so don't leave it outside).
November 2, 2016
Rated

5

out of

5
 by
Js2pups
Great product. Dogs love it.
Have used this product for several years without complaint. Good nutrition, dogs perform well, and they snarf it up! Will continue to purchase this food with confidence.
October 30, 2016
Rated

5

out of

5
 by
jovi
The puppies love it!
My new dogs love this food, And the vet said it is good for them.
October 22, 2016
Rated

5

out of

5
 by
ThrilledDogLover
Amazing choice i made switching to Chewy!
This is a great place to buy your pet food. At store X and store Y I was paying much more money. Why not get it here?? One doesn't have to lug the dog food home. Hauling 30 to 50 lbs. of dog food into the house is a chore I am glad to eliminate! The impulse buys, (such as dog toys my Aussie chews into bits) are not purchased unless I have time to think about it. Online I do have time! I love the service. Three cheers for Chewy & it's founders.
October 12, 2016
Rated

5

out of

5
 by
Butch
Great Product
I have been using this product for over a year now. I was buying it locally but after checking on line I found it much cheaper pound for pound and delivered to my door rather than driving to pick it up! Chewy also carries it in a larger size bag so I restock less often! Very satisfied!
October 8, 2016
Rated

5

out of

5
 by
Irene7819
Great deal
My dog loves this food also gives em a shiny coat on your dog
October 17, 2016
Rated

5

out of

5
 by
Dallas
We have been feeding this to golden retrievers for years and all have reached their teenage years.
We started to feed this to a golden named Max who just missed his 17th birthday. Since then we have rescued 3 goldens and the first 2 reached their teen years and the third is only 6. All of these dogs have had long and healthy lives and Hills Science has always been the central part of their diets.
October 8, 2016
Rated

5

out of

5
 by
Hoover
Great Price.
Great price and fast delivery. All my 5 dogs love the Science Diet and look forward to their next meal. A very healthy and vet recommended dog food.
October 11, 2016
Rated

4

out of

5
 by
TTsDogs
Itchy dogs
I've used this product for over a year. I ordered it threw chewy and 2 of my 4 dogs have been itching like crazy. Not sure if it's related but I've heard the same product may come with slightly different ingredients from place to place
October 7, 2016
Rated

5

out of

5
 by
DenverGirl
Great adult dog food
I switched my energetic Boston Terrier from her puppy food to this recently. It was an easy transition and keeps her well fed in-between walks and long days at doggie daycare. I highly recommend Hills Science Diet for lifelong feeding- I also use the canned food to make frozen kongs that she loves.
September 23, 2016
Rated

5

out of

5
 by
sydney22
Great price/fast shipping
My dogs have been on this food for 7 years now and do really well on it. Great ingredients. Chewy provides it at a great price and super fast shipping.
September 30, 2016
Rated

5

out of

5
 by
Karen
Why didn't I do this before?
First time ordering online. It was so simple, order arrived on time with exactly what I ordered. No going to the store, standing in line, and lugging it home. Love it!
October 1, 2016
Rated

5

out of

5
 by
Poppelfloh
Great Small Bite Food
My dog ate Science Diet at the Shelter. They had her on Large Breed Puppy food when we adopted her, but she seemed to have a hard time eating it. I bought this food, since it was determined that she was no longer a puppy - this bag comes in 38.5 lbs which is a very large bag for a small dog. I placed the food in a sealed plastic container to avoid spoilage. My dog no longer has any issues eating. Great product!
September 15, 2016
Rated

5

out of

5
 by
darcy
she's eaten science diet for 8 years now. darcy
I have fed my dog Science Diet since I brought her home from the breeders. She is now eight years old and has thrived on it.
September 24, 2016
Rated

5

out of

5
 by
thrtiv
Great product
I have 3 Chihuahuas. One 13 years and two twin 16 month old puppies. Been using Hills for a long time. Here's my gripe, the 17 1/2 # bag is hard to open and does not have a zip closer like the adult age defying 15 # has. Why is that? Either this was an old bag, which I doubt, or just poor design by Hills. They need to know. For some reason I can't rotate the picture.
September 9, 2016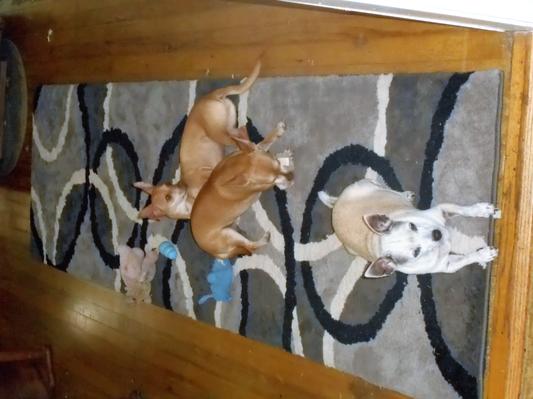 Rated

5

out of

5
 by
Jana66
Our dogs love this product
Both of my beagles really like this food and have never tired of it. Hills Science Diet products are recommended by every vet that we have encountered so I don't think rhat you can go wrong with this brand. Enjoy it doggies!
September 14, 2016
Rated

5

out of

5
 by
Angela
perfect diet for my dog
This food is very nutritious and gives my dog lots of energy for her days full of play
September 18, 2016
Rated

5

out of

5
 by
CorioTheMutt
Best on the market
I recently switched my pup to science diet after he had some digestion issues and refused to eat. My family and vet swear by hills. Not only did he start eating again but he was feeling better and looking better. I now swear by hills and will continue to buy their products.
September 7, 2016
Rated

5

out of

5
 by
Bobbe
Love the ease of shopping on line for this great product.
Love the larger size. I have 2 Chi mixes and these are the perfect size.
September 10, 2016