JW Pet Gripsoft Flea Comb
Was:

$9.18

Price:

$4.99 FREE 1-2 Day Shipping over $49

You Save:

$4.19 (46%)
Description
With a rubber-sheathed handle designed in combination with groomers and a hand surgeon, Gripsoft grooming tools are the most comfortable you can buy. Their non-slip grips are made to optimize your comfort and control. And the complete line means there is a specific Gripsoft tool made especially to match perfectly with your pet's coat.
This comfortable and easy-to-use comb works through your pet's coat to eliminate fleas and flea eggs. It can also remove fine debris and dust, making your furry friend a lot neater.
Key Benefits
Plastic grip handle is designed for style, comfort, and control
Comfortable and easy to use comb works through your pet's coat to eliminate fleas and flea eggs
Comb can also be used to remove fine debris and dust, keeping your furry friend clean and neat
Comb is designed for all breeds and all coat types so any of your pets can benefit from a combing from this product
Metal teeth are placed tightly together to ensure they pick up the fleas and eggs from your pet's coat
Item Number

55133

Brand

Petmate
Pet lovers also bought...
Customer Reviews
Rated

4.4

out of

5

 by

17

reviewers.
Rated

5

out of

5
 by
SueR
Works great
This flea comb is very comfortable to use. I have two golden retrievers and a border collie, and have no problems getting this comb through their long hair. The teeth pick up fleas while still being gentle on their hair. I would recommend this comb.
November 21, 2016
Rated

3

out of

5
 by
MaggieP
Flea comb
It is very difficult to use and you have to get close to the skin for it to work
August 24, 2016
Rated

5

out of

5
 by
Daphne8
Great comb for long hair.
The handle makes combing thru long hair very easy. The teeth are very strong and glide right thru the wooly undercoat. This is a very good quality product. Perfect for cats and dogs.
March 12, 2016
Rated

5

out of

5
 by
Jodi64
Works Great!
Works great on the fleas!!And helps with shedding!
April 3, 2016
Rated

5

out of

5
 by
Sharigirl
Great Flea Comb
My dogs didn;t like getting combed, but, this one made a difference for them. It gets the hair out great, fleas will be between the combs sometimes or they will move around to their belly where you can get them easily. The grip is important when I am combing them, and this comb has a good, comfortable grip. i enjoy using this product and recommend it for others. sp, NC
December 10, 2015
Rated

4

out of

5
 by
Krystie
Great comb, just maybe not for kittens.
I use this product on my kitten and while it gets the job done, it's a bit large and heavy and I worry about hurting her when I try to comb her neck, (on the rare occasion she lets me) overall, it's a good product and it does exactly what it says it will, a smaller version would definitely be appreciated!
November 12, 2015
Rated

5

out of

5
 by
goldbe50
My cats love this comb
Yes, cats. Let's face it, dog and cat fleas are the same size, right? It's not as if they usually have fleas, it's just great for grooming them. I hold it up in front of each of them and they race to their favorite grooming spot. Really goes smoothly through my long-haired kitty's fur and a big help with my non-shedding RB.
September 3, 2014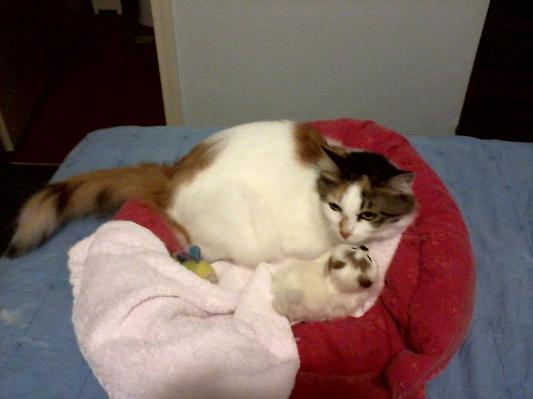 Rated

5

out of

5
 by
CatLover
Excellent for Hair and Flea removal
I use it to get more cat hair after brushing, but it would be excellent for flea removal, also. Comfortable grip, smooth transition thru cat hair without pulling. Best I've used in 50 years of cat grooming.
July 2, 2015