JW Pet Hol-ee Roller Dog Toy
Was:

$10.99

Price:

$5.99 FREE 1-2 Day Shipping over $49

You Save:

$5.00 (46%)
Description
Game of fetch? Check. Good for bouncing? Yep, that too. Chew it and stretch it? Sure, why not. You can even fill the JW Pet Hol-ee Roller Dog Toy with tempting treats and turn the toy into a tasty puzzle of alone-time deliciousness. The patented honeycomb toy is made of natural, durable rubber and tough enough to provide countless hours of chew time.
Key Benefits
Made of non-toxic durable rubber
Innovative ball is super durable and double-molded to stand up to tough chewers
Promotes exercise and helps eliminate boredom
Openings allow the toy to be used as a treat ball too
Tough enough to stand up to constant chewing, can be stretched and tugged
Colors vary (green, blue or red) 
Special Note
You choose the size, color ships at random.
Item Number

53326

Brand

Petmate

Breed Size

Large
Size
| Size | Dimension |
| --- | --- |
| Small | 3 inches |
| Medium | 4.5 inches |
| Large | 5.5 inches |
| Jumbo | 7.5 inches |
Pet lovers also bought...
Customer Reviews
Rated

4.3

out of

5

 by

313

reviewers.
Rated

4

out of

5
 by
NeonDragonfly
Try these treats with it
I bought the large size for my 5 month old Malinois mix, to stuff with some treats to keep him busy with a puzzle. When i received it i soon found that the holes were too large for most treats, and most of them just fell right out, so unless you have some rather large treats you may need to stuff it with a toy or something else. I did find that "Blue Buffalo Health Bars Baked" work really well with the large Hol-ee. It took my pup 15 minutes (with a little help from me) to get the treat out. these treats come in plenty of flavors, and my dog likes them (but then again, he eats anything and everything). so try them out if none of the other treats you've tried work. I can't comment on the durability of the Hol-ee because my dog has never sat there and chewed on it, so it's still intact, but I'm sure a heavy chewer would easily rip though the soft material. Oh, and one more thing, I love the way the Hol-ee smells. It's like vanilla rubber scented. Lol i know it's strange, but hey.
August 11, 2016
Rated

5

out of

5
 by
sheila
Great ball for an active dog
We have an Australian cattle dog and every ball we bought she would destroy in a few minutes to an hour. We were spending $30-50/month just replacing dog toys! This is one ball which lasts several months! She loves to shake it over and over and absolutely loves it! We have a smaller ball for indoor use and the Jumbo size works perfectly for outdoors!
January 19, 2017
Rated

3

out of

5
 by
LIDuck
Lots of fun. Lasted a few days.
Boston loved this Hol- ee Roller ball, however, it is not a chew toy. My error. Ate threw the soft webbing in a matter of days. When I started to see bits lying on the floor, I removed it. This would be fine for a dog who was trained to release the toy on command.
January 20, 2017
Rated

5

out of

5
 by
cas444
Great Ball
My Border Collie loves her Frisbee, but is wearing down her canines from catching it. This ball is a great substitute, and one she actually enjoys playing with.
January 21, 2017
Rated

5

out of

5
 by
Snowflake
Excellent toy!
I got this as a gift for my friend's dog because my dog loves his. It's easy for me to throw and soft for him to catch out of the air and because it's floppy he loves to shake it - but it doesn't make him crazy nuts about it like other floppy rubber toys he has. It's easy for him to carry around and it's stays soft and flexible in really cold weather. It does sink so keep it away from water and I doubt it would hold up to tugging or heavy chewing so we put it up when he isn't supervised. This is our new favorite, best ever dog toy!
January 9, 2017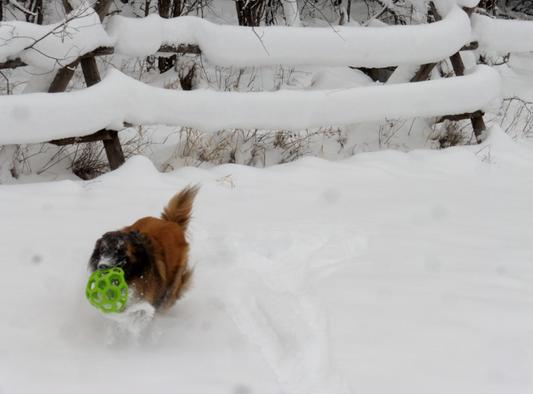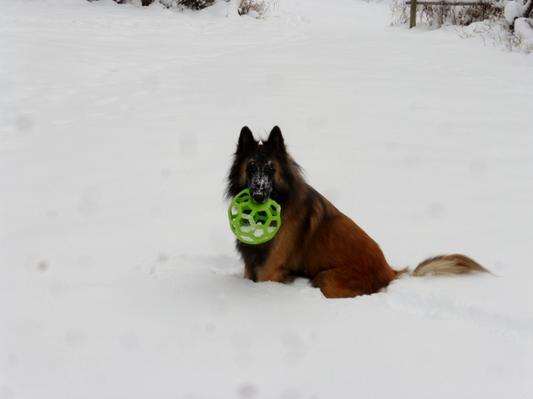 Rated

5

out of

5
 by
EBG8302
Great Value!
I got this for my young pup because he likes to pull the stuffing out of toys. I stuffed it with some strips of old towel. He just loves pulling the "stuffing" out of it. I just gather up the rags and stuff them back in... easy peasy. To keep him busy, sometimes I wrap small treats in the rags to give him a surprise when he pulls it out of the ball. This is one of the few toys he hasn't managed to destroy. I love it!
January 13, 2017
Rated

5

out of

5
 by
FireLadyLynn
TOUGH AS STEEL... RUBBERY, NOT HARD RUBBER IS BEST!
Believe me this ball whether it is the mini 2 inch or the size small 4 inch are the toughest toy. Even our "Mylo the Shark Teeth Little Boy" tugs like crazy on these. The more rubbery the better... N O T the harder rubber toys. I can see not just with our little dog but other customers as well agree. This is BEST for power chewers!!!
January 13, 2017
Rated

1

out of

5
 by
Alzuke
This product good for supervised play. Not for chewing.
Ball was good to play catch and tug with but when allowed to chew on unsupervised it was destroyed in about one hour.
January 17, 2017