KONG Cloud Collar for Dogs & Cats
Was:

$34.99

Price:

$16.23 FREE 1-2 Day Shipping over $49

You Save:

$18.76 (54%)
X-Small

Small

Medium

Large

X-Large
Description
The KONG Cloud Collar is soft, comfortable, and it doesn't interfere with a dog's peripheral vision or their ability to eat and drink. It's great for dogs or cats recovering from surgery or wounds.
Key Benefits
Premium, protective collar
Comfortable to wear while recovering from surgery, injuries and rashes, without interfering with peripheral vision or the ability to eat or drink
Machine washable fabric for convenience
Scratch and bite resistant to expedite the healing process
Will not mark or scratch furniture, so you can feel good about using this around the house
Item Number

62502

Breed Size

Large
Size
| Size | Neck | Example Breeds |
| --- | --- | --- |
| X-Small | 6 to 8 inches | Cats and toy breeds |
| Small | 7 to 12 inches | Cats, Jack Russell, Sheltie |
| Medium | 10 to 14 inches | Border Collie, Spaniel |
| Large | 15 to 20 inches | Labrador, Golden Retriever |
| X-Large | 20 to 25 inches and up | Rottweiler, Mastiff, Great Dane |
Pet lovers also bought...
Customer Reviews
Rated

3.9

out of

5

 by

332

reviewers.
Rated

5

out of

5
 by
labmom222
Far more functional than plastic cones
My vet sent us home with a huge plastic cone for my lab. The poor dog couldn't even get in the car with that monstrosity on, couldn't get through doorways because his peripheral vision was blocked, couldn't drink water or eat from his bowl. After 30 min., I took it off and looked on Chewy.com for an answer. As usual, I found this beauty and it works great. It appears comfy for my dog, doesn't interfere with daily functions, and actually serves as a pillow for when he sleeps. I took this to my vet and recommend they use these instead of cones, which are not very functional. Sometimes they are slow to catch on. :)
January 12, 2017
Rated

5

out of

5
 by
Jan58
Comfortable and functional
My dog tolerated the Kong collar much more than the plastic cone. He was also able to eat, sleep and drink much easier while wearing the Kong collar as opposed to the cone. However, the biggest plus was him being able to maneuver better when go out to go potty. I recommend this collar over others.
January 17, 2017
Rated

5

out of

5
 by
DaneMom
Works well for Great Dane
a traditional cone for my Great Dane is way to big to fit through door ways. This is a great alternative for stomach surgery. It won't work for tails or feet.
January 16, 2017
Rated

1

out of

5
 by
Avdj
Didn't work
Tried to use this instead of cone as my dog cried with cone on. No effect. She got to spot on hind quarter with this on and chewed it back open. Had to go back to the cone.
January 14, 2017
Rated

5

out of

5
 by
Kathy
This was so much better than the typical cone!
Much more comfortable! Highly recommend! It made the two weeks our pup had to wear this more manageable!!
January 14, 2017
Rated

5

out of

5
 by
KKalifornia
Great item for what we needed it for!
Our chocolate lab had a mass removed from his abdominal area and the cone is just a terrible item to deal with in our multi-level house of stairs. We have stairs everywhere and poor Moose was not able to climb them without a good "stab" from the cone hitting the vertical side of every stair. I got the Chewy donut in an extra large because I was nervous about him being able to lick and it worked well! I can't say my dog is "normal" as he loved the donut around his neck and acted as he does when I put his collar on...which he loves by the way. He despised the cone though, so go figure! The only downfall we found was that he couldn't put his head all the way down when he slept, so night time was a little tough.
December 21, 2016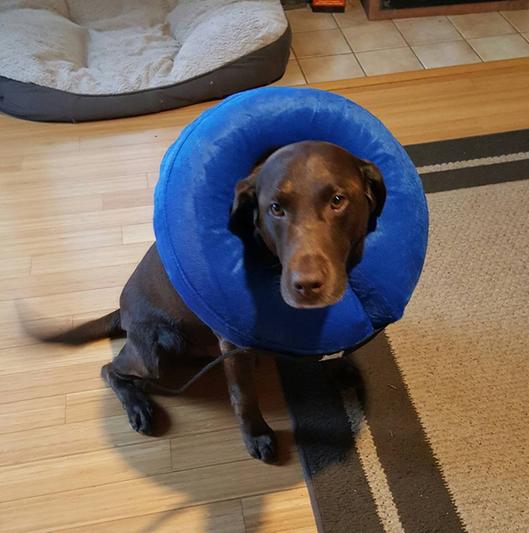 Rated

5

out of

5
 by
krazfraz
Just what we needed!
This product is awesome! It was exactly what we needed! I love the fact that the cover can be removed and washed. I would HIGHLY recommend this collar! And your price, beat everyone else! THANKS!!! :)
January 14, 2017
Rated

5

out of

5
 by
Carol123
Worked like a charm
Our puppy was recently spade and we used the Kong Cloud Collar as soon as we got her home. So much more comfortable than the plastic "cone of shame" the vet put on. She was able to drink, eat, go in her crate, everything and I'm sure she was much happier using it. A great product!
January 9, 2017