Was:

$14.45

Price:

$7.20 FREE 1-2 Day Shipping over $49

You Save:

$7.25 (50%)
Description
The KONG Traxx is a durable tire chew designed to provide the ultimate chewing experience. The uniquely shaped sidewalls and thick outer tread create a super durable, elastic barrier. The sidewalls are designed to double up and rebound when compressed to provide an active chewing experience, and the Traxx are perfect for bouncy games of fetch.
Key Benefits
Durable tire chew designed to provide the ultimate chewing experience
Uniquely shaped sidewalls and thick outer tread create a super durable, elastic barrier
Perfect for bouncy games of fetch and chewing exercise
Fillable with treats to make it extra exciting for your pup
Toughest chew for power chewers
Cautions
Supervised use only. Inspect toy frequently. Remove toy, if damaged.

Item Number

59307

Breed Size

Medium, Large

Made in

United States
Size
| Size | Length |
| --- | --- |
| Small | 3.5 inches |
| Medium/Large | 4.5 inches |
Pet lovers also bought...
Customer Reviews
Rated

4.3

out of

5

 by

184

reviewers.
Rated

5

out of

5
 by
Labbiemom
A MUST-HAVE super durable toy for retriever owners!
Anybody who has a retriever or retriever mix knows what it's like to have a dog insistent upon carrying something in their mouth nearly everywhere they go. Sometimes it's one of their toys, but more often than not it's something they are not supposed to have. It can be a challenge to find a toy that isn't too heavy, large, or awkward in their mouths but this fits the bill. This toy is the perfect shape/size for a large lab, golden, chessie, whatever! My boy LOVES running around the house and yard carrying his tire. He loves catching it mid-air and even tosses/chases it himself for amusement. The tire is amazingly durable and we've had the same one for over a year; in fact, it's one of the only toys he hasn't been able to destroy (other than Goughnuts). Initially we tried to fill it with treats but as other reviewers said, it's a bit of a challenge for larger dogs to get the goodies out. Now we just use it as a regular toy and skip the treat-stuffing: he likes it just as much!
November 26, 2016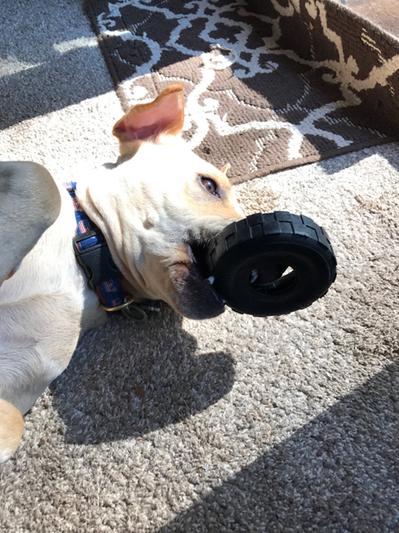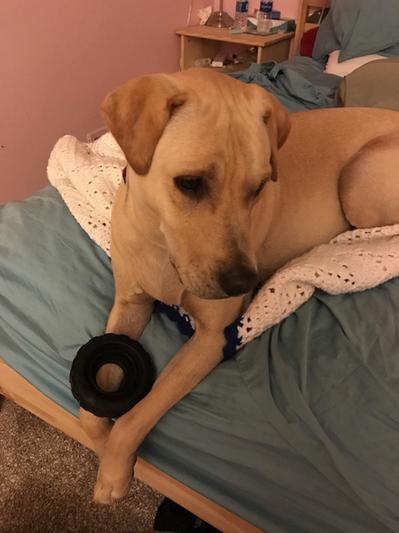 Rated

2

out of

5
 by
xombie
Designed for heavy chewers- didn't stand up to my pup
My dog has an insane chewing reflex, wanting to chew on anything, so we have to make sure she has proper toys to chew on. I ordered this because it is designed for heavy chewers. In less than a week, so had stripped the tread off the side of the tire, and now we've had to remove the toy because she is able to strip pieces off and I don't want her to swallow them.
January 20, 2017
Rated

5

out of

5
 by
RJOdin
Very durable
My Old English bulldog and my German shepherd love playing with this toy. It's stood up to rough games of tug of war and pretty much constant chewing from my shepherd. He loves to hold it in his mouth when they wrestle. He hasn't torn through it yet, which is always a good sign, and it doesn't show any signs or cracking or tearing. I would definitely recommend this to anyone who has a tough chewer!
January 17, 2017
Rated

2

out of

5
 by
Thurstybobo88
Dog has no interest
I purchased this toy for my dog because he is a very strong chewer and I know Kong makes good products. I also thought it was an interesting shape, which might attract my dog to play with it. My dog has absolutely no interest in this toy, whatsoever, and has not used it at all. Would not purchase again or recommend.
January 15, 2017
Rated

5

out of

5
 by
MrsB
Indestructible
Our Kona is a terrier/lab mix, 45 lbs and loves to try to destroy her toys. This tire toy has had teeth ripped into it, it's been tossed around and has held up really well. I highly recommend this chew toy if you have a dog that likes to tear things up.
January 15, 2017
Rated

3

out of

5
 by
JW1975
Smaller than I thought
This is a good tire, appears to be sturdy and may hold up to my heavy chewer. I got the one labeled "large". I would have to respectfully disagree. It is approximately the size of a small Bagel. I have a Labrador with excellent choppers- I would have hoped for a bigger tire for him to chew. But he still seems to enjoy it and I will continue to let him.
January 9, 2017
Rated

4

out of

5
 by
kevin97
much smaller then i thought
Great quality kong toy but if you are looking for a large tire this is not for you i would classify this as a small tire description is a bit deceiving.
January 10, 2017
Rated

5

out of

5
 by
DexMom
Product is way too small for a large dog
This tire toy was advertised for medium/large dogs. It is not suitable for large dogs.
January 10, 2017