Merrick "The Tank" Meaty Beef Knuckle Bone Dog Treats
Was:

$13.15

Price:

$6.29 FREE 1-2 Day Shipping over $49

You Save:

$6.86 (52%)
Description
Go on, give that dog a bone. A big one! Your pup deserves a reward for promising not to chew the leg of the dining room table anymore, and "The Tank" meaty bones from Merrick are just what the occasion calls for. These sliced knuckle bones are perfect for medium or large breeds. The bold, smoky flavor is loaded with protein, and contains no artificial flavors, colors, or preservatives.
Key Benefits
Contains a minimum of 28% crude protein
No artificial colors means less mess when he slobbers
Long lasting large breed dog treat keeps dogs entertained
Good for dogs gums and teeth
Item Number

47963

Breed Size

Large, Giant

Food Form

Treats

Lifestage

Adult, All Stages

Made in

United States

Special Diet

No Corn No Wheat No Soy
Nutritional Info
Ingredients
Beef Knuckle Bone.
Feeding Instructions
Treat responsibly: choose treats as recommended based on the size of your dog. For the safety of your pets, observation is recommended when giving your pet treats or chews. Keep fresh water available at all times. Serve treats responsibly as part of a complete & balanced diet.
Pet lovers also bought...
Customer Reviews
Rated

4.2

out of

5

 by

276

reviewers.
Rated

5

out of

5
 by
squirrel
the tank
my dog chena loves it .its big so it will last quite awhile.
January 14, 2017
Rated

5

out of

5
 by
CrystalFox
A hunk of The Tank!
When I ordered The Tank I was unaware of how big this bone actually was. Upon opening it, I had to place the bone in my dogs eating dish, since she was unable to lift it at the time. Since my baby is part pit, lab and terrier, She had this huge bone broken in half and enjoying it to the max. I would recommend this item for a large breed dog, and that it be eaten outdoors. That being said, my dog LOVED IT.
January 1, 2017
Rated

5

out of

5
 by
Dazzle23
Good investment
My 2 Border Collies got 1 each on Christmas morning and they love them and chew on them daily without obsessing over them. I like that. Makes them last and doesn't interfere with their diet.
January 4, 2017
Rated

1

out of

5
 by
Ravenhill
Downhill
I used to have a standing order with Merrick for these. But in late 2014, quality started slipping. These should be about 13" across...the size of a baby's head...huge, in other words. I began seeing a few small ones in shipments, then tiny ones the size of my fist (from calves, I guess). Some were overcooked so they were dry and fell apart in the packing, even before the dog got near. They shattered and were gone in hours, not a week or two. In reading most recent reviews, it looks like Merrick has not done anything to address these issues, and while some people still get a big, quality bone that can last for weeks, many get little things that last hours. Not worth playing roulette for me to order again. Note...keeping these indoors is a must if you don't like decay and bad smells. Messy at first, but they hold up indoors okay. Outside...not good. My dogs know "Drop it" and often there is a loud clunking before everyone passes through the back door.
June 6, 2016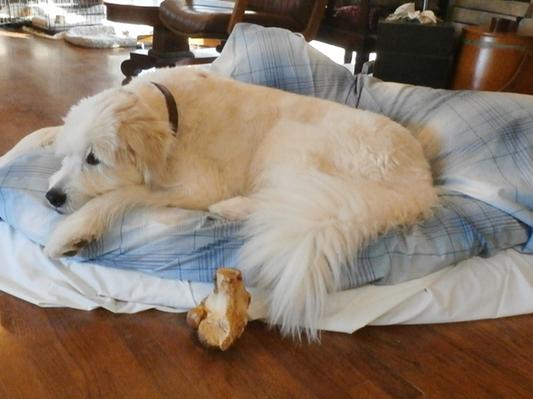 Rated

5

out of

5
 by
Sebas
dog knukles
great items the dogs love them got here on time and packed great.
December 27, 2016
Rated

5

out of

5
 by
Shepherdluvr
Excellent item...will purchase again.
This was a great purchase for my 4 month old German Shepherd pup...who is teething!!! I bought this bone about a month ago and he's still chewing on it. Almost time for a new one. He loved the basted meaty taste of it, keeping him interested in it. This bone was really big and I felt like it was more bang for my buck. I've found the same size bone at Petsmart/Petco for about $10 before, so I'm really happy with the size and price of this bone. The food I'm ordering through Mr. Chewy is $48.99 which means I miss out on the free shipping by a penny! So I buy this bone each time I buy the food because I'd rather be buying something instead of spending money on shipping. Win win situation for my purse and my pup. I tried buying the G.I. Bone Dog Chews, http://www.mrchewy.com/merrick-gi-bone-dog-chews-gi-bone-2/dp/33135 thinking I could save money but I was rather disappointed in the size. The Tank was a much better deal. My pup thought so too as his eyes grew wide with excitement when I gave it to him.
June 3, 2012
Rated

2

out of

5
 by
Marie
Not as pictured
The bone was quite small and not at all as pictured. I will not reorder.
December 20, 2016
Rated

5

out of

5
 by
Mtnbrookie
My lab loved this thing!!
This is a greasy mess especially when first opened but to watch my 7 month old Labrador (66 lbs!) enjoy something so was worth it! Be aware it will split in two ( mine did at least about an hour into chewing , I took half put in ziploc in freezer for later . I had to finally take these from him and surprisingly my chinese crested was very attracted too! I ended up putting him in his crate with one half ( my lab became very possessive right away and for the first time growled at my little dog!) I marked it up to him loving his new treat so I let it slide! I let them play about 2-3hours supervise doc course then took them up to pit in freezer .this am I got them both out to okay and they are both SO happy! I am already ordering several bc I feel good that thiese are made in the US ! My vet told me never to buy these in stores bc they are usually from overseas and have caused food poisoning ! this was my second order from chewy and as before I'm a happy customer!
January 27, 2016