MidWest Life Stages Single Door Dog Crate
Was:

$89.99

Price:

$55.64 FREE 1-2 Day Shipping on this item

You Save:

$34.35 (38%)
22-inch

24-inch

30-inch

36-inch

42-inch

48-inch
Description
Your dog's home for life. Designed completely around the safety, security and comfort of your dog. The Life Stages Single Door Dog Crate sets up easily with the fold and carry configuration that requires no use of tools and can be completed by almost anyone. This dog crate comes to you equipped with every feature you can think of; a composite plastic pan for easy cleanup in the event of an accident, plastic carrying handles to move the dog crate from one location to another comfortably, slide bolt latches for the safety and security of the pet inside and the furniture on the outside, and most importantly a Free divider panel for use while your puppy is still growing up.
Key Benefits
Strong and sturdy metal crate structural design creates a safe place for your pet while you're away
Fold and carry configuration makes it very easy to relocate or travel with
Includes a divider panel so your puppy can grow into the crate
Composite plastic pan is durable and also replaceable
Safe and secure slide bolt latch keeps your pet secure inside the crate
Item Number

60411

Dimensions

43.13 x 28.5 x 30.25 inches

Weight

47.0 pounds

Breed Size

Large
Size
| Size | Dimensions | Pet Weight |
| --- | --- | --- |
| 22-inch | 22 x 13 x 16 inches | 2 to 10 pounds |
| 24-inch | 24 x 18 x 19 inches | 11 to 25 pounds |
| 30-inch | 30 x 21 x 24 inches | 26 to 40 pounds |
| 36-inch | 36 x 24 x 27 inches | 41 to 70 pounds |
| 42-inch | 42 x 28 x 31 inches | 71 to 90 pounds |
| 48-inch | 48 x 30 x 33 inches | 91 to 110 pounds |
Pet lovers also bought...
Customer Reviews
Rated

4.9

out of

5

 by

187

reviewers.
Rated

5

out of

5
 by
GSDMOM
Quality !!!!!
I have ordered Midwest crates and have never been disappointed about the quality. This is the first time ordering the life stages because I was just curious about how much of a difference it could be from the Midwest icrate. Design is pretty much the same except the crate itself is a bit thicker and heavier which is great... I raise German Shepherds and need a heavy duty crate. This makes the 10th crate I've purchased and will be buying more since I also take in rescues. It does however have only 1 downfall that I do not like which is hard to explain..lol but easy enough to fix with a single zip tie. Haha When setting up the crate,and pulling up the ends(door&rear) there is a secure fit on top,middle to secure and stabilize the crate/door on the icrate that the life stages does not have making it easy for a dog to squeeze there head through and possibly choke. However!! Easily fixed with a zip tie.. :-) over all A quality product at a GREAT PRICE!!!!!!
November 14, 2016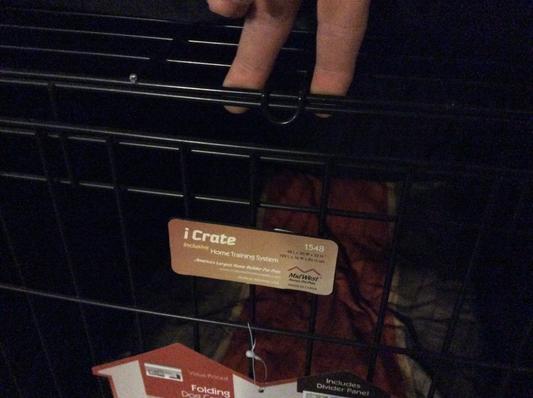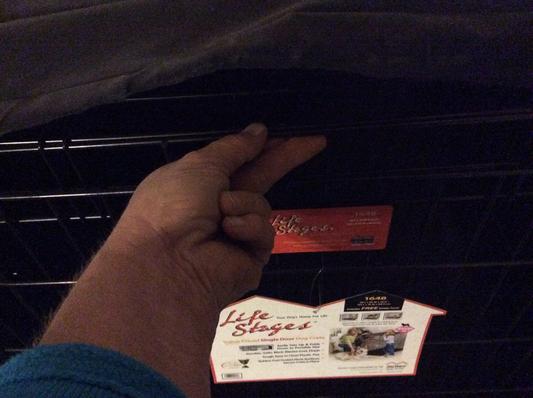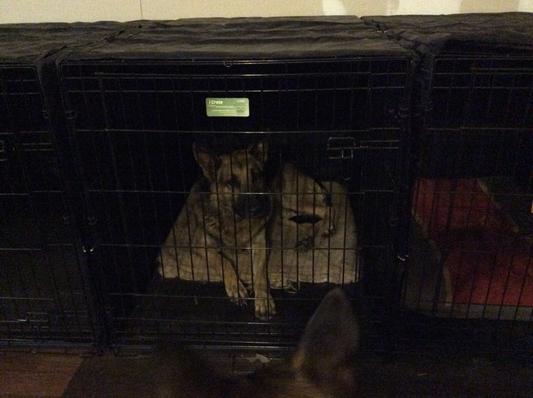 Rated

5

out of

5
 by
Jackie612
Great Crate for the Price
Reading some reviews, I was initially hesitant to buy this crate. There were a lot of "jailbreaks" listed. But when I set it up, I saw how sturdy it is and wasn't worried when I put my lab puppy in. She loves it and the divider panel makes it perfect for a growing dog. I can't recommend this crate enough, and I've never had any issues with it.
January 17, 2017
Rated

5

out of

5
 by
CORKY
EXCELLENT PRODUCT
MY FAVORITE NEW ONLINE COMPANY. SHOP CHEWY. GREAT PRICES AND GREAT CUSTOMER SERVICE
January 18, 2017
Rated

5

out of

5
 by
QQQ0
Size matters!
We had the next size down -- an appropriate size for our boy, in general. But he spends enough crate time to justify more space, so we opted to replace it with the big one. He is delighted! Goes in, of his own accord, any old time. This is his Taj Mahal )))
January 15, 2017
Rated

5

out of

5
 by
jjs2657
Solid, sturdy crate!!
Good, solid crate for the price. While reviewing a number of websites and brands, I was concerned when a number of models had comments that the crates doors were being bent and forced open by the pets. I am more than happy with the construction of this crate, and its strong design. We had purchased the 42" size for a 14 wk lab puppy to grow into. The double latch door holds securely, and there is not sign of give in any parts. Some crates were priced 3x this price, but this one is more than capable of doing the job it is intended for.
January 1, 2017
Rated

5

out of

5
 by
SueQ
Great deal
Fast delivery! This is a very sturdy model for my 50 lb pit bull who can be pretty destructive when left home alone. Easy to set up
January 13, 2017
Rated

5

out of

5
 by
PuppyRaiser23
Great for my Labrador
I bought this 42 inch crate for my 11 month old labrador retriever. He has long legs making him stand taller and this one is a great height for him! It is heavy for me to lift on my own but I am only 5'3'' and not very strong. I usually have someone to help me if I need it move so it has not been a problem. The heavy weight is because it is a great quality! I love that the slits between the bars are spaced to into rectangles rather than squares (we have had issues with square spaces getting his ID tag on his collar caught into it). Would recommend this crate!
December 29, 2016
Rated

5

out of

5
 by
BrianO
Dog's safe haven
This crate is great. It was easy to set up and is the perfect size for our dog. The divider allows you to adjust the crate as your dog grows.
December 24, 2016