Nutramax Cosequin Maximum Strength (DS) Chewable Tablets Joint Health Dog Supplement
List Price:

$76.20

Price:

$63.50 FREE 1-2 Day Shipping on this item

You Save:

$12.70 (17%)
132 count

250 count

650 count
Description
Cosequin plays an important role in maintaining optimal joint function. Healthy articular (joint) cartilage is crucial to joint utility. Cosequin helps support cartilage production and protect existing cartilage from breakdown. Cosequin is the only glucosamine/chondroitin sulfate supplement that has been proven safe, effective, and bioavailable in peer-reviewed, published, controlled, U.S. veterinary studies.
Key Benefits
Cosequin maintains optimal joint function to increase joint mobility
Supports cartilage production and protects existing cartilage from breakdown
Safe, effective and bioavailable supplement that is great for dogs of all sizes
\#1 veterinarian recommended brand
Double strength, sprinkle capsules are easy to administer to keep your pet healthy to climb stairs, rise, and jump
Item Number

73540

Brand

Cosequin

Lifestage

Adult

Made in

United States

Supplement Form

Chews
Nutritional Info
Ingredients
Each Chewable Tablet Contains: Glucosamine Hydrochloride Minimum (500 mg*), Sodium Chondroitin Sulfate Minimum (400 mg**), Manganese Minimum (5 mg***). *Not Recognized As An Essential Nutrient By the AAFCO Dog Food Nutrient Profiles. Cosequin Contains Fchg49 Glucosamine and Trh122 Sodium Chondroitin Sulfate, Nutramax Laboratories Proprietary Veterinary Researched Specifications. **Reported On A Hydrous Basis. ***from Manganese Ascorbate.
Pet lovers also bought...
Bringing Relief to Your Dog's Joints
Cosequin is a specially formulated, scientifically researched joint-heath supplement that helps pets maintain healthy joints and cartilage. And it's effective, making Cosequin the #1 veterinarian recommended retail joint-health supplement brand!
Watch for the Warning Signs
If your pup displays the following warning signs of joint pain and cartilage breakdown, Cosequin can help decrease or even eliminate them — allowing your dog to move around pain-free, while enhancing his quality of life.
Lower activity level
Difficulty sitting or standing
Stiff or uncomfortable when moving
Trouble getting up or down stairs
Decreased interest in interacting with toys, other animals or even you
Can Your dog Benefit From Cosequin?
All dogs can benefit from Cosequin, not just those with joint pain and cartilage breakdown. In fact, even younger dogs and those with no warning signs can supplement with Cosequin to help prevent future cartilage breakdown and enhance recovery when injury occurs.
Quality Ingredients, Real Results
Cosequin is manufactured in the USA using a proprietary combination of the highest quality ingredients — including high-purity glucosamine and low-molecular-weight chondroitin and manganese for enhanced absorption — following manufacturing standards adopted by the pharmaceutical industry.
Manufactured under strict quality standards
Each batch is tested to ensure it meets label claims
Available in a variety of formulas to meet your pet's needs
Triple Threat of Ingredients That Work
CHONDROITIN SULFATE
Blocks the naturally occurring enzymes that break down cartilage.
GLUCOSAMINE HYDROCHLORIDE
Acts as a building block of cartilage by keeping cells healthy and working properly.
MANGANESE ASCORBATE
Helps to optimize the production of cartilage components in joints.
About Nutramax Laboratories
Nutramax Laboratories has been researching and developing products for people and their pets since 1992. In that time they've become an industry leader, setting the bar for manufacturing and quality control, and creating products that make lives better — human and animal alike.
Customer Reviews
Rated

4.9

out of

5

 by

171

reviewers.
Rated

5

out of

5
 by
Cathy
It is working great on my lab. Much less clicking in her joints and no limping. Very happy.
It is working great on my lab. Less clicking and increased mobility. No more limping. Works great!
January 19, 2017
Rated

5

out of

5
 by
Dogmom
Cosequin
My dogs think they are getting treats when I give them their supplement. It is too early to tell what impact it will have.
January 18, 2017
Rated

5

out of

5
 by
devon
Makes a difference
I have a 14-1/2-year-old Pit Bull with significant arthritis. He is on prescription medication already, but I have definitely noticed an improvement in his mobility since starting Cosequin DS. If you are serious about your dog's joint health, this is THE supplement to use. It's backed by tons of research, and it definitely works better than cheaper brands.
January 10, 2017
Rated

5

out of

5
 by
birmanmom
cosequin for dogs
Have a 9 year old GSD with arthritis. This really helps.
January 11, 2017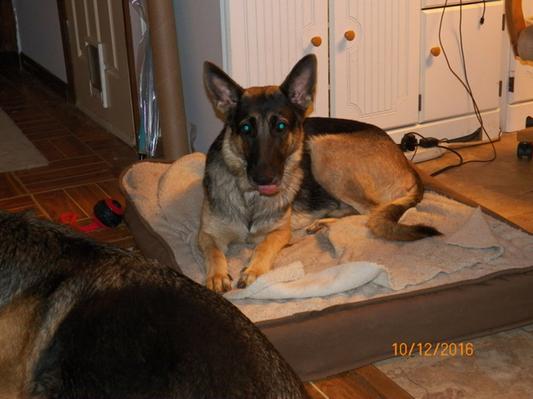 Rated

5

out of

5
 by
ZoeysMom
Helps with her Patella
The vet suggested we give my Maltese Bichon 15 month old these a few months ago. She has an issue with her knees - it's called something Patella and could turn into arthritis. Prior to taking these, she would limp a lot. We've seen a major improvement and only occasionally if she is extra active that day will we see the limping. I believe they have helped her. She takes half a tablet every 24 hours.
January 2, 2017
Rated

5

out of

5
 by
Jules
Worth the price
This is definitely worth the money spent. Our dog has suffered from arthritis for a number of years and it has recently gotten much worse. Vet gave 1st prescription, then I found it much cheaper here. This product works excellent. Has helped our "Bear" significantly and I will continue to buy from Chewy.com.
January 4, 2017
Rated

5

out of

5
 by
MidwesternGolfer
Been using this product for years for my aging lab!
This med for especially larger dogs who are prone to developing arthritis in the hips and/or had TPLO ("knee-stifle joint") surgery is a given. Pricing is competitive.
December 30, 2016
Rated

5

out of

5
 by
Pdt69
Nutramax Cosequin DS chewable tablets
Works great is cheaper than getting it from a vet.Would highly recommend it for your pet! And our babies take it easily.
December 26, 2016