Petmate Pearl Replendish Waterer With Microban, Lady Pink, 0.5-gal
Was:

$13.99

Price:

$9.99 FREE 1-2 Day Shipping over $49

You Save:

$4.00 (29%)
Description
Two-legged kids like root beer. Four-legged kids are happy with plenty of clean, cool water. While it's best not to fill the Petmate Pink Replendish Waterer With Microban with syrrupy soda, it's perfect for the furry family member! The Replendish Waterer holds a half gallon of water and drops it through the included charcoal filter to remove any unseen pathogens and give your pet a constant source of clean water. A layer of Microban around the bowl also eliminates bacteria buildup. Cool and clean, all day long!
Key Benefits
Simplifies life by supplying your pets with water when you're not home
Microban base prevents bacteria also includes a replaceable charcoal filter
Great for multiple pet households
Waterer is made with PET plastic making it safe for your pets
Easy to clean wide mouth bottle, base is dishwasher safe
Click here for Replendish filters.
Item Number

55921

Made in

United States

Material

Plastic
Pet lovers also bought...
Customer Reviews
Rated

4.9

out of

5

 by

17

reviewers.
Rated

5

out of

5
 by
RzlDzlSprklBerry
Perfect for when I'm gone
This does exactly what I need it to do which is keep my babies hydrated while I'm at work for a day or 2. It works perfectly but it can be knocked over easliy if your babies are rough which mine are so this water dish has to be in a corner.
December 24, 2016
Rated

5

out of

5
 by
KarCal623
Perfect Waterer!
I bought this to replace a small waterer that had seen better days. It's perfect. I love that it has a replaceable charcoal filter to help keep my cats healthy. Its wide opening makes it very easy to clean. I own the gallon version so I was familiar with this product.
September 11, 2016
Rated

5

out of

5
 by
Westsidesaint
Super for multiple pets
Easy to use, easy to clean, remove plastic from carbon filter, rinse, and fill. Super !!
August 14, 2016
Rated

5

out of

5
 by
Corgi4life
Cute and functional
This waterer is a must have, especially in summer when you leave your pet home for long. I love the color and the product appears very well made, easy to use with replaceable filter and cap, plus antibacteria material. However, it's too big for my corgi puppy so I had to buy another smaller one 1/4 gallon which works great as well but no cap and filter
May 7, 2016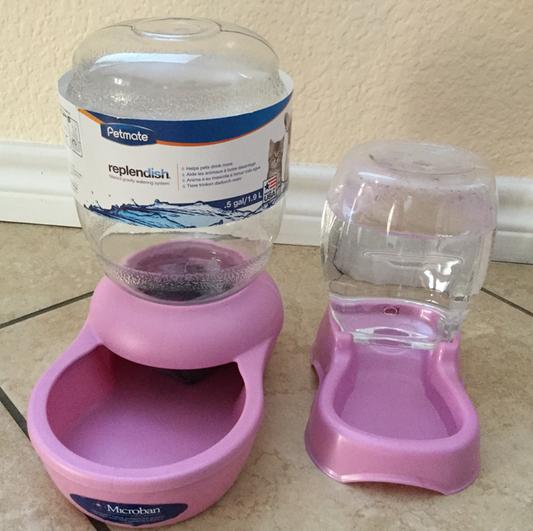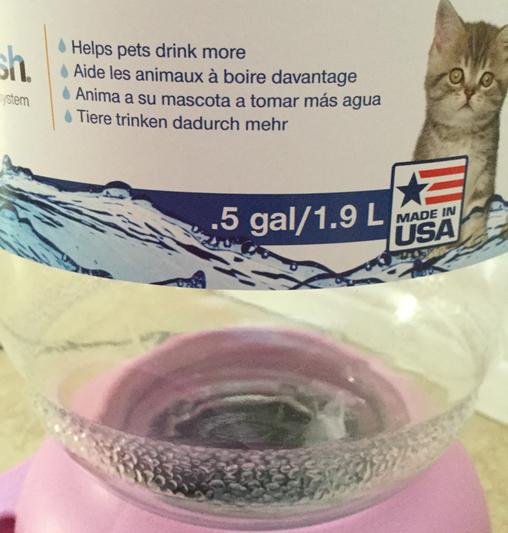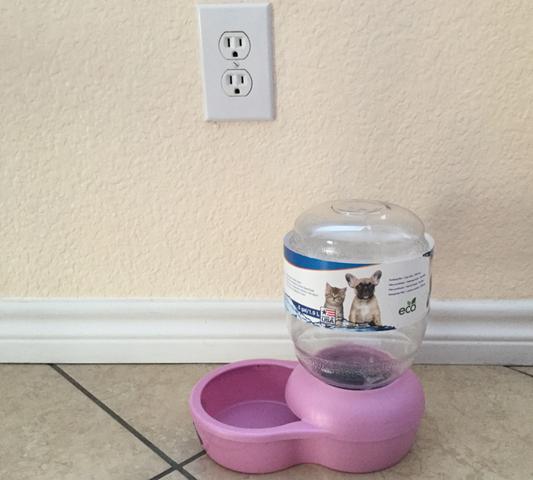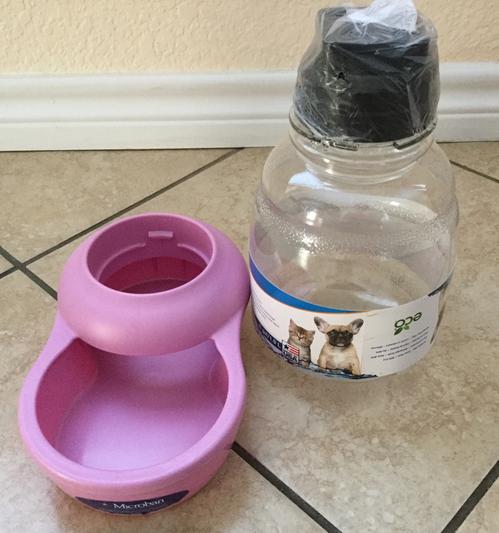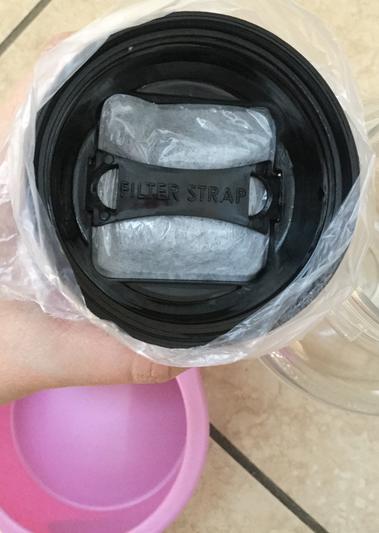 Rated

4

out of

5
 by
Alyb
Awesome!!
My dog loves this product. The minute it came out of the box she wanted to have it.
April 8, 2016
Rated

5

out of

5
 by
Toots12
I love it!
I know that my sweet kitty will always have water and I don't have to have extra bowls around the house. One helpful hint. Rinse, rinse, rinse the filter. It will leave black residue on the drinking bowl if you don't.
December 7, 2015
Rated

5

out of

5
 by
Aparks45
FANTASTIC!
Just bought this, and got it within 1 day! It's great for cats or small dogs, and doesn't take up much room at all! I love it, and now I don't have to keep feeding my cat on a daily basis. With 1 cat, I think it would last at least a months worth. Then it has Microban layer on the bottom to eliminate bacteria buildup. So now I don't have to worry anymore! Love love love it!
June 12, 2015
Rated

5

out of

5
 by
Stombaugh
Pink Water jug holder
I have a tea cup Yorkie and a toy Pug. My babys are my world. So i saw this water jug holder in pink. I love it and my dogs went right to it, not scard of it at all. I know my babys will always have enough fresh water. I say if it makes life easyier to have and use then buy it. I love that the base is pink. This water jug holder is worth every penny spent on it, i know i will not run out of water in a days time frame.
November 24, 2013