Petmate Ultra Vari Pet Kennel, Small
Was:

$60.31

Price:

$48.18 FREE 1-2 Day Shipping over $49

You Save:

$12.13 (20%)
Description
The Vari Kennel is the perfect tool to train your pet and keep them safe. The sleek design comes with durable hardware that won't corrode for easy assembly and added security. Features a heavy duty plastic shell, wire doors with an easy-open squeeze latch and metal side vents to promote healthy air flow. The Vari Kennel Traditional is eco-friendly and meets most airline requirements. Be sure to check with your airline well in advance of your travels to learn about their individual requirements.
Key Benefits
Heavy duty plastic shell provides, strength, durability and safety
Durable wire door keeps pets in but allows easy access to pet owner
Portability makes this kennel perfect for trips
Provides ventilation so your pet gets a healthy airflow
Meet's most airline requirements
Click here for the Petmate Airline Travel Kit.
Item Number

68688

Dimensions

21 x 16 x 15 inches

Made in

United States
Size
| Size | Dimensions | Pet Weight |
| --- | --- | --- |
| Small | 21 x 16 x 15 inches | up to 15 pounds |
| Giant | 48 x 32 x 35 inches | 90 to 125 pounds |
Pet lovers also bought...
Customer Reviews
Rated

4.4

out of

5

 by

35

reviewers.
Rated

5

out of

5
 by
Inga
Great
Bought another brand when I got my first Minature Pinscher show pup years ago. They are curious dogs and my pup pushed her nose out of the plastic air hole cut into the kennel. Scraped skin off her snout and nose, leaving a bad scar...Man was I upset! Breeders use these for a reason and I have used Vari-Kennels ever since. They line up well, easy to assemble and come with more than enough bolts and caps. Has a bottom moat to keep pet dry if they have an accident too. I noticed others questioned strap system...Its simple. There are recessed holes on top of the kennel that you drill thru and then run strapping (must purchase separate) over and in the holes. The handle is attached by sheetmetal rivets and I would not use it to lift big/heavy dogs. For shipping dogs these kennels may be adequate by some airline standards but I recommend Petmate SKY-Kennels and check with carriers! As for kennel size...my dogs are typically are 7-10 lbs. and 16-18" tall to ears and I use size SMALL. There are kennel charts online so please check when buying or call customer service for help. BTW...Chewy's is the best! Great staff, lots of help and quick delivery.
January 13, 2017
Rated

5

out of

5
 by
redTM
solid and cheap in comparison (giant size)
I bought the giant size for my 110lb shepherd. He's pretty tough on things and the construction is solid (some of the reviews said otherwise but it's actually a nice solid kennel). To be clear, I purchased this knowing I would have to drill holes in the rear panel for airline regulations - for the price, I'm fine with that. The door latch is awkward but works fine. In case it helps others: our dog is 35" to top of his head - and this crate is large enough for him to easily turn around find a comfortable place to lay down. Crate is plenty large enough. again, in case it helps, I almost bought the crate that was 2x the price bc the holes are already drilled int eh back and I was worried about the latch but I'm really glad I bought this one bc the latch is simply weird (but works fine) and the holes we can drill ourselves. It's GREAT for the price. *phew*
May 29, 2015
Rated

4

out of

5
 by
66kay
Easy to put together,light weight and sturdy.
Very nice,our old ones door handle broke and it was difficult to get the puppy out. Thank you for a great product.we love the solid construction.
May 11, 2016
Rated

5

out of

5
 by
1HappyPappy
Just what the doggie ordered.
I bought this for my daughter's rapidly expanding Bloodhound puppy. The wire kennel that she had was too small and the dog was agitated and bending the bars. With the bigger kennel with enclosed sides is working out well.
February 26, 2016
Rated

5

out of

5
 by
Animato
Excellent kennel
This is my go-to kennel design...works very well, stacks easily, good ventilation and an easy to work, yet secure door. Keep making them please!!
March 17, 2016
Rated

5

out of

5
 by
Darlene64
I love this crate!!
I have a 6 month old female German Shepherd that has out grown her old crate, I researched many crates and found this to be the best to meet our needs. The crate arrived in 2 days and I put it together in 15 minutes. It is very large but that is what I wanted. Elsa is very long and I wanted her to be able to move around and stretch out comfortably. The ventilation is great with air holes on all 4 sides. The crate is light and airy but at the he same time very strong. The door latches very securely. Elsa is very happy in her new sleeping area!!
June 30, 2015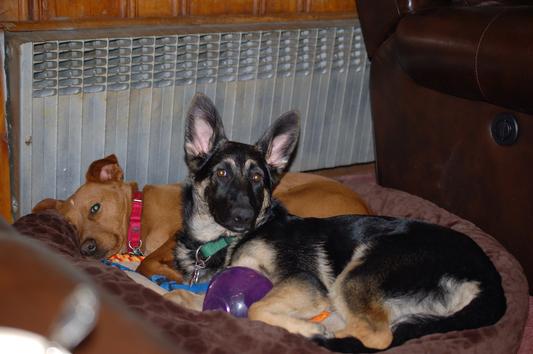 Rated

5

out of

5
 by
Tamarakatz
Customer service is FABULOUS!!!
The product was exactly what I ordered, no surprise there. But I was ordering/paying for it, and having it shipped to someone else - and was VERY impressed that Chewy's customer service both called me (left a voice-mail) AND emailed me, to verify that I truly wanted the item shipped to someone other than myself - and this happened within minutes of my placing the order! Nice to know that they "notice" things that are a little out of the ordinary, and follow up so promptly on them! This was my first order with Chewy.com, and it will definitely not be my last!
November 20, 2014
Rated

4

out of

5
 by
GSDpartner
very large and sturdy
the size and sturdiness of the kennel are very good. on the negative side, it was very difficult to put together since many of the holes that the fasteners go in were not actually punched through and some did not line up. I ended up using several zip ties to secure one section since there is no way to angle screw fasteners. it is secure but for the price I would really like to see more accurate quality control. it is harder when such a big heavy crate does not fit together easily or well. it is large enough for a giant breed dog which is what I needed.
January 23, 2015