PetSafe Wireless Containment System
List Price:

$299.99

Price:

$259.95 FREE 1-2 Day Shipping on this item

You Save:

$40.04 (13%)
Description
Every fur baby needs boundaries, and the PetSafe Wireless Containment System provides them without a fence! Mark the boundaries of your yard or your pup's play area, and whenever he crosses it the wireless unit in your home sends a static correction and annoying tone to your dog's collar, reminding him he's crossing into an off-limits area. The PetSafe Wireless Containment System is simple to set up and has five levels of correction.
Key Benefits
Waterproof receiver collar for dogs 8 pounds and up, with neck sizes 6-28"
Covers an adjustable circular area up to 1/2 acre (180 feet in diameter)
Expand containment size with additional wireless transmitter and add an unlimited number of dogs with the Extra Wireless Fence Receiver Collar, sold separately
Wireless Transmitters 5 adjustable levels of correction, tone-only mode alerts your pet with a beep
30-second Time Out- correction stops after 30 seconds
Portable wireless system sets up in 1-2 hours, also works with Stay + Play Wireless Fence and Stay + Play receiver collar
Low battery indicator Collar uses PetSafe RFA-67 battery (included)
What's Included
Wireless transmitter with power adapter, receiver collar with RFA-67D battery, test light tool, operating and training guide and 50 boundary training flags.
Click here for batteries.
Cilck here for an extra receiver collar.
Item Number

63890

Breed Size

Extra Small, Small, Medium, Large, Giant
Pet lovers also bought...
Customer Reviews
Rated

4.7

out of

5

 by

35

reviewers.
Rated

5

out of

5
 by
DaneDaddy
Are there invisible aliens / ghosts beyond the boundaries?
This product worked great for my 11 month old Great Dane! After working with my dog concerning her new boundaries for a few days, she decided to try to go outside of the boundaries but, she came back into her boundaries in a hurry like she had felt the presence of something invisible. She has connected the dots, and she's fully aware that wearing the collar means staying inside of her boundaries. If she goes outside without the collar on, or if the battery dies, then she'll venture on out. The only suggestion I'd make is to buy spare batteries because the first battery didn't last anytime despite being removed from the collar every time my dog comes inside, and she doesn't spend that much time outside by herself at all. When I'm outside with her, she doesn't need the collar on at all. Chewy's great customer service made things right concerning the original battery.
January 3, 2017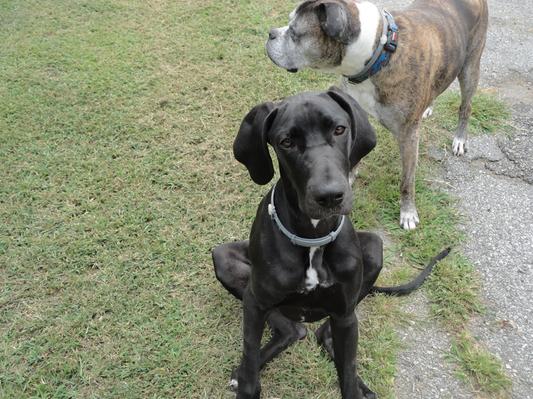 Rated

5

out of

5
 by
eightball47
Perfect
I've done multiple in ground fences spending hours making them but my 2 dogs figured out if they run fast enough they only got a quick shock and then they were free the rest of the day. After having many problems i found this and i'm glad i did. I've had it for a couple years and i have no complaints. Sometimes my parents watch the dogs and all i have to do is unplug it and take it with me. I have a coonhound and a coonhound Shepard mix, Very stubborn dogs but this product works!Great product!
January 16, 2017
Rated

5

out of

5
 by
MeaganLee07
Awesome product!
This fence has completely exceeded all of our expectations. Easy to set up, nice beeping feature when dog gets close to perimeter, and it has done a wonderful job of keeping our escape artist contained! Recommend x1000. This fence has been a game changer for our family.
November 9, 2016
Rated

5

out of

5
 by
psuflip
Good but
It takes time to make sure you have the correct location in your house for system itself. You may have to rework the flags a few times to have the correct yardage for your pet. Overall it has solved our problem with our dog running out of the yard.
August 28, 2016
Rated

5

out of

5
 by
Saddie
Excellent
Love this wireless system! My dog is finally able to enjoy being outside with us. It is worth every $$. Easy setup too.
August 4, 2016
Rated

5

out of

5
 by
Luca
Best invention EVER!
I have looked at these systems for the past few years. My best friend and neighbor have for their dogs and I saw how well it worked. When I relocated to a more rural area and rescued a 1/2 Chihuahua & 1/2 Shih-tzu, I decided it was time. It took 1 walk of boundary without flags and that was it. He did get a shock and ran farther away which makes the collar shock more(was on 3) but he survived and learned his territory. Now he is only on level 2 because the beeps are all he needs. I feel safer and free to let him "roam" when I'm outside and that makes us both happy!
February 22, 2016
Rated

5

out of

5
 by
SweetHappyPuppy
Wow... I am amazed at how well this works!
My dog grew to be twice the size we were told he would be at adoption (currently 19 months and 85lbs). As he became more comfortable with his surroundings he decided he didn't need to stay in the yard anymore. As a last resort we ordered the PetSafe Wireless Containment System. Thank You PetSafe!!! Our puppy was completely trained within two days using the lowest setting! Now he runs and plays all he wants and does not leave our yard even when dogs, kids, squirrels go by. He sits and watches them... AMAZING!! It was super easy to set up and because it's wireless we can bring it with us to our parent's houses to keep him in their yards too! He's happy... we're happy... Totally worth it!
June 1, 2014
Rated

5

out of

5
 by
dillonc28
Training Process
Every dog is different, but for my lab who is very hyper active it only took him three days to find out where his boundries where. I set the shock level to 3 flashes and he has not even tried to leave the yard, but he did try to when it was set to 2 flashes, but it scared him and he has not left the yard since then. Today I let him go and the neighboor let his dog go on accedient and he was running all over the place and all I had to do was tell my dog to come and he did not pass the boundry line.
February 5, 2016