Starmark Everlasting Treat Ball Dog Chew Toy
Was:

$19.99

Price:

$16.99 FREE 1-2 Day Shipping over $49

You Save:

$3.00 (15%)
Description
A fun chewing challenge for your dog! The Everlasting Treat Ball holds two Everlasting Treats and can be filled with small treats or kibble. Starmark Mental Stimulation toys help keep pets mentally engaged in an activity they enjoy. They help foster natural hunting and foraging behaviors, and help prevent destructive boredom behaviors. This item can be used with Everlasting Treats, or with portions from your dog's regular meal to turn mealtime into playtime.
Key Benefits
Includes an edible chicken-flavored treat - other Everlasting Treats flavor varieties available!
Made with virtually indestructible material stronger than rubber! Great for powerful chewers
Free of latex, vinyl and phthalates, and also dishwasher safe
Treat ball system encourages play which helps reduce anxiety and boredom behaviors while providing hours of interactive play
This item can be used with Everlasting Treats, or with portions from your dog's regular meal to turn mealtime into playtime
Cautions
With all chew products and treats, pets should be supervised as no product is completely indestructible. Pieces smaller than the mouth may present a choking hazard. When wet, treats may stain fabric and upholstery.

Click here for refill treats.
Item Number

60443

Breed Size

Large, Giant

Food Form

Treats
Nutritional Info
Ingredients
Chicken Treat Ingredients: Wheat Gluten, Chicken Flavoring, Corn Gluten Meal, Garlic Powder, Brewers Dried Yeast, Lecithin, Sodium Diacetate, Carrageenan, Titanium Dioxide.
Instructions
Refill with Everlasting Treat small. Dishwasher safe, top rack.
Size
| Size | Pet Weight |
| --- | --- |
| Small | under 15 pounds |
| Medium | 15 to 40 pounds |
| Large | over 40 pounds |
Pet lovers also bought...
Customer Reviews
Rated

3.7

out of

5

 by

126

reviewers.
Rated

5

out of

5
 by
Anya
doberman tested
My dobermans have each chewed on one of these for the last 4 yrs.The toys are both still fine and still look quite new. Now, of course, I do not usually leave it around all day with them, but it happens. I fill it with kibble or cubed cooked meat (on-sale beef shoulder roast which is all meat and cheaper than premade dog treats) or (as part of their regular meals) raw ground 'meat,bone and organs' and it keeps them busy for about 20-30 min depending on the fill. But I take it up after they empty it, usually. I use the medium size everlasting treat ball for my 75lb dobes, cause it works best. They are chewers and the younger really destoys anything she gets her mouth on, except this toy. I have used the everlasting treat balls for years, everyday in the morning, so I can have my coffee in peace. And usually again in the afternoon for a snack. This toy satifies the craving for hard chewing and the toy hasn't been damaged in years and years of hard use. 'amazing' toys.
December 14, 2016
Rated

5

out of

5
 by
Alebera
Keeps them busy for hours and doesn't seem to get old
I bought this treat toy for my 40lb hound mix and my 100lb Bernese Mountain Dog. My little guy is the destroyer of all toys, and my big guy is indifferent to most toys. They both LOVE these toys. I got the Bento ball too and they each take turns chewing on both. Because my Berner was so indifferent to toys and chewing his teeth were getting really bad. They are SO much better since I got these toys and it's only been a month. The treat puck things you put in the toys lasted around 3 weeks. My little one needs to be entertained constantly but is home a chunk of time during the day, so this has been a good substitute to keep him busy. He loves the treats we put in the back as much as the puck treat. Keeps them busy for hours and they are always carrying them around the house.
January 9, 2017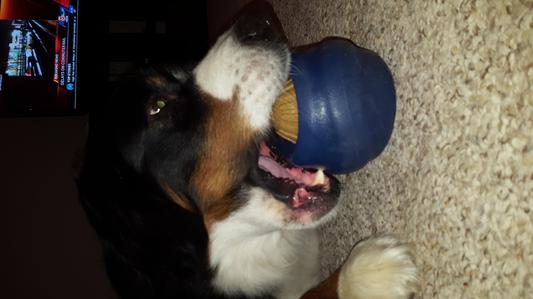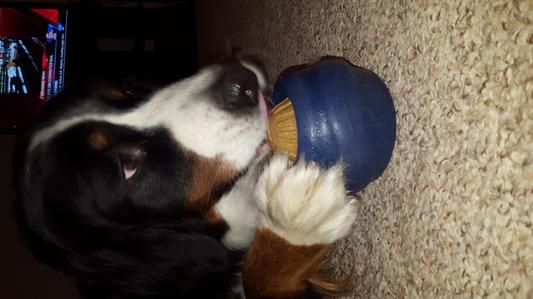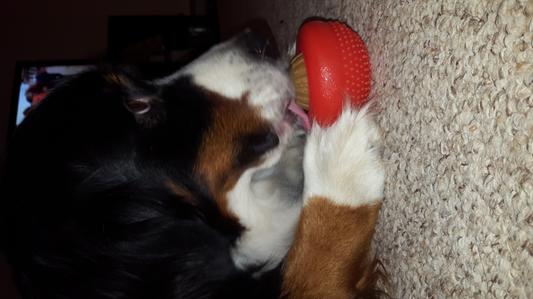 Rated

5

out of

5
 by
PetParents2
Awesome mind bending treat
Love this item keep my lab quiet for hours and entertained to boot. My beagle is in love with his Everlasting Treat Ball. He takes it to bed with him even when the treat is gone.
January 14, 2017
Rated

5

out of

5
 by
Tboyer1
Great for aggressive chewer
I love love love this product. My 69# baby is a major chewer. No power chew toys last. This is the ONLY toy that has lasted 5 years. 100% worth every penny. You can put treats inside, or PB around the inside lip, or use the cookies. Our 2 dogs love this toy. When it gets dirty I wash it. Looks like new. We don't have a single chew tear. I purchased another toy ,only because we lost one. I'll keep buying.
January 8, 2017
Rated

5

out of

5
 by
ElliesPal
Keeps her interested
This toy keeps her interested and playing (licking, chewing on treat) for a long time. The cat is happy too because the puppy plays with this instead of trying to get action from the cat!
January 8, 2017
Rated

2

out of

5
 by
Deegee
Not what I thought
I bought these for both of my aggressive chewers (bulldog and pitbull). They smelled horrible, but the dogs didn't seem to mind. They both had the treat out in literally 5 seconds. My pitbull immediately lost interest after she ate the treat, but my bulldog continued to chew the empty ball. One thing is for sure, I will not be buying the expensive refills for 5 seconds of play. I will however fill them with kibble or some other tasty treat. I wouldn't recommend unless you have a less aggressive cheer.
December 25, 2016
Rated

4

out of

5
 by
dgshelties
Liked
Creates a challenge for the dogs. Unfirtunately they didn't last long with my Shelties
January 1, 2017
Rated

2

out of

5
 by
Brenda
Have a friend who has a pit bull loved the treats
My friends pit bull loved the treats but got the treat out within 10 minutes then continue chewing on the toy within 15 minutes had pieces of the toy off. Bought it because he will destroy a Kong toy. Said this was indestructible well it was put to the test and failed
December 25, 2016