Starmark Everlasting Treat Bento Ball Dog Chew Toy
Was:

$11.94

Price:

$6.99 FREE 1-2 Day Shipping over $49

You Save:

$4.95 (41%)
Description
The Everlasting Treat Bento Ball is a fun way to keep your dog's teeth clean with gum massaging nubs and paired with an Everlasting Treat. The Bento Ball holds one Everlasting Treat and can be filled with small treats or kibble. Starmark Mental Stimulation toys help keep pets mentally engaged in an activity they enjoy. They help foster natural hunting and foraging behaviors, and help prevent destructive boredom behaviors. This item can be used with Everlasting Treats, or with portions from your dog's regular meal to turn mealtime into playtime.
Key Benefits
Includes an edible chicken-flavored treat - other Everlasting Treats flavor varieties available!
Made with virtually indestructible material stronger than rubber! Great for powerful chewers
Free of latex, vinyl and phthalates, and also dishwasher safe
Treat ball system encourages play which helps reduce anxiety and boredom behaviors while providing hours of interactive play
This item can be used with Everlasting Treats, or with portions from your dog's regular meal to turn mealtime into playtime
Cautions
With all chew products and treats, pets should be supervised as no product is completely indestructible. Pieces smaller than the mouth may present a choking hazard. When wet, treats may stain fabric and upholstery.

Click here for refill treats.
Item Number

60449

Breed Size

Extra Small, Small

Food Form

Treats
Nutritional Info
Ingredients
Chicken Treat Ingredients: Wheat Gluten, Gelatin, Water, Glycerin, Natural Chicken Flavoring, Corn Gluten Meal, Garlic Powder, Brewer's Dried Yeast, Lecithin, Sodium Diacetate, Carrageenan, Titanium Dioxide.
Instructions
Refill with Everlasting Treat small. Dishwasher safe, top rack.
Size
| Size | Pet Weight |
| --- | --- |
| Small | under 15 pounds |
| Medium | 15 to 40 pounds |
| Large | over 40 pounds |
Pet lovers also bought...
Customer Reviews
Rated

3.6

out of

5

 by

138

reviewers.
Rated

5

out of

5
 by
Chillenb
I love this product
I have used the Everlasting Treat Ball 3 times since purchasing it. Each time the treat has lasted at least an hour, which is really good for my pup. She is a small terrier but she is busy. I am lucky that my dog does not try to eat food holders that do not currently have food in it. So it has remained durable for us. She has also remained interested in it (I think changing flavors help that). For the cost of the chew that is not rawhide that lasts for an hour, I think the refills are a great deal. The thing to know is that you have to buy the Starmark brand. That doesn't bother me though. I have stuck with the wheat free treats, and she seems to handle them well. I recently purchased some of the regular kind, so I will be looking forward to see how they go. (She has a sensitive digestion).
December 15, 2016
Rated

1

out of

5
 by
wildrosa
Starmark Everlasting Treat Bento Ball Dog Chew Toy
not so everlasting,I am afraid. The photo is after 3 hours of our "soft mouthed" pointer chewed on it. I have taken the other one away from our hard chewing Malinois. :(
January 17, 2017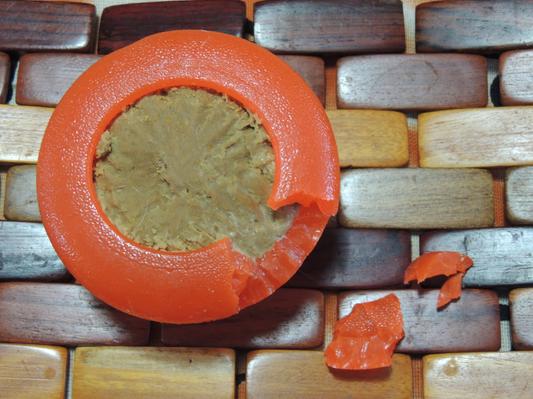 Rated

5

out of

5
 by
PuppyMom
Engaging Treat
My two puppies love this treat ball. They carried it with them and played with it for days.
January 13, 2017
Rated

5

out of

5
 by
christycom10
my dogs love it
lasts longer then any other treat that I have given to my to large akitas
January 13, 2017
Rated

5

out of

5
 by
CrazyDogLady
Everlasting is accurate!
This is the best dog chew, snack, dental toy ever! My heavy chewer takes about a week of daily use to get through one of these. I've even purchased an additional to save on snacks for my other larger dog.
January 12, 2017
Rated

5

out of

5
 by
TheosMom
To each it's own...Dog.
My dog is a chewer. Now that he is 3 he has calmed down a bit but still like to tear plush toys to pieces in minutes. When he was a pup, he was terrified of this toy. I put it away for a year and brought it back out. He loved it, and still loves it. I often put any treats that will fit in this toy that wont easily fall out and he goes at it for a minimum 15-30min. It has very little wear and tear. One of the best on a whim toy purchase I've made.
January 4, 2017
Rated

4

out of

5
 by
GracieLake
Perfect for puppy, destroyed by adult
I completely recommend and give this product 5 stars for puppies!! My 5 month old Swiss Shepherd adored this toy (note past tense). She was able to chew and chew for hours without putting a dent in the treat or the rubber toy. She was absolutely all about this toy, carrying it around the house and even with her outside. I was a thrilled fur mom!! BUT I cannot give this product 5 stars because it didn't last more than a day because my 8 year old Siberian husky tore it to shreds in under 5 minutes...I mean I turned my back, wrote a short email, turned back to her and it was anialated. Rubber pieces all over. I bought another toy by this brand the very next day in a different shape (because the pup loved it that much) hoping it was more difficult for my husky to get her teeth around if she got ahold of it again. Sadly, she turned on her stealth mode, swiped it from the pup, and chomped that one too even faster than the first time. Both toys didn't make it in my house for longer than 48hrs:( So this toy and StarMark's rubber material is PERFECT for young power chewers and sadly a waste of money on the large adult ones in my household.
November 18, 2016
Rated

5

out of

5
 by
Alebera
Durable and Entertaining
I got the large size even though my little dog is only around 40lbs. He tends to destroy things very quickly so I thought if it was harder to get into his back molars it might last longer. He likes the treats stuffed in the back as much as the "puck" of the chicken treat. My larger dog helps him out by licking it like a lollipop and getting it soft and the little guy chews the treat. He mostly keeps it to himself and licks at the bottom trying to get the treats out. He carries it around will him all day in the house. Had it about 3 weeks now and he hasn't caused any damage to it.
December 27, 2016