Stella & Chewy's Absolutely Rabbit Dinner Patties Freeze-Dried Dog Food
List Price:

$47.99

Price:

$39.99 FREE 1-2 Day Shipping over $49

You Save:

$8.00 (17%)
Description
Give your dog what he naturally craves with Stella & Chewy's Absolutely Rabbit Dinner Patties Freeze-Dried Dog Food. Based on the philosophy that pets thrive on the same diet they would eat in the wild, the all-natural recipe makes it easy to feed your dog only the good stuff. Made from sustainably-sourced ingredients and raw protein, this recipe starts with 90% farm-raised rabbit, organs, and bone plus 100% certified-organic fruits and vegetables—offering the benefits of raw food nutrition with the convenience of freeze-dried preparation. And to ensure the highest quality, each batch is made with care in the USA in Stella & Chewy's own kitchen.
Key Benefits
Real raw nutrition in the convenience of freeze-dried patties. Serve as is or rehydrate by adding warm water.
Made in Stella & Chewy's own USA kitchen with farm-raised rabbit and 100% organic-certified fruits and vegetables.
Never contains grains, gluten, fillers, artificial preservatives, or colorings.
Enhanced with probiotics to aid in healthy digestion—perfect for pets with sensitive stomachs.
Pet parents and vets report raw feeding supports an improved appetite, digestion, immune system, teeth and gum health, skin and coat, and can help relieve allergies.
Cautions
Stella & Chewy's products must always remain raw when feeding. Please do not cook, heat, or microwave the products. If rehydrating, use cool or warm (never hot) water.

Item Number

58551

Breed Size

All Breeds, Small, Medium, Large

Food Form

Freeze-Dried, Dehydrated

Lifestage

Adult, All Stages

Made in

United States

Special Diet

Limited Ingredient Diet, Grain-Free, Gluten Free
Nutritional Info
Ingredients
Rabbit with Ground Bone, Olive Oil, Pumpkin Seed, Potassium Chloride, Organic Cranberries, Organic Spinach, Organic Broccoli, Organic Beets, Sodium Phosphate Monobasic, Organic Carrots, Organic Squash, Organic Apples, Organic Blueberries, Choline Chloride, Dried Pediococcus Acidilactici Fermentation Product, Dried Lactobacillus Acidophilus Fermentation Product, Dried Bifidobacterium Longum Fermentation Product, Dried Enterococcus Faecium Fermentation Product, Taurine, Tocopherols (Preservative), Calcium Carbonate, Zinc Proteinate, Zinc Sulfate, Iron Sulfate, Iron Proteinate, Vitamin E Supplement, Niacin, Copper Sulfate, Copper Proteinate, Manganese Sulfate, Sodium Selenite, Manganese Proteinate, Thiamine Mononitrate, Pyridoxine Hydrochloride, Vitamin D3 Supplement, Calcium Iodate, Vitamin B12 Supplement.
Caloric Content
70 kcal/patty, 4,860 kcal/kg
| Guaranteed Analysis | |
| --- | --- |
| Crude Protein | 46.0% min |
| Crude Fat | 32.0% min |
| Crude Fiber | 4.0% max |
| Moisture | 5.0% max |
| Microorganisms | 10,000,000 CFU/oz min |
| Guaranteed Analysis (Rehydrated) | |
| --- | --- |
| Crude Protein | 15.0% min |
| Crude Fat | 10.0% min |
| Crude Fiber | 2.0% max |
| Moisture | 70.0% max |
Feeding Instructions
Serve as is or rehydrate by adding warm water. If your dog does not drink plenty of water at mealtime, we recommend rehydrating food. To rehydrate, crumble and add 1/4 cup of water for every two patties. When feeding dry, always make sure your dog drinks ample fresh water at mealtime.
Transition Instructions
Introduce by slowly mixing with your pet's current diet, over the course of 7 to 10 days. Timeframes can be adjust as needed.
Days 1 to 3 : 25% Stella & Chewy's + 75% previous diet
Days 4 to 6: 50% Stella & Chewy's + 50% previous diet
Days 7 to 9: 75% Stella & Chewy's + 25% previous diet
Day 10: 100% Stella & Chewy's
Pet lovers also bought...
Customer Reviews
Rated

4.8

out of

5

 by

116

reviewers.
Rated

5

out of

5
 by
Alison
Top Quality!
You can't go wrong with any of their foods. Wonderful quality, my picky dogs love their food like treats. I have started auto ship and better price than local pet stores.
November 13, 2016
Rated

5

out of

5
 by
Auntielaurie68
Great Product
I love the convenience of this food. It is so easy to prepare and my dog loves it. She gets the benefits of raw food without all the work. Rabbit is great for her allergies, her coat is so soft.
November 10, 2016
Rated

5

out of

5
 by
Debbie65
My dog loves this food
I have a little terrier mix who is suffering from IBD. We needed to take her off all grain dog food products but didn't want to switch to raw at this time. We ordered two bags of Stella & Chewy's Absolutely Rabbit Dinner Patties Freeze-Dried Dog Food and she loves it. We do moisten it in some warm water and she devours every bite. No vomiting while on this food. Will be ordering more. Also bought Vital Essentials Freeze-Dried Rabbit Bites for treats. Those were a hit as well. Chewy is the best. Very prompt shipping and always accurate in filling my order.
October 22, 2016
Rated

4

out of

5
 by
Kerri27
So far so good
My dog really loves this food, I don't know that I have seen improvement in his stomach issues. I guess more time will tell!
November 6, 2016
Rated

5

out of

5
 by
Sandi
Excellent
They are a little pricey, but our dog loves the Rabbit patties.
November 7, 2016
Rated

5

out of

5
 by
Gottalovemydogs
Saved the day
Our elderly spaniel has become a very picky eater- until we found Stella & Chewy's Rabbit Dinner Patties. She eagerly finishes her meals! Thank you!
October 23, 2016
Rated

5

out of

5
 by
sueberider
Great food!
My dogs love it, I like knowing that I'm giving them good nutrition, and it's so easy to prepare!
October 10, 2016
Rated

5

out of

5
 by
RoyA
Perfect Meal Topper
My pups aren't super interested in eating, they aren't very food motivated, either, but this must taste amazing because they have finished their all their meals since purchasing. I switch up flavors, they really liked the duck, rabbit and surf & turf. It's easy to break up, great for training, and they are very high quality so I know it's good for them, too.
September 26, 2016
Rated

5

out of

5
 by
Karygrant
excellent
Tried Rabbit for the first time and Charlie eats them all up!
October 3, 2016
Rated

5

out of

5
 by
Tulsi17
So...I ran into a Stella & Chewy's rep this weekend...
and I tried HARD to get her to honestly tell me what MUST be the really BAD ingredient that they put in the S&C foods to make my cats love all of them! (sigh) She maintained that the attraction is no secret - no evil magic ingredient. Nope. It's just that cats and dogs are getting what they were designed to eat (hey, I was designed to eat broccoli, but it's not going to happen without cheese sauce!). She gave me a sample of the freeze dried rabbit dog food not to give as a constant meal for my cats since it doesn't contain the taurine they need (etc?) but suggested I try it as a treat. Guess what! They LOVED it! - even my (thankfully) fussy Tortie who doesn't usually like other cat treats (she likes freeze-dried chicken breast meat treats, but forget everything else the others will eat). I've added a small bag to my auto ship to use as a healthy treat in small doses. S&C, you've done it again!
May 7, 2014
Rated

5

out of

5
 by
IslesG
Brandi's favorite
Brandi, my 6 1/2 yr. old Yorkie goes for this big time!
September 29, 2016
Rated

5

out of

5
 by
Vanessa
Bowls licked clean!!!
My dogs are on a homemade raw diet and I needed to find them something to eat for those days I need to leave to work in a hurry and won't be able to supervise their breakfast. They have not tried rabbit before so I was hoping I wouldn't get a picky eater. I gave them each two patties for breakfast. I crumbled both patties and added water. The first dog to eat had a surprised look as it's not what they are usually used to tearing into! But they both ate with gusto and continued to lick their bowls long after they've finished their breakfast!
July 15, 2016
Rated

5

out of

5
 by
RescueMom49
Best food ever ! Especially for fussy eaters
I have an ancient, 3 lb Chihuahua that gets Colitis if you even look at her wrong. She is and has always been a very fussy eater. I have even cooked nutrionally balanced meals for her in the past. She has tried and failed on many many foods over the years that we have had her. I tried this Rabbit formula and she LOVES it ! I will not lie, it took a few trys of offering it to her but now she loves it ! I feed her between -4 patties a day to maintain her weight and she looks great. Her coat is shiny and she is happy again. She has been holding her weight with no issues. Her belly didnt even get upset when we switched to this. We are on our 5th bag and doing well. Cant say enough good things about this food. It is a little pricey but well worth it if you have a finicky eater.
March 12, 2016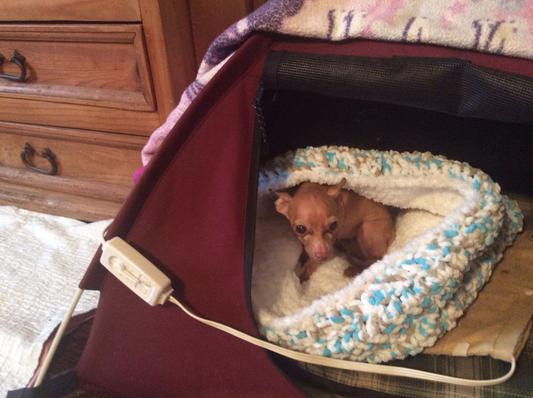 Rated

5

out of

5
 by
SeaBreeze
Great topper to feed picky eaters
I use a patty as topping for my doberman's picky appetite. She just won't eat her food unless this is on top. She loves the patty plain too as a snack or treat. They are very dry so I tend to break into little pieces which makes it easier for her to eat.
July 28, 2016
Rated

5

out of

5
 by
NoseWorkDog
Rehydrates Easily
My dog loves the Rabbit formula. She is excited to eat at every meal. Plus this food is really healthy for her. I usually rehydrate the food. I use the recommended amount of water to rehydrate. 1/4 c per 2 patties and the consistency is just right. A little thinner than a canned pate dog food would be. Let it sit for 5 min or so, and feed. It is very simple.
July 21, 2016
Rated

5

out of

5
 by
PuppyLove5
Absolutely Great !!
WOW is this a big hit !! My dogs took to it so fast and loves these Rabbit patties ( and I do mean LOVES them ) . They love it both ways , as is dry or when I mix it with warm water. I like to mix it with warm water so they get more water ( fluids ) in there system. Cant get enough H2O you know : ) When I give them lunch or dinner I do mix it with other dog food or chicken I make for them and boy is it all gone !!!! Every drop !!!! These patties are healthy and good for them and they just run to the plate when its time to eat now. So happy I got these and my 2 Yorkies are to. Going to try the Venison next and will let you know .
April 23, 2016
Rated

5

out of

5
 by
Mel6828
Miracle Food!
This product is a life saver for my dog! I've been frustrated for the past 3 years because my 5 year old border collie Lucy has had chronic vomiting & bloody diarrhea & I haven't found a cure. I've been to vets & specialists but no reason for the horrible issues. I emailed a holistic nutritionist & she recommended Stella & Chewy freeze dried rabbit. My dog is a completely changed girl!!!!! No more issues! She's happy & healthy & that's all that matters to me!
June 18, 2016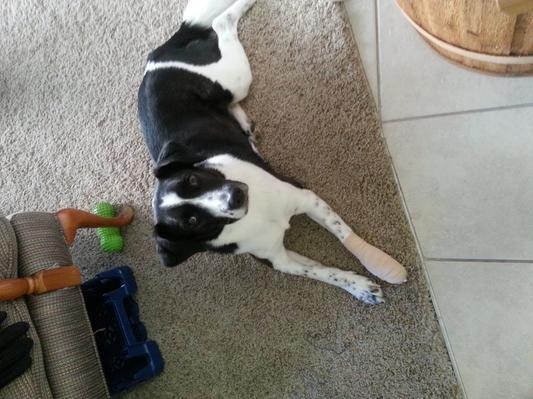 Rated

5

out of

5
 by
Soile
This type of food has been great for my little guy. He doesn't get diarrhea from it like canned food gives him.
I have been feeding this food to my Coton de Tulear for yrs. It gives him a well balanced diet in conjunction with his ever present kibble. He loves it!!!
June 18, 2016
Rated

5

out of

5
 by
uglyjohn
Great product
This is a really good product. Works very well for my girl who has pancreatitis and irritable bowel. Also much fresher than a frozen rabbit product I was using prior to finding this.
June 16, 2016
Rated

5

out of

5
 by
Kurtis
Great Product
All of Stella and Chewy's meals are excellent. My dogs not only love dinnertime, but are healthy and thriving on the proteins and natural ingredients in all of the flavors.
June 11, 2016
Rated

5

out of

5
 by
KitCat
Ridiculously big hit with my gal
My baby girl is very fussy when it comes to eating wet food. Canned food (like Merrick, Nature's Balance, and Weruva, etc.) only have the gravy licked off them, and then I have to use a topper to get Nena to finish her meal. Stella and Chewy's freeze dried Absolutely Rabbit is the only food I've ever seen her eat with gusto. I first mixed some into her wet food, she licked around her plate and only ate the rabbit, leaving her canned chicken behind. When I fed her rabbit only, she licked up the juice, and then ate her meal in one sitting, which is absolutely fantastic. The pucks are light & airy, and very easy to crumble. They reconstitute in water quickly, making dinnertime a snap. I will definitely be back to buy some more for my baby.
March 11, 2013
Rated

5

out of

5
 by
SandflyNV
Pawsitive results
I am always pleased with Stella and Chewy's foods. My dogs love all of the varieties and eat with gusto each meal. I alternate Stellas along with Orijen and Primal freeze dried foods for the best in diet diversity. I am fortunate to be able to have on hand all three brands in the different meat varieties. I have a tendency to feed more of the Stellas, though, as the price is easier on the budget. My dogs are all very healthy, happy and well fed with the diet that is best suited to our doggy friends. A note for cat lovers - please note that Stella and Chewy's makes a cat formulation that is better suited for a cat's unique dietary needs. I highly recommend Stella and Chewy's for quality, fresh and nutritious meals.
June 24, 2014
Rated

5

out of

5
 by
Susie89
My dogs love it!
My dogs always enjoyed their meals made from a combo of high quality kibble and homemade vegetables, but substituting Stella and Chewy's for kibble has really heightened their enjoyment.
May 15, 2016
Rated

5

out of

5
 by
Smiley
great food in every way including price
Great price and speed in getting this good product
May 9, 2016
Rated

5

out of

5
 by
Fapahoy
If my fur baby loves it I will buy it
My Fur Baby was born on a farm, his Mom had free range, she would hunt rabbit, strip the fur and feed to her babies. Its no wonder he loves Stella & Chewys raw freeze dry Rabbit. 5 Stars from us.
April 24, 2016
Rated

5

out of

5
 by
YumYum
Excellent!
Chewy's is a great food...our vet agrees! Good company, fast service...I will be ordering more from Chewy.com.
May 2, 2016
Rated

5

out of

5
 by
mugsy789
Great additive for food
My westie eyes aren't dark and runny anymore since I've changed her diet to no grain. She loves all the flavor a of the freeze dried meant.
April 28, 2016
Rated

5

out of

5
 by
Judie10
A great, healthy food for a picky eater!
I like to give my dog a variety of food. (I wouldn't like to eat the same thing every day!) He apparently loves the whole line of "Real Meat" and "Stella and Chewy's" which I usually combine with some canned food.
April 9, 2016
Rated

4

out of

5
 by
FranniePG
Not her favorite flavor, but...
At first, our cattle dog/pit mix was a little finicky about this product (as opposed to her favorite Primal flavors), but took to it once hydrated and mixed with either a few Primal nuggets or just her regular Taste of the Wild kibble. Quality is excellent. As with any raw food, don't forget to wash hands and wipe down counters with warm soapy water after preparing.
March 6, 2016
Rated

5

out of

5
 by
StandardMom
"Hoppy" With Product
The biscuits were a nice size and easy to break apart for re-hydrating. My dog who is on a raw diet loved them. I feed freeze-dried as a supplement to his raw diet and this was the first time trying Rabbit.
April 1, 2016