USA Antlers Elk Splits Rack Snack Elk Antler Chew
Price:

$10.99 FREE 1-2 Day Shipping over $49
4-6 inches

5-7 inches

7-10 inches

10-12 inches
Description
Elk shed their antlers every year after the rut and grow them back every summer. These Elk Splits Rack Snacks are 100% naturally shed elk antlers that feature the most marrow down the length of the antler - no animal is hunted or farmed. Elk antlers do not typically chip, splinter or peel as a cooked bone can, nor do they get lodged in your pet's throat, stomach or intestinal track. Elk splits are not recommended for aggressive chewing dogs.
Key Benefits
All-natural chew
By splitting the elk antler, it exposes the marrow down the length of the antler, giving your pet immediate satisfaction
Substantial source of calcium zinc manganese and potassium for tartar control
May be used indoors, no odor, fat or greasy mess to clean up
No two antlers are the same so your dog will feel like he or she is getting something new every time
Special Note
This product is completely natural, so color and thickness may vary.
Item Number

67751

Brand

Chasing Our Tails

Breed Size

Medium

Food Form

Treats

Lifestage

Adult

Made in

United States
Nutritional Info
Ingredients
Usa Elk Antler.
Feeding Instructions
| Size | Recommended Pet Weight |
| --- | --- |
| 4 to 6 inches | up to 15 pounds |
| 5 to 7 inches | up to 40 pounds |
| 7 to 10 inches | up to 75 pounds |
| 10 to 12 inches | up to 90 pounds |
Pet lovers also bought...
Customer Reviews
Rated

4.3

out of

5

 by

108

reviewers.
Rated

2

out of

5
 by
Pfarmer
Fell Apart
I was a bit disappointed. The marrow fell out within 5 minutes of a puppy chewing. The marrow was in small pieces of about 1/4 inch and laying on the floor. The good part is my pup still chews on the antler even without the marrow. Overall, I will not purchase anymore.
December 12, 2016
Rated

1

out of

5
 by
Mulligan16
small and thin
These antlers might be good for small dogs, but they were too small and thin for my Lab.
December 13, 2016
Rated

4

out of

5
 by
Stephanie
A little small
Overall my dog loves this and I would get more but it was smaller than I anticipated. Since I have a 15 lb puppy it's ok now but won't be when she's full grown.
December 7, 2016
Rated

5

out of

5
 by
Maverick291
Long-lasting Chew
My dog loves these antlers. He is an aggressive chewer and they last a long time. My only complaint is that it's smaller than I anticipated. Overall, great product.
December 6, 2016
Rated

2

out of

5
 by
BMDmom
Not sure
So I purchased an antler from chewy and my dog has no interest in it whatsoever. I did purchase one previously from Two Boston's and he devoured it. I'm not sure why this is. They both looked alike.
December 4, 2016
Rated

5

out of

5
 by
Stevo13
Great and safe chew item for dog.
My dog started to dig his teeth into as soon as I gave it to him. Comes back to it often. Ever since I learned rawhide can be bad for dogs the antler not only was a great replacement but it also offers marrow which is very healthy.
December 3, 2016
Rated

2

out of

5
 by
Finallee
Won't order again
Not really liking these, pieces were splintering off & concerned my puppy would swallow a sharp piece.
December 4, 2016
Rated

5

out of

5
 by
weirdjane
Better than expected
I normally get my antlers at my local pet store because I like to choose which ones my pups will like. I spend the same amount of money at my local store as I did here on Chewy.com. The free shipping is pretty great too. I got my antlers in three days after ordering. When I opened my package, I was pleasently surprised on how large the 4 I bought. I couldn't have picked better antlers at the store. All four are a good length and thickness. All have a good amount of marrow in them. I will be ordering these again for my fur babies!!!
November 4, 2016
Rated

5

out of

5
 by
Christal92
Our puppy is a chewer-he loves this antler!
We adopted a little lab mix puppy who loves to chew. He likes this antler the best. Other tough material chew toys don't last as long.
November 16, 2016
Rated

5

out of

5
 by
Chip
Excellent for Chewers!
My toy poodle loved this. He usually shreds nylon bones immediately. He was thoroughly occupied by this split elk antler and it continues to show staying power.
October 24, 2016
Rated

5

out of

5
 by
Pony
Great product!
My dog does not like to chew on bones. The ones with flavor he just licks off the taste. With these bones he would chew on it for 15-20 minutes. Bones do not splinter. I think this is a great product! Its a little pricey, but worth it!
October 15, 2016
Rated

5

out of

5
 by
Cherie114
Long lasting chew
My Boston Terrier just loves these antlers and they really do last for months with her strong little jaw!
September 28, 2016
Rated

5

out of

5
 by
k8eandk9
Great odorless chew
Great option for a dog who likes to chew. Some of the marrow-like inside can crumble which might make a tiny mess, but it cleans/sweeps up easily.
October 4, 2016
Rated

1

out of

5
 by
Lindsay
Much smaller than appears!
While this antler was the length that was described, it was not nearly as thick as I was expecting. Normally it takes my dog a week to chew through an antler. He ate it in one day while I was at work. I was very disappointed as I thought he was going to have it to keep him occupied while I was at work for the whole week.
September 18, 2016
Rated

5

out of

5
 by
Sactown
Heavy chewers will love this
My 7 month old beagle puppy is a heavy chewer. Destroy's all toys. Bought this elk antler after someone recommended them to me. She will lay for hours chewing on this. She just loves this!
September 14, 2016
Rated

1

out of

5
 by
Joanne
Not happy with this product
I ordered with my son-in-laws order since we share 3 dogs 3 of these elk antlers. None of them were the same two were half antlers one had nice marrow inside the other didn't. Then the 3rd as in the other review was a 1/4 antler this I am very unhappy with. It goes into a point and I won't give this to my dog it will cut his mouth. It looks nothing like the picture if I wanted a 1/4 antler I would of ordered that. I will be contacting customer service next to see how they want to handle this. The 1/4 antler came in my batch.
July 31, 2016
Rated

4

out of

5
 by
rockysmom
puppy likes it a lot
Good for aggressive chewers. Keeps them busy for a long time.
August 23, 2016
Rated

4

out of

5
 by
fox123
good but.....
my dog loves the splits but the medium size way too narrow and splinters too easily. if i buy again will get large size.... i have a 38 lb dog so she is not that large of a dog...
August 13, 2016
Rated

5

out of

5
 by
CGoldens
The half antlers do not last very long. Lesson learned.
I appreciate the value of having front door service for quality items I use for my dogs. The prices are good and the service is quick.
July 16, 2016
Rated

1

out of

5
 by
jnbrooklyn
1/4 split, not a half. Won't last.
The photos with this item both show antlers split in half. What I got was an antler split into quarters . . . it is thin, spindly, and my dog would eat it in no time. It bears no resemblance to the item pictured. I will be returning this. Chewy, I expect better from you. This is not truth in advertising. I specifically checked to ensure it was not 1/4 cut antler . . . but that's what I was sent.
June 7, 2016
Rated

5

out of

5
 by
Deborah
Elk antlers
My dog really likes these. Her teeth have never been whiter. I will buy these again. They last a long time.
June 6, 2016
Rated

3

out of

5
 by
PepperVonPeppercorn
Definitely just a snack
My five month old Catahoula devoured this in an hour. Needless to say, it must have been tasty, I just wish it had lasted longer.
June 6, 2016
Rated

4

out of

5
 by
DjangosMom
Pricey But will Have to Do
I've tried just about every long lasting/durable chews out there for my 10 month old, 69-lb lab-pit mix. I got him the XL and he took to it right away and did not put it down until bedtime which would be about a solid 4 hours of chewing/gnawing with water breaks in between. It is a little bit pricey but not too bad when purchased through Chewy. All in all, I would say I will buy this again as it did not give my pup the runs like he typically gets after chomping on anything with marrow still in it and even though he's about cleaned up the center, he continues to chew on it and has already chewed off the edges. Pros: no loose stools, no mess, no smell. Cons: Pricey, not as long lasting.
January 12, 2015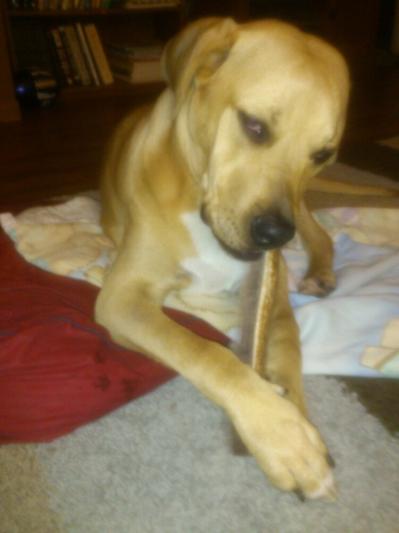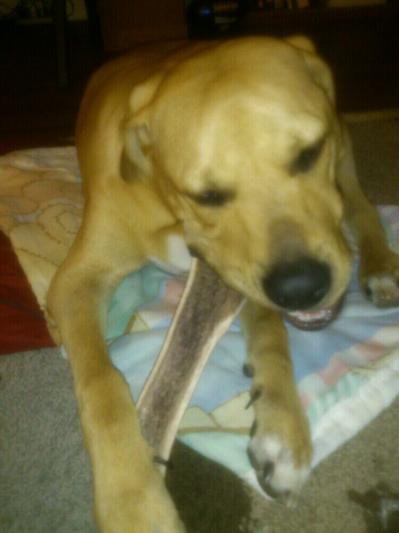 Rated

3

out of

5
 by
Artimid
Probably won't buy another
So I have given it some time, and eventually took it away from my dog. While she liked these MUCH more than normal antlers (which she wouldn't eat), I got a bit concerned when I started seeing red marks on it from where she was eating it. After this, her gums appeared to be quite a bit sensitive for some time. She is now back to chewing her normal stuff (like oinkees, bully sticks, etc) without issue. But for a bit there we were finding red on everything she chewed after she tried eating this. The outside of the antler is rock hard (it actually feels a bit harder than some bones.. more dense I guess), so she focuses on the middle part. What ends up happening is her trying to crunch through the rock side with her back teeth, and when that fails she resorts to scraping her teeth in the middle to try to get it. All in all, this doesn't appear to be cleaning her teeth so much as possibly damaging them. Her front bottom teeth actually have me a bit concerned now. I think I won't be buying anymore split antlers. On the plus side, this sucker is HUGE. Much, much bigger than I expected. So if your dog has amazing teeth and jaws like a steel trap (I guess), it might be pretty good, but really watch them while they eat, and check the antler after the first few times just to make sure.
October 10, 2014
Rated

5

out of

5
 by
catydid
these are the best
Of all the antlers offered on this site, these seem to be the best deal for the buck. They are true to size with more marrow (compared to the others) which not only keeps my dog satisfied but also provides him with naturally derived essential minerals for a longer duration. Aside from raw bones i think antlers are some of the healthiest chews so i love giving them as christmas gifts to other dogs in my life & hopefully turn their owners on to them. If more puppies & young dogs had them i think there'd be a whole lot less destroyed messes to come home to~ They totally help satisfy a young dogs chewing needs.
December 15, 2015
Rated

5

out of

5
 by
Cats
Great Chewies
Bought these for my two pups, one is 46 lbs of solid muscle, the other a little spry 24 pounder. Both dogs love these antlers but the little one takes both of them to her pillow and just chews and chews and gets the marrow out. Worth the expense (much cheaper than local pet supply companies). Will definitely be ordering more of these.
March 28, 2016
Rated

5

out of

5
 by
Laurie
Great time passer!
All three dogs love them! Chewy has a great selection
April 21, 2016
Rated

5

out of

5
 by
Sandy
Great product
Ordered two for my Rottie puppy a 7" & a 10". She just loves them and has had hours of fun. Will order more in the future.
March 23, 2016
Rated

4

out of

5
 by
eskue
kinda big.
i was on the look out for some antler chews since my 5 y/o long hair chihuahua got her teeth cleaned not too long ago, found these and i thought it would be perfect but turned out it was WAY bigger than expected.( i ordered the 5-7 in.) Still, as soon as i opened it, i let her try it out and she gnawed at it for a while. debating on getting the 4-6 in.
January 31, 2016
Rated

1

out of

5
 by
Marta29
Dogs show no interest
Waste. Of money -- dogs show no interest and would not buy again
March 28, 2016