VetriScience GlycoFlex Stage III Ultimate Strength Joint Support Bite-Sized Dog Chews, 120 count
Was:

$54.60

Price:

$33.92 FREE 1-2 Day Shipping over $49

You Save:

$20.68 (38%)
Description
Clinically Proven GlycoFlex III Hip and Joint Supplement for Dogs represents the third stage of VetriScience Laboratories' comprehensive joint support program designed to maintain comfort and mobility through all stages of your dog's life. Recommended by veterinarians for over 30 years, this formula offers higher levels of glucosamine, MSM and perna canaliculus for superior joint care. Glyco Flex III is suggested for active and competitive dogs to maintain top form, but also provides support for dogs showing signs of aging and discomfort as well as those with limited mobility after orthopedic surgery.
Key Benefits
Veterinarian approved canine joint support with perna, glucosamine, MSM, DMG, and antioxidants for advanced joint support
Recommended for dogs with a maximum need to joint and connective tissue support, joint and connective tissue support, geriatric and working dogs as well as to support normal recovery after orthopedic surgery
Great for dogs of all weight ranges to maintain comfort and mobility through all stages of your dog's life
Clinically proven to increase hind leg strength in dogs by up to 41% in 4 weeks
Bite-sized soft chews are naturally flavored with real chicken so it's easy to keep even picky pups healthy
Item Number

57607

Food Form

Treats

Lifestage

Senior, Adult, All Stages

Made in

United States

Supplement Form

Chews
Nutritional Info
Ingredients
Active Ingredients Per 2 Chews: Glucosamine HCl (Shrimp and Crab) (1000 mg), Methylsulfonylmethane (MSM) (1000 mg), Perna Canaliculus (Glycomega Brand Green Lipped Mussel) (600 mg), N,N-Dimethylglycine HCl (DMG) (100 mg), Dl-Alpha Tocopheryl Acetate (Vitamin E) (50 Iu), Ascorbic Acid (Vitamin C) (24 mg), Manganese (as Mn Proteinate) (10 mg), Grape Seed Extract (5 mg), L-Glutathione (2 mg), Selenium (as Sodium Selenite) (0.002 mg), Inactive Ingredients: Brewers Yeast, Canola Oil, Chicken Liver Flavor, Citric Acid, Glycerin, Mixed Tocopherols, Propionic Acid, Proprietary Blend (Maltodextrin, Sodium Alginate and Calcium Sulfate), Rosemary Extract, Silicon Dioxide, Soy Lecithin, Vegetable Oil, Whey (Glycomega Is A Trademark of Aroma New Zealand Ltd.).
Feeding Instructions
Initial feeding period (4-6 weeks):
Up to 30 lbs: 1 chew daily
31-60 lbs: 2 chews daily
61-100 lbs: 4 chews daily
101 lbs and over: 5 chews daily
Maintenance period:
Up to 30 lbs: 1 chew every other day
31-60 lbs: 1 chew daily
61-100 lbs: 2 chews daily
101 lbs and over: 3 chews daily
If giving more than 1 chew daily, divide between morning and evening feedings.
Pet lovers also bought...
Clinically Proven Joint Support
GlycoFlex gives your dog comprehensive joint support for mobility, flexibility and everyday comfort in the form of a delicious treat that she'll actually want to eat. Available in both tablets and bite-sized chews, GlycoFlex is recommended by veterinarians to provide joint support at every stage of your pet's life.
Formulated to Support a Lifetime of Healthy Joints
GlycoFlex 1 s a great proactive joint supplement for growing and active dogs.
GlycoFlex 2 has higher levels of glucosamine and is recommended for adult or maturing dogs.
GlycoFlex 3 is an extra-strength formula for dogs in need of maximum joint support.
GlycoFlex Classic is an introductory hip and joint health supplement that supports proper joint and connective tissue growth and function in dogs of all ages.
GlycoFlex Plus provides advanced support to help cushion joints, promote cartilage building and alleviate discomfort caused by normal daily activities.
Time-Tested Ingredients
GlycoFlex uses time-tested active ingredients to provide support for joint mobility, flexibility and overall comfort. Perna canaliculus, or green-lipped mussel, is found in every formula to help maintain healthy connective tissue. Glucosamine helps build healthy cartilage, and MSM is included as a necessary ingredient for forming connective tissue in the joints.
About VetriScience
As the makers of GlycoFlex and an extensive line of pet supplements, VetriScience Laboratories is a leader in the pet health industry. For over 40 years, VetriScience has led the way by providing exceptional and innovative supplements created for the health and well-being of companion animals. They are committed to using only pure and highly researched ingredients to produce quality products that are safe and effective.
Customer Reviews
Rated

4.6

out of

5

 by

276

reviewers.
Rated

5

out of

5
 by
RoniJ
New energy for my elder schnauzer
My elder miniature schnauzer Cicero will be 15 in December and I'm sure he's developed some arthritis. What dog of that age wouldn't? He tries hard to keep up with his baby brother, 1-1/2 year old Apollo. For the past year we've been giving him Dasuquin, which had a noticeable effect immediately as he began to hop a few running steps trying to catch up to a thrown toy in our yard. As our supply was running low, I decided to try the Glycoflex Stage III - just one chew per day based on his weight of about 17 lbs. The chews are soft, shaped like a small dog bone, and too much for him to handle all in one piece, even though all his teeth are intact. But they're very easy to break cleanly into four smaller bite-sizes for him. We now see noticeably more energy in his ability to run. He still hops like a bunny, but faster and longer, so I think there's really something good going on here. Hoping for long-term results. Also, with 120 chews providing more joint support than the package of 84 Dasuquin, it's also a much better value.
October 26, 2016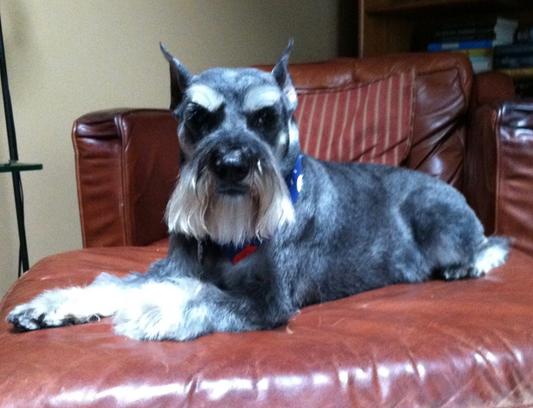 Rated

5

out of

5
 by
Emeril
Great product, excellent price
My 12+ year old mutt, Darcy, has been on this product for about 6 years now. She had no specific problems, but I had some on hand for her sister, and when she passed, thought I would continue giving them to Darcy. She eats the treats without any complaints and is able to run, jump and pretty much do anything she wants. The vet said she has some mild arthritis in her back, so I think these help to keep problems at a minimum. She is a trim 36 pounds, that helps too! Her new sister, a chunkier 44 lb mix of beagle, corgi and lab, has also been taking this for about 2 years now. The vet said a couple years ago Emmie has hip dysplasia, but Em doesn't seem to know that. She likes to go running with me, loves to run at the park and does the little dancing doggy thing for her treats (her idea, not mine). My only complaint with this product is there is a very pronounced and yucky smell lately. It never smelled bad before. But the dogs don't mind, maybe it enhances the flavor for them.
September 1, 2016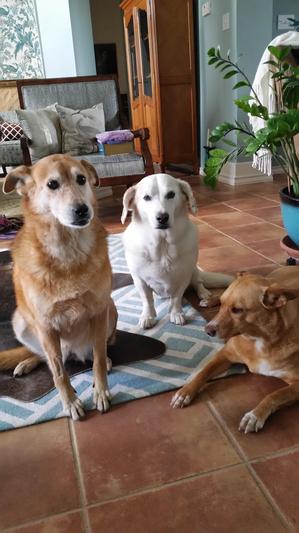 Rated

2

out of

5
 by
Pearl
Didn't work for my dog
My 16-year-old Chihuahua-Jack Russell mix has bad arthritis -- in so much pain I was even thinking of putting him down. NSAIDS helped with pain (not the condition) and he pranced around like a pup again, but he has a collapsed trachea and the gastrointestinal irritation ratcheted his cough through the roof. I tried NaturVet Senior Wellness Aches & Discomfort Plus, and that worked really well. I then tried this instead for two solid weeks to see if it worked better, and he slowly went downhill, with diarrhea to boot. I put him back on the Aches & Discomfort yesterday, and he's already feeling better. The A&D isn't perfect but it's the best I've found so far. It's a big tablet he doesn't want to chew, so I grind it in a $7 pestel & mortar and mix in his food.
January 7, 2017
Rated

5

out of

5
 by
Matty75
Helped my Boxer get up and go!
Great product! After 2 weeks of stage one Glycoflex almost 2 years ago, I saw a noticeable difference in her energy. Now on stage 3 and almost 9 years old she is still sprinting around the yard and ready for long hikes!
January 20, 2017
Rated

5

out of

5
 by
Dawn
Great for the joints
I decide to change up the joint care for my 9 yr old Rottweiler. Easy chews to give and they love the taste!
January 20, 2017
Rated

4

out of

5
 by
Larke
The product has some good features. My dog likes the taste.
I need a bit more time to see if it is going to help my dog with his joint pain.
January 10, 2017
Rated

5

out of

5
 by
mjc47
Good Product
My female golden is extremely picky about taking joint medicine products. Would not take the Dasaquin no matter how I disguised it. Decided to look for a soft chew that she may like. Read all the reviews of the Glyco Flex and decided to try them. She loves them, however I think they smell terrible.
January 9, 2017
Rated

3

out of

5
 by
Ccthatsme
Expensive but works
This product is smelly. This product is expensive. And in my mind, this product isn't worth the price. I switched to a food that has chondroitin and glucosamine instead, and it's much easier for us to deal with- no nasty smell, and just as effective! My dogs loved this supplement, I didn't.
January 5, 2017