VetriScience GlycoFlex Stage III Senior Joint Support Dog Tablets, 120 count
Was:

$85.99

Price:

$44.99 FREE 1-2 Day Shipping over $49

You Save:

$41.00 (48%)
Description
Clinically Proven GlycoFlex III Hip and Joint Supplement for Dogs represents the third stage of VetriScience Laboratories' comprehensive joint support program designed to maintain comfort and mobility through all stages of your dog's life. Recommended by veterinarians for over 30 years, this formula offers higher levels of glucosamine, MSM and perna canaliculus for superior joint care. Glyco Flex III tablets are suggested for active and competitive dogs to maintain top form, but also provide support for dogs showing signs of aging and discomfort as well as those with limited mobility after orthopedic surgery.
Key Benefits
This formula offers high levels of glucosamine, DMG, Perna canaliculus and MSM, proven ingredients that help build cartilage, cushion joints and manage inflammation
Suggested for active and competitive dogs to maintain top form, or to provide support for dogs showing signs of aging and discomfort as well as those with limited mobility after orthopedic surgery
Clinically proven to increase hind leg strength in 4 weeks
Palatable real chicken flavor tablets are easy to digest and absorb: great for pets that may find chews too dense or that have easily upset stomachs.
Recommended and trusted by veterinarians for over 30 years! Finally, a joint supplement you can trust
Item Number

57609

Lifestage

Senior

Made in

United States

Supplement Form

Tablet/Capsule
Nutritional Info
Ingredients
Active Ingredients Per Tablet: Glucosamine HCl (Shrimp and Crab) (1000 mg), Methylsulfonylmethane (MSM) (1000 mg), Perna Canaliculus (Glycomega Brand Green Lipped Mussel) (600 mg), N,N-Dimethylglycine HCl (DMG) (100 mg), Dl-Alpha Tocopheryl Acetate (Vitamin E) (50 Iu), Calcium Ascorbate (Vitamin C) (30 mg), Manganese (as Manganese Amino Acid Chelate) (10 mg), Grape Seed Extract (5 mg), L-Glutathione (2 mg), Selenium (as Sodium Selenite) (0.002 mg), Inactive Ingredients: Brewers Yeast, Cellulose, Dicalcium Phosphate, Natural Imitation Roast Chicken Flavor, Silicon Dioxide, Stearic Acid (Glycomega Is A Trademark of Aroma New Zealand Ltd.).
Feeding Instructions
Initial feeding period (4-6 weeks):
Up to 30 lbs: 1/2 tablet
31-60 lbs: 1 tablet daily
61-100 lbs: 2 tablets daily
101 lbs and over: 2 1/2 tablets daily
Maintenance period:
Up to 30 lbs: 1/2 tablet every other day
31-60 lbs: 1/2 tablet daily
61-100 lbs: 1 tablet daily
101 lbs and over: 1 1/2 tablets daily
Pet lovers also bought...
Clinically Proven Joint Support
GlycoFlex gives your dog comprehensive joint support for mobility, flexibility and everyday comfort in the form of a delicious treat that she'll actually want to eat. Available in both tablets and bite-sized chews, GlycoFlex is recommended by veterinarians to provide joint support at every stage of your pet's life.
Formulated to Support a Lifetime of Healthy Joints
GlycoFlex 1 s a great proactive joint supplement for growing and active dogs.
GlycoFlex 2 has higher levels of glucosamine and is recommended for adult or maturing dogs.
GlycoFlex 3 is an extra-strength formula for dogs in need of maximum joint support.
GlycoFlex Classic is an introductory hip and joint health supplement that supports proper joint and connective tissue growth and function in dogs of all ages.
GlycoFlex Plus provides advanced support to help cushion joints, promote cartilage building and alleviate discomfort caused by normal daily activities.
Time-Tested Ingredients
GlycoFlex uses time-tested active ingredients to provide support for joint mobility, flexibility and overall comfort. Perna canaliculus, or green-lipped mussel, is found in every formula to help maintain healthy connective tissue. Glucosamine helps build healthy cartilage, and MSM is included as a necessary ingredient for forming connective tissue in the joints.
About VetriScience
As the makers of GlycoFlex and an extensive line of pet supplements, VetriScience Laboratories is a leader in the pet health industry. For over 40 years, VetriScience has led the way by providing exceptional and innovative supplements created for the health and well-being of companion animals. They are committed to using only pure and highly researched ingredients to produce quality products that are safe and effective.
Customer Reviews
Rated

4.8

out of

5

 by

86

reviewers.
Rated

5

out of

5
 by
Seanma
Gave our senior dog( age 13) life
Jake had been abused when he joined our family as a 1 year old. He was a great guy but being mostly golden retriever began to have trouble getting up and down 5 steps when he was 12. We had to help him or he could not make it and at 95 lbs needed two of us. After many pills and various joint supplements we gave the Senior chews a try and within a week noticed a difference. After 3 weeks he was making it on his own. His legs stopped giving out on him. Once in a while he even began to trot a bit. Thanks to these chews we had him happy and mobile for another 18 months. We also give them to our golden retriever who is 9. The vet tells us he would estimate her age to be 6. Orla runs and had no difficulty with stairs. We plan to keep it that way with Glycochews. Our sons 13yo lab takes them too now!
December 6, 2016
Rated

5

out of

5
 by
KimberlyA2
Glyco
I have been using this product w/all my pugs. It helps with their morning stiffness and old age joints.
December 20, 2016
Rated

4

out of

5
 by
Tracy
Good results so far
The pills are kind of big so I have to break it up into a powder and mix with her food.
November 20, 2016
Rated

5

out of

5
 by
bret
Possibly helped us avoid surgery?
My dog suffered a knee injury at a fairly young age. The vet said that she was on the borderline as far as weight goes, and that either surgery or conservative management were viable options. I bought the GlycoFlex III and went the conservative management route. It took a couple months of being very careful and using the more intensive dosage, but it seems like we won't be needing an ACL surgery. She runs, jumps, and all traces of a limp have completely disappeared. I know it's difficult to assign credit solely to this product, but if you're facing a $5k+ surgery it sure can't hurt to try. If you do opt for surgery, the price of the supplement is a drop in the bucket towards a healthy recovery afterwards.
October 11, 2016
Rated

5

out of

5
 by
Im4DU
Exceptional Product For Elderly Dogs!
This is a product that is a must for our 14 year old rescue dog. We have had her since she was approximately two years old. Once she started moving slowly due to her age, we purchased GlycoFlex Stage III and she now runs around like a puppy again! An exceptional product!
November 9, 2016
Rated

5

out of

5
 by
Holly
Keeps her legs moving
Have used this since she was four months old following surgery on her elbows. I believe that it has been very beneficial in keeping her joints flexible. Since then, she has had two other surgeries on her legs, and at 10 years of age, she still gets around quite well.
November 1, 2016
Rated

5

out of

5
 by
Aimless103
Senior Joint Support
I purchased the VetriScience GlycoFlex Stage III Senior Joint Support Dog Tablets, and I have to admit, I was skeptical at firs. But honestly, after almost two weeks now, I actually see significant improvement. My old boxer boy is 12, so of course there's been a lot of slowing down in him, but he was even having a hard time climbing in the car and onto the couch. Not any more. He jumps up like a pup and wants to play catch and run all the time now! He's got swag back in his trot!
October 4, 2016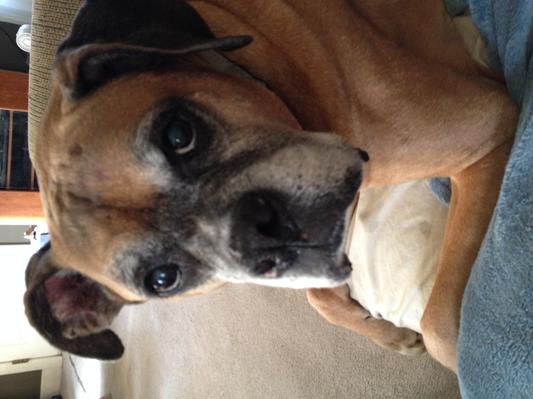 Rated

5

out of

5
 by
KarateMom6
Great product
Helped my boxer tremendously. Will continue to give him Glyco flex stage III.
September 30, 2016