Wee-Wee Extra Large Puppy Housebreaking Pads, 28" x 34"
Was:

$39.29

Price:

$27.99 FREE 1-2 Day Shipping over $49

You Save:

$11.30 (29%)
21 count

40 count

14 count
Description
The Wee-Wee Pad for Puppies is scientifically treated to attract puppies when nature calls. Its Super Absorption System consists of a quick-dry top layer, super-absorbent core and leak-proof liner. Satisfaction Guaranteed! Can be used for training or as an everyday alternative to the outdoors when pets are housebound.
Key Benefits
Quickly dries, super-absorbent, and leak-proof
Scientifically treated to attract pets when nature calls
Use for training or alternative for housebound pets
Measures: 28 x 34 inches
Item Number

61694

Dimensions

28 x 34 inches

Brand

Four Paws
Pet lovers also bought...
Customer Reviews
Rated

4.7

out of

5

 by

124

reviewers.
Rated

4

out of

5
 by
nerosmama
Incontinent dogs
Very useful for my two old incontinent dogs. Good size. Just wish they held a bit more moisture.
October 22, 2016
Rated

5

out of

5
 by
soberali
extraordinary
will order again. fast cheap ez the best!!!!! thank you!
October 23, 2016
Rated

5

out of

5
 by
Carol
Good size for my 13 lb Morkie!
My dog has no problem using Wee Wee pads. She is house trained & uses the pads all the time.
October 21, 2016
Rated

5

out of

5
 by
Luckey
fast, relieably
there is no one as fast as you, if you need it the next day it there thank you for your quickness, and the product is good also. as long as i have animal i will always use your product.
September 29, 2016
Rated

5

out of

5
 by
catman2k
Perfect no leaks
The product is exactly what I need, no matter how large the deposit it never leaks. Chewy.com is spectacular for their service. Always on time delivery is the norm, very happy to purchase from chewy.com.
September 19, 2016
Rated

5

out of

5
 by
Catman
Soiled Puppy
Our puppy is spoiled and other than going outside to pee, he wants a comfortable place to do his serious business. We've been using these for 12 years now and all I can say is that they have our Pup's seal of approval. What more can I say :) :) BTW, they also work great for someone who's ill and incontinent. Protects bedding, upholstery, car seats as well.
August 20, 2016
Rated

4

out of

5
 by
Layla
Good product for price.
We could not believe the saving we made by purchasing online instead of the pet store. The pads work for our maltese.
September 3, 2016
Rated

3

out of

5
 by
Janis
They have reduced the thickness of these pads - not as good as they use to be.
I use to love these pads. My two little dogs use them all the time when the weather is bad. This order was noticeably thinner. Moisture comes through the pad and wet spots spread to a larger circumference. Not happy!
August 28, 2016
Rated

5

out of

5
 by
Bobbi
Large size is great
My puppy misses sometimes with the small pad so these large pads really helped. Will keep using. Theyre very absorbent. I recommend.
August 10, 2016
Rated

5

out of

5
 by
DachsieGirl
Great absorbency, no leakage, multi-use
I love the Extra-Large Wee Wee pads. My old dog is incontinent and sometimes has "accidents" in his bed at night. I place one of the Extra Large Wee Wee pads over the cushion in his dog bed, then place a small blanket over that. It's easy to just change the pad in the morning and place a fresh, clean blanket on his bed. These pads also absolutely eliminate urine odor! As I have 5 small dogs, I also place a pad on the floor when I go to work; they're large enough to be used by several small dogs. Again....EASY to pick up the soiled pad, (with no leaking underneath!), and throw it away. Also, I've found one other, unique use for these pads: I place one near the front door in sloppy weather. When I come inside, I place my wet shoes on the pad. Voila! Keeps my carpet clean and dry. It's no wonder I LOVE this product!
December 4, 2014
Rated

5

out of

5
 by
Lillie
very effective
Ordered these pads late on a Thursday and they were at my door on Saturday. Unfortunately the following Monday I had to put my dog down. I donated them to a shelter.
July 29, 2016
Rated

1

out of

5
 by
samba333
Not adequate
I am disappointed in this product. My 50 lb dog is 15 years old and has been using pads at night for the past year so I have tried different kinds. These leak through to other side even with small amount of urine. Also, he tears it to shreds afterward.
July 13, 2016
Rated

5

out of

5
 by
Jackie
Best puppy pads
I have tried several different puppy pads, but these are the best. I love the larger size, and especially the thickness and quilting!!
July 8, 2016
Rated

5

out of

5
 by
stretch
Great absorbency
We have used this product before and they work well. Great price through Chewy
June 21, 2016
Rated

5

out of

5
 by
Nancy11906
Was Not Disappointed
I ordered Wee Wee Pads with some hesitancy because I'd always used another brand; however, a friend recommended them so I figured why not give them a try. I was not disappointed! These pads are super absorbent, and I love the large size. My American Eskimo would rather go potty in the house if the weather is bad, and these pads perform very well. I will be ordering these Wee Wee Pads exclusively from now on.
May 12, 2016
Rated

5

out of

5
 by
lori
works great
The product is great BUT I am here to brag about how wonderful Chewy is! I am disabled so getting food and supplies for my dogs was really a task. Now I order and it is here the next day usually. Thank you Chewy from the bottom of my heart.
May 20, 2016
Rated

5

out of

5
 by
DelV
Great
Very satisfied with these, best pads I have ever bought.
May 30, 2016
Rated

5

out of

5
 by
Momcat3
Best size coverage and absorbency
Chewy price and prompt free delivery beat all competitors. This size pad is the greatest for whole day use and a tiny dog who doesn't pay attention to where she aims!
May 12, 2016
Rated

5

out of

5
 by
SARA
TICK & LARGE - VERY ABSORBENT!
This is such a nice size & covers a nice big area! They are thicker & more absorbent so they never leak through to the floor. I really like them instead of the smaller thinner ones!
April 24, 2016
Rated

5

out of

5
 by
Lucy
Great product.
I love these large wee pads. Can't live without them.
April 30, 2016
Rated

2

out of

5
 by
98sheltie
Not leak proof
Unfortunately, they aren't leak proof. I usually have to use 2-3 pads on top of one another for my Dad's Pom. She is 13 has hip problems therefore she can't go outside. They do give her the hint to go on them which I appreciate but it does cause extra work mopping the floor every day in her restricted area. I do love the Fromm's dog food and the Greenies for her hips and joints. My Sheltie loves his grain free Greenies and always ready for his grain free treats and Fromm's dog food.
January 23, 2016
Rated

5

out of

5
 by
SeniorCitizen10
A good quality Product.
The large size wee wee pads are the perfect size for our little Papillon. During bad weather we put a pad on the porch. After several trips to the pad we pick it up and put it in the trash bin. Then we put down another one if necessary. It has good fluid absorbtion.
March 24, 2016
Rated

4

out of

5
 by
Rmp37
Product performed as described.
Used these pads with newspaper to help keep my 5 Ridgeback puppies area clean and start the housebreaking process.
April 14, 2016
Rated

5

out of

5
 by
MsPos
Best Pet Product EVER!
I have been disappointed by other pads, because they weren't absorbent or large enough. These are great! I have a small dog with back issues who cannot get outside as frequently as a healthier dog. I need the large pads for while I'm at work and during the night. Smaller ones do not work! I hate to think what people with larger dogs do without these large size and absorbent pads. My local supermarkets have all discontinued carrying the large size for smaller ones. Thank goodness for Chewy and the convenient mail order! Fast delivery, too! I had my latest order the next day w/o paying extra postage! THANK YOU!!!
June 11, 2014
Rated

5

out of

5
 by
Billy4
Only need 1 of these pads instead of 4. Thanks for this great product.
This pad is very good as it is really quite large and instead of me having to use 4 other wee wee pads that were bought for me from a friend, now all I have to do is use 1 of these pads and my dog immediately goes to the pad when I go out and can't let him out to do his business out in the back yard. Will be ordering again real soon. Thank you for a great product.
February 11, 2016
Rated

5

out of

5
 by
Nonie52
Excellent product, does not leak
Works great for my Maltese. This product doesn't leak, absorbs well and inhibits odors. I have tried many other products but none perform as well as the Wee Wee pads. I would highly recommend it to anyone.
March 18, 2016
Rated

5

out of

5
 by
Josie
They work great!
Our elderly Jack Russel, age 19, uses these on the bed because he occasionally has nighttime accidents. They absorb completely and have saved the bedding!
March 15, 2016
Rated

5

out of

5
 by
Bethany
Very absorbent and money saver
Two of these large size pads replace five of the normal size ones, absorb well and with larger size do not need to change as often--highly recommend these pads. Thank you chewy for amazing delivery service, majority of time order day before and it arrives early next morning on my doorstep! Amazing!
February 12, 2016
Rated

5

out of

5
 by
DogDazCats2
Great size and coverage
To be honest, these giant pads are for a cat. We have 4 cats and 2 dogs, and my oldest cat just hates litter. For years I have been cleaning the carpet and then I realized that I could train her to peepee pads. These pads are very absorbent, don't fall apart when scratched at, and keep my carpet dry.
January 28, 2016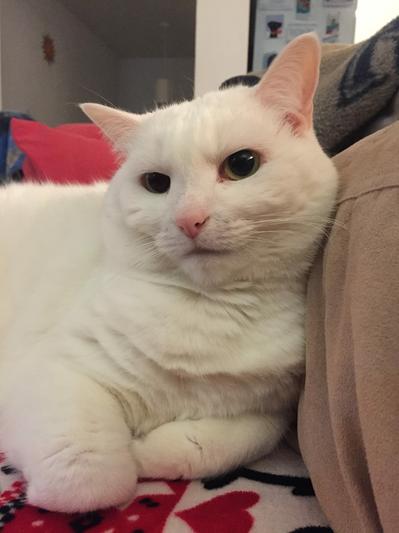 Rated

5

out of

5
 by
Maggie36
Serves the purpose
I have one cat and two litter boxes. Max loves to get into his litter box and play "Find the buried treasure" which scatters litter all over the floor. By putting one of these oversize pads under the litter box, I can easily keep the litter from being thrown all over. And of course, since boys will be boys, he once in a while - when he is in a big hurry, misses the box altogether so the pads save my flooring and rug from these accidents.
November 14, 2015