Wee-Wee Puppy Housebreaking Pads, 22" x 23"
Was:

$67.99

Price:

$33.42 FREE 1-2 Day Shipping over $49

You Save:

$34.57 (51%)
14 count

30 count

50 count

100 count

150 count
Description
The Wee-Wee Pad for Puppies is scientifically treated to attract puppies when nature calls. Its Super Absorption System consists of a quick-dry top layer, super-absorbent core and leak-proof liner. Satisfaction Guaranteed! Can be used for training or as an everyday alternative to the outdoors when pets are housebound.
Key Benefits
Built-in attractant draws dog to pad
Uses 5-ply leak-proof Floor Armor system with 100% leak-proof guarantee
Heavy-duty leak-proof liner protects floor and carpets
Super-absorbent quilted core provides maximum absorption, and quick-drying top layer prevents tracking
Measures: 22 x 23 inches
Click here for Wee-Wee On Target Trainer Tray.
Item Number

62542

Dimensions

22.5 x 23 inches

Brand

Four Paws
Pet lovers also bought...
Customer Reviews
Rated

4.7

out of

5

 by

328

reviewers.
Rated

5

out of

5
 by
suzele9999
looks great
arrived promptly...waiting to use on my new puppy....
May 18, 2016
Rated

5

out of

5
 by
Kitsak
Solved a cat issue
I purchased the pads in an effort to halt my 5 year old cat from peeing on the tile floor in front of our door. He has no medical issues and uses the box for his other business. I also purchased the plastic base....and it works purrfectly. He uses it most days, and it's a simple clean up, disposal and replace for the next time. The other two cats are not interested and use the box.
March 21, 2016
Rated

4

out of

5
 by
NewPuppyMommy
Eminates Odor
I guess the pad does hold the urine well but it does absolutely nothing for the odor. The pad is in my restroom and I actually scoop his solid and flush it down the toilet. When I purchased my puppy he came with two pads which I used before I opened the wee wee pads. I smelled no odor when using these and I could actually keep them down for two and a half days, which is convenient because my puppy doesn't make huge messes. I have to change the wee wee pad every day because its just so stinky! To go from no scent to a horrendous odor gives me a headache. I ordered the thirty count and I wish I could send them back. Next time I plan on trying pads that will prevent an odor.
May 2, 2014
Rated

5

out of

5
 by
Dino
This is the second time i have bought wee wee pads fromChewy
It is a great pad when my puppy and 2 year old dog tee tee on them it dries fast.There is not any that goes through the pad..You pick up the pad dry on the underside. I have tried three other brands the wee wee pads is by far the best. I will keep buying as long as I have dogs.
April 8, 2016
Rated

5

out of

5
 by
Sami
Puppy loves this product
We have use other pee pee pads, but our puppy would make confetti out of the pad. We like this product because they absorb and there's no mess under pad. So if our puppy is happy we are happy!
April 16, 2016
Rated

5

out of

5
 by
M7815
Great pads!
I tried these pads after using another brand on here for two years to see how they would compare because of the difference in value. I wasn't sure what to expect. I didn't know if my little one would use them. Pets can be picky. Pets have personalities too. Lol Also the size of your pet may make a difference. My dog is 4lbs. I may still order the other brand at times. But I am very pleased with Wee-Wee Pads and just placed my second order!
February 8, 2016
Rated

5

out of

5
 by
kitcat8911
My favorite pads
I have tried tons of brands of pads for my girl, and these are by far my favorite ones yet. These pads have a tightly quilted absorbent layer (none of that loose fluff that moves around and ultimately is seen as something to rip apart by pup), and I have never had an instance with these leaking through. I also like that this brand has a thin border, bc when my girl wizzes towards the edge of a pad, and the border is like 2 inches, then the urine runs over the edge and gets underneath the pad and is just a mess. So overall these are light-weight, well made, very absorbent, non-leaky pads. Very happy with these, and a great deal for the big box!
October 11, 2014
Rated

5

out of

5
 by
Marcelyn1948
Great value
This product was a great value for me and my Sushi!!!
April 22, 2016
Rated

5

out of

5
 by
Cheryal1
Wee-Wee Puppy Housebreaking Pads, 22" x 23"
Very good pads, no mess and best of all no smell. This is my second round with these pads and they have always worked very well.
April 11, 2016
Rated

5

out of

5
 by
Mary827Ohio
With 8 puppies you need the best!
I love this product line the best of all I have tried. This is the one you want to buy if you want a reliable product! Do not believe the hype on other brands! Several claim to do it but none have stood up to this brand. I like the larger sizes for my adult dogs when needed but for little 6 week old puppies you need a smaller size like this one. Hope this helps-but seriously- You will not be disappointed. Doesn't leak and pups are drawn to it. It really works!
January 6, 2016
Rated

5

out of

5
 by
ElfsMama
Very absorbent
We use these everyday as we have a puppy and she knows to go on them and they hold all the messes!
April 3, 2016
Rated

5

out of

5
 by
Bunster
No better product for the purpose
I am using these pads for two years. My little dog does not like to go outside. She was two years old when we rescued her. She was not housebroken, did not have her shots, was beaten and used as a breeding factory. We tried other pads, but none were as effective as the wee wee pads. Her name is winkie and she is a black and white chihuwa (Well I cant spell) Has never had an accident since we started using the wee wee pads. These pads absorb and do not give off any odors. Thank you for your prompt delivery and good price.
November 21, 2015
Rated

4

out of

5
 by
sylvia
wish my little puppy wouldn't chew it
Does everything it says. Sure nice to have. Just wish my little puppy didn't sometimes want to chew it.
April 2, 2016
Rated

5

out of

5
 by
craigjjr
Marvelous Product
I was using the Hartz pads, but they filled quickly and leaked. The Hartz pads were "loose" because the top was not connected to the base and my dog would run to the pad and it would scrunch up. She would frequently miss the target by hitting the edge. This wee wee pad is more firm, like paper, and it does not move. Footing is more secure and target area is more frequently hit. I am very pleased with this product.
January 11, 2016
Rated

5

out of

5
 by
slwhite53
works better than all others tried
I have tried brand after brand after brand of "potty pads" since my older animals aims have deteriorated. Store brands, generic, big brand name and earth friendly...none has done the job as well as these. They are absorbent, good-size, easy to separate and easy to use.
February 26, 2016
Rated

5

out of

5
 by
Jenn
Great Product
Indispensable for housebreaking our new puppy. Very absorbent and provides excellent protection for our floors and rugs
March 19, 2016
Rated

4

out of

5
 by
Boings
Hold a LOT of urine!
We've been using these for years our toy Pomeranian, who was pad-trained by her former owner. My only complaint is that they shred/rip easily, if your dog is a scratcher. Also, they often have some defective areas, where the absorbent filler is missing, or the edges are separating. Like another reviewer, we began using these with our 15 year-old cat, who has a combo of kidney and behavioral issues. He immediately took to them, and absolutely floods them with urine in one go--but these pads hold it all. We have tried other brands, and they were not nearly as effective.
April 2, 2015
Rated

5

out of

5
 by
RDouglass1
Wee Wee/House Breaking Pad
These pads work for House Breaking, if the owner is atentive to the dog while doing it, and are great for Small Dogs that have no place to go Out of Doors to do their business. Our Chiuahuah is 13 years lod, and has never missed the mark.
February 20, 2016
Rated

5

out of

5
 by
Bella
Wee wee pads
Durable, thick , leak proof, great odor retention.
March 24, 2016
Rated

5

out of

5
 by
Cast
These are by far the best pads!!
The pads are thick so they don't leak. They lay flat in the same spot you place them.
March 19, 2016
Rated

4

out of

5
 by
onefeather
Good
These are not bad but I see all their puppy pads price has gone way up expect for these. I started to look around for cheaper but good ones and found them at Fred's Pharmacy [superstore] they are 100 for 15.95. size 23x24. I am not sure if every Fred's carries them, if not try Value Pet they have ones: good, better and best and you can get them from 100 pads to 2400 hundred, make sure you look at the [grams] from 20 which does not hold good, up to high 30's grams. They have them in all sizes.
September 27, 2015
Rated

4

out of

5
 by
FloridaGrl
WeeWee Pads
I Have Two Small Chihuahua's. Great Little Girls. And They Will Go Potty Out Side. But I have Realized There tiny Little Bladders Cant Hold For Long Periods Of Time. Or They Have To Go More Frequent. So I Resorted To Putting The WeeWee Pads In A Certain Place In The House, And They Are Able To Go When Needed, When Mommy (ME) Is Involved In Doing Something Else, And They Need To Go Potty. And They Do Use Them!! I Love Them , But I Give Them 4 Stars Because I Am In Search For Something That Goes Under The WeeWee Pads For Extra Absorbing And Easier Clean Up. Any Suggestions?
November 4, 2013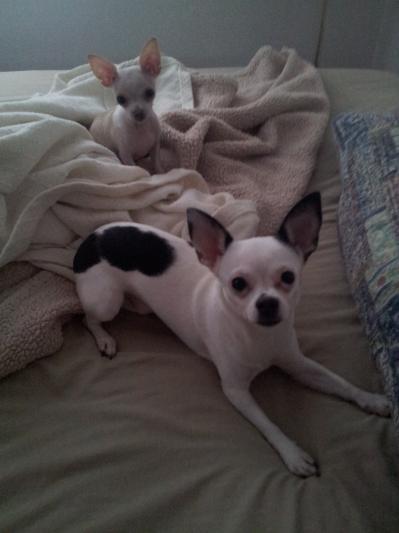 Rated

5

out of

5
 by
Charm75
The pads control the urine and it does not soak through.
I am very pleased with my order from chewy. I received the order of 5 boxes of puppy pads within 3 days. I had some trouble placing my order. Once I asked for assistance from chewy the problem was instantly solved. I will reorder from them again. Thank you.
January 28, 2016
Rated

5

out of

5
 by
Mollismom
Great product
I love Chewy.com! You all have the greatest products and your prices are unbeatable. That is either in store or online and on sale ANYWHERE! I'm really glad I found you guys and I just got my daughter started with you guys for her cat food.
January 28, 2016
Rated

5

out of

5
 by
Bailey
My 8 wk old puppy used it her first night home
I put my havanese on it after her nap and said, "squirt squirt" and she did it! It absorbs well and so fat no complains. She's only 2.5 llbs so hoping it works well when she's bigger.I also purchased the tray to hold the pads: MidWest Quiet Time Deluxe Micro Terry Pet Bed & Crate Mat
January 4, 2016
Rated

5

out of

5
 by
ellen72
GREAT PRODUCT, GREAT PRICE!!!!!
For a fraction of these wee wee pads, we paid $25. For a pack of 150 of the exact same product, we paid only a little bit more. Unbelievable!!!
February 16, 2016
Rated

5

out of

5
 by
bethanyg
they work
Great price, I need larger ones than expected, but they don't see to leak and he does go on them, most of the time :)
February 11, 2016
Rated

5

out of

5
 by
6vanimp77
All your deliveries
You filled all my orders correctly and quickly. Somehow there was a bag of dried cat food that had about a 5 inch tear.The little nuggets were dropping out of the packing box.You replaced it quickly. Since Ive ordered constantly from you,there was no questioning my claim. Once you were out of an item.Most companies would leave a note in the box.You went beyond that and telephoned me.I got the backup order within 7-10 days I think.I will continue ordering from you. Fondly, Richard S.; Forest Hills,New York
May 11, 2014
Rated

5

out of

5
 by
Marie
Great price and they work well.
3 small dogs. Couldn't live without these. Tried others, great absorbency.
February 17, 2016
Rated

4

out of

5
 by
Lollypop
These are great as long as your dog can aim.
I have 5 dogs and one of them always goes half on the pad and half on the floor because he is big. If it hits near the edge of the pad, it is not leak proof, it goes onto the floor and makes a huge wet mess under the pad. For my smaller dogs it has been fine so I will continue to buy them.
December 22, 2015