Wee-Wee Puppy Housebreaking Pads, 22" x 23"
Was:

$67.99

Price:

$33.42 FREE 1-2 Day Shipping over $49

You Save:

$34.57 (51%)
14 count

30 count

50 count

100 count

150 count
Description
The Wee-Wee Pad for Puppies is scientifically treated to attract puppies when nature calls. Its Super Absorption System consists of a quick-dry top layer, super-absorbent core and leak-proof liner. Satisfaction Guaranteed! Can be used for training or as an everyday alternative to the outdoors when pets are housebound.
Key Benefits
Built-in attractant draws dog to pad
Uses 5-ply leak-proof Floor Armor system with 100% leak-proof guarantee
Heavy-duty leak-proof liner protects floor and carpets
Super-absorbent quilted core provides maximum absorption, and quick-drying top layer prevents tracking
Measures: 22 x 23 inches
Click here for Wee-Wee On Target Trainer Tray.
Item Number

62542

Dimensions

22.5 x 23 inches

Brand

Four Paws
Pet lovers also bought...
Customer Reviews
Rated

4.7

out of

5

 by

328

reviewers.
Rated

4

out of

5
 by
LotaSavings
A lot for your buck
I am thankful this product comes in such a large quantity. 150 should last me quite a bit of time. Plus it was so much cheaper than other suppliers. I've paid almost $50 for just 100! But Chewy.com had it for $36 plus a discount for having a regular delivery. I saved almost $20 plus got 50 more pads. What I don't like is that it guarantees leak free and my pup goes once or twice on it and urine seeps through. Yuck!! I deal w it but luckily he just knows where to go. I'll choose my battles.
September 9, 2014
Rated

5

out of

5
 by
Breeder
very absorbent and thick....
I use piddle pads every day....I go through many packages of various brands. This is the best brand I have used in a very long time.
January 27, 2016
Rated

2

out of

5
 by
Sparkle6655
Does not work -- will keep trying
Great absorption but puppy will not urinate on this pad. I even used this pad to absorb her urine with the hope that after she smelled it, it would encourage her to use this pad -- still no success. I used this pad with my previous dog and it worked fine. I don't know if this has to do with the breed or if the quality has changed. If you have any tips, please let me know. It has been four days since I got this product and puppy. I will update my rating, if this product works later on...
June 29, 2014
Rated

5

out of

5
 by
DixieAZ
Only wee wee pads I buy
I've been buying these wee wee pads for 12 years. I was looking for better service and a better price and chewy.com meets those requirements completely!
January 24, 2016
Rated

5

out of

5
 by
Kristin31NC
great product
I switched to this brand because of the thinness of the pad and my dogs seem to be more attracted to them then other brands that I have tried....... also they hold quite a lot......I have two small dogs 4 & 6lbs and I put two pads down .......I change them about every 1 1/2 days and I could probably wait two days as long as I pick up the poo but I don't want to wait too long cuz they will stop using them if they get too full ........but I really do love them they make my life much easier ....
April 25, 2014
Rated

5

out of

5
 by
Navychiefforever
Great price and product
Took a chance buying brand and it worked out. These pads are great and exactly as advertised.
February 1, 2016
Rated

5

out of

5
 by
Kube
I use these under the litter box
My cat has a habit of urinating against the inside walls of the litter box. Due to the design of the lidded boxes, (I wish someone would re-think that design), it ends up on the floor under the box. With these pads strategically placed, I just dispose of the messed pad instead of having to scour the floor every couple days. So if someone in the pet supply biz wants to redesign a litterbox where the top slips on inside, I would be grateful. In the meantime I'm saved by the Wee-Wee Pads.
December 7, 2014
Rated

3

out of

5
 by
Toto1010
Not the best so and so
Tried WW after trying the Nature's Miracle. Price and size wise is very fair and also absorbs well. But won't dry out quick as much as the NM and the wetness spreads in wide range. After 2 wetting got to change to a new one. I have 5month old Shih-poo fully trained and uses up to 3-4 pads per day with WW but with Nature Miracle only 2pads/per day because this dry-out quickly and less smelly. NM comes 50 counts less the WW but I'm going back to Nature's Miracle because is worth it!!!No doubts!!
July 4, 2013
Rated

5

out of

5
 by
Glamma55
The best pads by far.
The best pads by far. No leakage whatsoever. Love love the Wee Wee brand.
February 3, 2016
Rated

5

out of

5
 by
mydogs2
great
I have two wonderful rescue boys who use weewee pads along with being street trained. I have tried every brand possible and always come back to Four Paws. I use two different sized pads and layer them, one boy squats and the other lifts his leg and so when used I replace only the smaller pad on top. These pads are very absorbent only complaint is that the urine spreads out however it dries quickly without odor. Mr Chewy has great promotions and so I always order in quantity when possible.
March 26, 2014
Rated

5

out of

5
 by
Happydog8
Excellent
Was using standard 22" x 22". They were OK but these are an inch bigger on one side and fit the tray perfectly. They are also more absorbent. Will continue to buy.
January 14, 2016
Rated

5

out of

5
 by
Cheryl
This product is the best.
This product is the best on the market. The price and value are better than any wee wee pads that I've tried. The only thing I'd change is making the backing white, beige or grey instead of blue so that it looks better in the home.
December 15, 2015
Rated

5

out of

5
 by
Kate
Absorbent, odorless
This brand is my favorite so far. Very absorbent, dries quickly. Love chewy.com. Service is so fast and products are great with plenty of choices.
January 15, 2016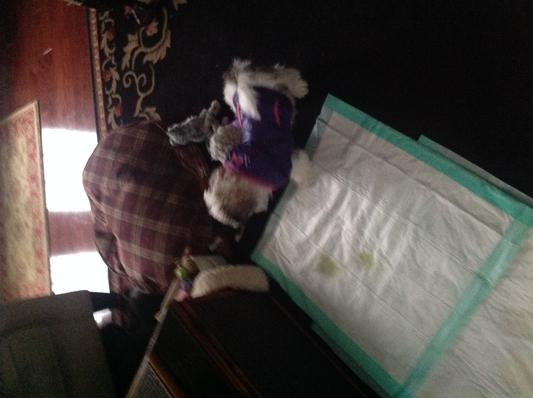 Rated

5

out of

5
 by
Junko
I love Chewy.com!
I love this product for our lovely Toy Aussie,Hugh! Especially I love Chewy.com who works very honestly! Thank you!
January 20, 2016
Rated

5

out of

5
 by
Cooper2015
Nice product. Puppy likes shreading them.
My 6 week old golden retriever uses the potty pads when we are gone to work for the day. When we get home, we find the pads are torn up in his cage. We are trying to put the cage on top of the corners of the pad or will try to tape the pad down. He has toys in his cage but he like tearing up the potty pads for some reason. I think he gets bored sometimes and just tears them because he is so small and is looking for something that is tough to tear with his teeth.
February 7, 2015
Rated

5

out of

5
 by
hrvip
Just what kitty needed
My mature cat started having a few slip ups when using her litter box -- sometimes piddling under the box (don't ask me how!), leaving more clean up than I would like and causing a concern with whether the floor is going to absorb the urine and start smelling permanently. I purchased these to see if they would help w/ her overflow. So far so good. The pads are really absorbent, even though they seem thin, so all I have to do is pick it up and throw it away. What a timesaver!!
May 7, 2013
Rated

1

out of

5
 by
CeceScooter
Not the same quality as two years ago
I bought a 150ct box of the 22"x23" Four Paw Wee-Wee Pads Leak Proof 5-ply (from my local Petco), when I first adopted my Chihuahua puppy in July 2012. These worked fabulously without any leakage for both my puppy and my senior dog who occasionally has accidents. Fast forward to March 2014, we still have the same box with only a few left. Getting low and wanting to have some on hand (since accidents do still happen especially with the senior dog) I began searching. I found that Petco no longer carries these, but Chewy.com does. I ordered the same exact product that I purchased in 2012, new box matched my old one, and the pads arrived looking different. The pads no longer looked quilted and were sheer, appearing as though less absorbent material was being used. Despite the visible difference we went ahead and gave them a try. One of my dogs used a pad smack in the center with nothing running off the sides, and it managed to soak through to the floor. Very disappointing. I now have to double up on these until I can find a real "Leak Proof" pad, which may be difficult as these pads are highly rated on Chewy.com. Even more disappointing, I couldn't contact FourPaws to share my experience as their website is under construction with no available contact information. I phoned Chewy.com about the product and they did refund me, so that was good at least... I would not recommend these for any dog bigger than a Chihuahua. I plan to try adult pads next, in hopes they will have better absorbency than these.
March 26, 2014
Rated

5

out of

5
 by
Boxergalnj
I was impressed, dog rescuer
I was honestly impressed. I purchase a lot of these doing rescue. I usually purchased the knock off ( cheaper brands) They hold up well, no leak through.
December 29, 2015
Rated

5

out of

5
 by
Gary2014
These pads have are the real deal!
I've tried various pee pads of different sizes and weights with cost savings in mind with mixed results. I've spent a fortune on pads but many of them are not reliable; too small, too thin, etc. I bought Wee Wee pads from Chewy and find that I'm finally saving money by buying pads that work reliably. My 10 lb. Yorkie/Shih Tzu mix does not like the great outdoors in the winter so she takes the kudos for not making a mess with great pride.
April 26, 2015
Rated

5

out of

5
 by
PuppoMom
Very Reliable Product
I use the product for my 15 year old, frail mini Schnauzer who has come to rely on them for her toileting needs. The built-in pad attractant is effective as she uses them exclusively in lieu of my hardwood floors. The 5-ply pad with it's reinforced edges contains moisture beautifully- it makes my life so much easier! Although a bit more expensive than other similar products on the market, the Four Paws Wee Wee pad is by far the best and well worth the extra expense.
June 21, 2013
Rated

5

out of

5
 by
Kailey
Pretty absorbent
I have a long hair chihuahua puppy and I use these for him. I have gone 2 whole days without changing and there was no leakage! I was afraid of pee pads because of all the mixed reviews about them so Im glad I came to chewy.com
November 27, 2015
Rated

1

out of

5
 by
teddysmom
leaks
I purchased these based on the awesome reviews. Please don't waste your $. I've used pads for years and never had any to leak like these. I have to double these to keep my floor dry. My boy is only 8 lbs. The people using these that have given good reviews must have used some awful pads in the past. I suggest Simple Solution pads. They are awesome. I thought I would save a few bucks and use something cheaper. Well I ended up wasting 25.00.
September 19, 2014
Rated

5

out of

5
 by
Maria5114
Great for a senior dog
My little terrier mix is 16 and 1/2 years old and she can't hold her pee any more. Since I can't be home 24/7 to take her out, I tried pee pads and she taught herself to use them very quickly. The pads on Chewy.com are much more inexpensive than the pads in my local stores, so I re-order them all the time.
October 10, 2015
Rated

5

out of

5
 by
Seniordog
Does the Job
This is the 1st time I've used this brand and these pads are great. The size is a little bigger than Neat-n-Dry and they do the job. I will buy these again for sure.
December 17, 2015
Rated

5

out of

5
 by
Ehen123
Great buy
This is a great buy for the price and they work well.
January 13, 2016
Rated

5

out of

5
 by
Lilia206
Great at masking smells
I started off using these pee pads because of all the great reviews. Then, I thought I would venture off and try another... but that was a mistake! My dog definately took better to these and these are have a very pleasant smell right out of the box, mask smells of pee overnight, and also don't show the color of urine as much as the other pee pad, making it look a little more pleasant in the mornings as well.
March 16, 2015
Rated

5

out of

5
 by
Westies126
Outstanding pads and service from Chewy.com
These Wee Wee pads by Four paws are awesome, they are the best on the market. And I've tried them all. They never spill over and hold a lot of urine. They also were a great price from chewy.com. I order a lot from amazon but chewy.com got my attention because of their competitive prices. All of my order came with a few days, I was very impressed with.them. Keep up the great job chewy.com and I will continue to order from you!!! A++++
May 8, 2014
Rated

1

out of

5
 by
LuluL
Horrible pads, not leak proof
I bought these for my 16-year-old poodle, who has to go more frequently. This is a horrible product. The urine doesn't immediately absorb and my dog tracks it through the room. If you leave the pad long enough for the urine to absorb, it soaks right through to the floor. I'm trying a different brand and hope I have better luck. I don't recommend these.
July 5, 2015
Rated

4

out of

5
 by
kittycat
Cat
I've had to start using these pad for my cats bowel movements. He's 11 and has forgotten where to 'go'. H still urinates in litter box! Poor old guy!
December 8, 2015
Rated

5

out of

5
 by
Vicky
Wee-Wee Puppy Pads Work Great
I bought these pads because of reviews given by other customers. Our two terriers are litter box trained so a good, absorbent pad is a must at our house. These pads are just that and more. The pads are absorbent and well made. The backing is substantial and prevents leaking and these pads don't tear or shred. In short, these pads are simply the best we have ever used. PLUS they are delivered! How geat is that?!!!
October 11, 2013