Dogit Design Alfresco Outdoor Drinking Plastic Fountain, 338-oz
---
---
Try This Similar Item By Chewy
---
---
About This Item
Quiet operation, clean lines and modern shape allow it to seamlessly blend with any modern home décor setting
Fountain is elevated to provide a better ergonomic drinking position and is illuminated with an energy-efficient LED light to better help with night-time visibility.
High-quality pump circulates and oxygenates water, encouraging your pet to drink more water helps ensure proper kidney function.
Fountain can be used indoor or outdoors. Outdoor certified transformer and weather-resistant connection allows for outdoor operation rain or shine.
Suitable for multiple pets, also suitable for cats. Holds 338 fluid ounces (9.9 liters).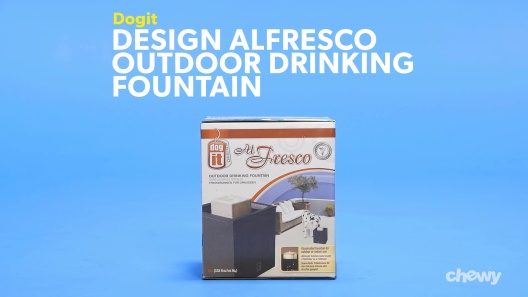 Learn More About Dogit From Our Team of Experts
---
Compare Similar Items
| | | | | | |
| --- | --- | --- | --- | --- | --- |
| | | | | | |
| Customer Rating | | | | | |
| Price | | | | | |
| Breed Size | Giant Breeds | Medium Breeds, Large Breeds, Giant Breeds | Large Breeds, Giant Breeds | Small Breeds, Medium Breeds, Large Breeds | Large Breeds |
| Bowl & Storage Feature | Non-Skid, BPA-Free, Lead-Free, Tip-Resistant | N/A | N/A | Dishwasher-Safe, Automatic | N/A |
| Lifestage | Adult | Puppy, Adult, Senior | Puppy, Kitten, Adult, Senior | Adult | Puppy, Kitten, Adult, Senior |
| Material | Plastic | Plastic | Plastic | Ceramic | Ceramic |
| Capacity (Max) | 338-oz | 450-oz | 192-oz | 115-oz | 70-oz |
| Assembly Required | No | Yes | Yes | No | Yes |
| Compatibility | N/A | Plug-In Power | Plug-In Power | N/A | Plug-In Power |
---
Questions & Answers
13 Customer Questions
---
BPA free?
Answer by • Dec 30, 2020
This fountain is made with BPA-free materials.
---
Can you use dental water additives in this fountain? Will that cause any additional buildup?
Answer by • Oct 15, 2019
When using additives, it's recommended not using a filter in the fountain, because it will likely remove at least a portion of it from the water as the water circulates. However, it may cause more sediments and calcium to circulate in the fountain.
---
For outdoor use, does this product freeze up easily?
Answer by • Jan 05, 2018
This fountain features an outdoor certified transformer and weather-resistant connection, that allows for outdoor operation rain or shine. Since it keeps the water flowing, it won't freeze the water. For flowing water to freeze, the temperature would have to be exceptionally cold.
---
Does this run on battery or need to be plug into power?
Answer by • Oct 12, 2017
This Fountain will need to be plugged into a wall outlet.
---
---
---
By cloud1 on Feb 15, 2022
Would not recommend
I purchased 2 of these for my 3 babies in hope in would be good for the one with megaesophagus. I bought 1 for indoor use and 1 to use outdoors this summer unfortunately the 1 we started using 3 weeks ago is already leaking. I don't have high expectations for the other they are very cheaply made.
---
By Cami on Mar 25, 2022
Do not buy it
I haven't had it three months and the pump stopped -- I couldn't believe the previous review that said this either -- but it happened to me -- too much money for this piece of ...junk!!
---
By Lynn on Aug 17, 2021
2 x purchase
I have purchased two of these and while the price has gone up considerably since my first purchase, it is a very durable product and not flimsy or for indoors only. My first one was four or five years ago for a senior, vision impaired dog. I used it indoors and the soft glow from the lights and the sound of the flowing water would help her find it, without spilling it all over the floor, which had become a major problem. I started using it again last year for a couple of stray cats that moved to my deck during the pandemic and when it stopped working, I tried a smaller, cheaper one that they didn't use and I didn't really trust for outdoor use. Finally, I gave that one to a friend with indoor cats and bought another of these. As I already said, the price had gone up A LOT, and since my recent retirement, definitely NOT a plus. The filters are reasonably priced though so maintenance is not a problem. I had an issue with small leaves getting in and making filtering a problem but I now keep a clear umbrella over it. I would recommend this fountain, but make sure you clean it before using and rinse and air out the filter first because there is a strong odor until you do.
---
By Rena on Sep 5, 2021
I wish it were smaller
This fountain is nice but I really wish they made one for small dogs. I currently use the catit fountain and all three of my small dogs and my cat are able to easily use it. Even my tiny 5lb girl can use it. But this one is 14" tall. It's great for larger dogs though and really good in warm places like where I live in Texas. This one also looks a lot nicer than the catit fountain. Hopefully they will make one the same size as the catit fountain eventually!
---
By Sarah on Dec 3, 2020
Chewy is AMAZING!
My dog Willow LOVES this fountain. She's a Great Pyrenees so she drinks a lot and slobbers into her water a LOT. I ended up getting this fountain to filter that slobber out and have enough water for her so I don't have to replace it every hour. It's amazing! It worked great until the pump went out, but I contacted Chewy when it did and they're sending me a new one! Chewy has AMAZING customer service! This is a great fountain and I'd recommend it for anyone who has big dogs especially.
---
By Nicolas on Nov 19, 2020
Had it for about a year
I have had this fountain for a year. The thing that sold me on it was the size and price. It was on sale for only 60 dollars. I can honestly say it's an okay fountain, the reason being is at first when I bought it I was saddened to see that the pump didn't even reach the bottom of the bowl. Meaning that yeah it holds so much but once it is only about 1/3 full it stops pumping water...... Also now that time had passed and I can see how well it fairs. I can definitely say unless it's just temporary. I would not buy this bowl again. It has a fancy light feature that was cool at first, but as time goes on it actually started to rust. This is not acceptable to me. I should never have to worry about the bowl itself putting rust in the water. Also the material it's made of chips away slowly over time. Leaving black specs here and there. So in my opinion if your picky about how clean your dogs water is. Which I can only assume you are since your looking at filter bowls, move on. The only plus was the size and even then it disappointed me with it's inability to pump water from the bottom upward. There are better filter bowls out there. Don't waste your money.
---
By Otis on Mar 29, 2021
Dog loves fountain
My dog is drinking water like it was a margarita fountain. Loves it
---
By scruffysharkface on Sep 6, 2020
pretty but poor quality
I bought this probably over a year ago and it's since become more of a decoration. It's beautiful and with the light it's even more pretty at night. However the quality on the outside doesn't reflect the quality on the inside. The first few washes got most of the clumps of glue out and most of the black flakes that would come off. It's kind of a rough material so it's difficult to get clean. The filter only really stops fur so it gets really slimy really quick. I was washing it every couple of hours when I was using it. The pump hangs about half way down so you can't use all of the water and have to keep it pretty full so you don't mess up the pump. My German Shepard wouldn't even use it because it's not a lot of water that comes out, my other does would use it until it got slimy and would then wait for it to be cleaned. For how expensive it was it was really more of a hassle to deal with. If you do get one please be mindful of the flakes and debris that come out and wash it well first
---
By Dave on Nov 3, 2020
Don't buy this fountain
Bought 2 of these a couple years ago for 1/3 of the price. Black flaking inside never stops. Can only use half the water inside because pump only hangs halfway down. I love Chewy, just not this product.
---
By MiClanMonsters on Jul 6, 2020
Major let down, poor quality
Looked beautiful in picture, very zen vs having eyesore bowls laying around, but upon unboxing was immediately disappointed in the craftsmanship. Globs of glue/caulk held the super short hose in permanent place in the output hole. it looked like a toddler painted it, all streaky in places with clumps of too much in others, and "out of the lines" all over the place. The chemical smell was overpowering and nauseating. The hose is very short, as mentioned, but connects to the pump and holds it suspended in the basin; causing a good amount of water to be left in the bottom, which defeats the entire purpose of having the large capacity basin. All things that I was ok with looking past since, otherwise, it essentially should've been perfect for our needs. Used it for less than 2 months and the pets stopped using it, and I'm talking to the point they would rather thirst to death than drink from it, because it would become super slimy and apparently the coating was coming off and little black flakes were floating around in it. These pictures are from not even a week after cleaning and refilling it the time before that, and after the third time over during this cleaning because the slimyness and floating black debris was so bad and just never ending. So disappointed with this.
---