DOTT Smart Dog & Cat Tag Tracker, Golden
By DOTT
Compare Similar Items
| | | | | | |
| --- | --- | --- | --- | --- | --- |
| | | | | | |
| Customer Rating | | | | | |
| Price | | | | | |
| Collar Type | Activity Tracker | Activity Tracker | Activity Tracker | Activity Tracker | Activity Tracker |
| Breed Size | All Breeds | Small Breeds, Medium Breeds, Large Breeds | All Breeds | All Breeds | Small Breeds, Medium Breeds, Large Breeds |
| Material | Plastic | N/A | Plastic | Plastic, Coated Metal | Plastic |
| Compatibility | Apple iOS, Battery Powered, Android, Bluetooth | N/A | Bluetooth, Apple iOS, Android, Battery Powered | Bluetooth, Apple iOS, Android, Battery Powered | Bluetooth |
| Leash & Collar Feature | N/A | N/A | Waterproof, Multi-Dog System | Waterproof, Multi-Dog System | GPS |
| Closure Type | N/A | N/A | N/A | N/A | N/A |
| Technology Feature | N/A | N/A | N/A | N/A | N/A |
---
About This Item
Pet recovery tag that attaches to your pet's collar.
iBeacon and Bluetooth technology frees you from fees and subscriptions.
Apple app allows you to crowd-source your pet by spreading the alert through app users for wider coverage.
Notifies you when your sidekick goes out of range.
Battery life last 6-9 months with 24/7 community support.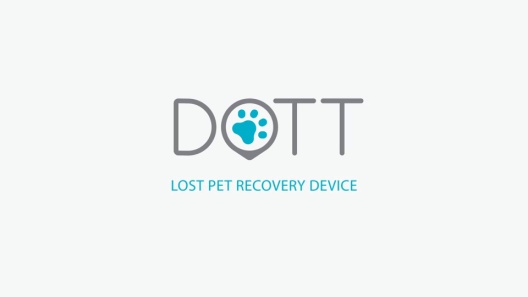 Learn More About DOTT From Our Team of Experts
---
---
Questions & Answers
21 Customer Questions
---
Does the app work with android devices? I noticed it said apple devices.
Answer by • Apr 25, 2019
The app works with Apple iOS and Android.
---
if my dog goes out of range will it show her back in range when I get within the 350ft of her?
Answer by • Sep 19, 2019
Once you're within range you'll be able to track your pet.
---
Is the battery rechargeable after the 6-9 months?
Answer by • May 08, 2019
This product's battery would need to be replaced after 6-9 months and the battery would not be rechargeable.
---
What kind of battery does it get replaced with?
Answer by • Sep 13, 2019
This tracker uses CR2032 batteries.
---
---
---
By nope on May 28, 2021
not for android
it says it works for android phones, but it does not. Communication with dott is challenging
---
By Nicole on Jan 14, 2021
This Doesn't Work
I purchased this for my escapee dog. However, this product does not work. It may not require a subscription, but it uses Bluetooth technology which means your dog is gone once they are out of the range and they are gone. The one time I thought it was working, I realized I was tracking myself. Also, the one and only time I was alerted that my dog was "out of range," in other words gone, was when I was leaving the house (my dog was inside). Find a good collar and pay the monthly fee for tracking.
---
By AXLE on Dec 24, 2020
Product poor quality
it works great but its very cheap quality my dog was playing and them he shack his body the whole thig just flu off it pieces lost the battery not sure what else came with a sec battery put the other one in now wont connect going to send it back
---
By Cookie on Aug 9, 2020
This thing is useless
I wanted a Bluetooth tracker for my cat so when she hides in my yard I can find her but this app is mainly it for walking dogs I guess? The tag needs to be close to your phone to work and then it doesn't give you any useful information like oh the pet is this many feet away or anything. To get it to track your pet you have to report your pet lost and that's ridiculous I don't want to have to put on social media that my cat's lost just because I'm looking to see if she's under the deck or up in a tree. I don't understand the point of it at all I don't know why they sell it to cat owners it's terrible
---
By Bentley on Sep 18, 2020
Got wet in waterbowl
It won't work since it was on his collar and it touched the water in the waterbowl.
---
By Julie on May 8, 2020
Doesn't get an accurate location
Cons -doesn't track your pet -not exact location - shows your pet in places that are not correct - takes a long time to load (incorrect) location Pros - tiny - battery seems good
---
By TedL on Dec 29, 2019
Limited Capabilities
I read the reviews and yet still ordered one. Even though most of the reviews are correct, I wanted to just learn and experience the concept of having a bluetooth connection to my dog. I live in rural Oklahoma on 40 acres. I wanted to see if the DOTT would help me locate my German Shepherd during those times he might wander during a walk. Even when all elements were connected and working, I would only be informed when my dog was out of range. There was no indication of WHERE he was out of range - just my address. When my dog came closer, the app would let me know he was in range again - but honestly, I could hear him running and panting my way. My eyes and ears were a better tool/app. Within days the app stopped connecting to the DOTT. I could get it to work again after re-seating the battery. This was probably due to my dog splashing around in creeks and ponds. The price was low so I considered the experience to be worth the cost to me. I did not ask for a refund, but I might have considered it if I had saved the box and packaging. I knew it was only bluetooth technology. I would have been satisfied if I could have at least known the direction my dog was last connected (North, South, East, West). I would also have been happy to have some kind of signal intensity - even a beeping sound to give some kind of indication of how close or far the pet is even when in range. But perhaps these are the limitations of bluetooth. Do not consider this product if: 1. You live in a rural setting - This product might be useful in a more urban setting where there is a higher possibility of social network (This product relies heavily on a network of other users with the same app) 2. You do not have an iPhone - My android phone was missing several features that were on my iPhone. The most important feature missing was the "find my pet" feature. The android app is basically just a walk/pet care tracker. The app would sometimes stop working on both android and apple products. DO consider this product if: 1. You live in an urban or suburban setting 2. You have lots of friends and family with the same app 3. You have an iPhone 4. You want to tinker around with the idea of a pet locator.
---
By Nothappy on Jan 29, 2020
Not happy!
We bought 5 of these and they are junk! You can't keep track of your dog when they keep going dead or the app doesn't detect them. I'm very disappointed. After all the money I paid for this junk. I DO NOT RECOMMENDED IT!
---
By JettaMom on Oct 28, 2019
Effective and Affordable
I love the Dott! Our dog has gotten out several times. With this product we are able to track her moves with the app. We all have it on our phones. We can also track her walks and other activities. No monthly subscription and purchase price less than others. I definitely recommend this product!
---
By Joseph on Aug 21, 2019
Found my dog!
We actually had a close call the other day when Molly got scared when someone started honking at the corner of the dog park. She ran off and we chased after her but we couldn't catch up. Luckily she had the tag, so we were canvasing the neighborhood looking for her. We also sent a request in DOTT app for help too, and then we got an alert of her whereabouts in the app. We went there and kept searching. Found her finally! I would recommend this product! Thank you DOTT!
---