Dr. Elsey's Precious Cat Attract Unscented Clumping Clay Cat Litter
Autoship
(Save an extra 5%)
Choose Autoship at checkout for regular deliveries.
Why Autoship?
FREE access to chat with licensed vets 7 days a week.
Save 5% on all future Autoship orders.
No fees, no commitments - cancel Autoship anytime.
---
---
Try This Similar Item By Chewy
---
Frequently Bought Together
---
About This Item
Litter's herbal scent, ideal texture and particle size attract cat to litter box
Multi-cat formula that is also great for training kittens
99% dust free, superior odor control
Hard clumping
Ideal for sifting/mechanical litter boxes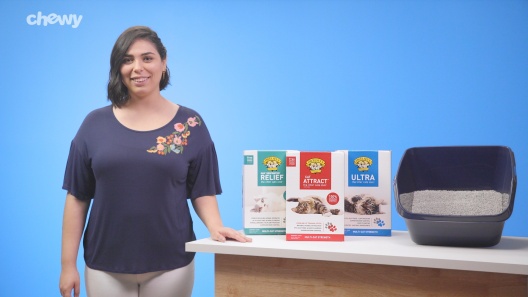 Learn More About Dr. Elsey's From Our Team of Experts
---
Compare Similar Items
| | | | | | |
| --- | --- | --- | --- | --- | --- |
| | | | | | |
| Customer Rating | | | | | |
| Price | | | | | |
| Autoship | | | | | |
| Litter Feature | Unscented, Multi-Cat, Odor Control, Clumping, Dust Free, Attractant | Multi-Cat, Odor Control, Unscented, Clumping, Dust Free, Attractant | Clumping, Unscented, Odor Control, Multi-Cat, Dust Free, Low Tracking | Clumping, Multi-Cat, Unscented, Odor Control, Dust Free, Low Tracking | Clumping, Multi-Cat, Odor Control, Unscented, Dust Free, Low Tracking |
| Packaging Type | Bag | Bag | Bag | Bag | Bag |
| Lifestage | Adult | Kitten | Adult | Adult | Adult |
---
Questions & Answers
25 Customer Questions
---
Why is it advertised as unscented when it has 'herbal scent' listed DIRECTLY in the description? If there is any scent, any fragrance at all added to it, 'natural' or 'artificial' then it is not an UNSCENTED litter, correct?
Answer by Kellcat • Jun 05, 2022
That is probably one of the attractant ingredients. It is unscented to humans.
---
How often do you change the litter and wash the box
Answer by • Mar 11, 2021
The litter should be changed out and the boxes washed once a month.
---
Is this litter's particle size smaller than the Ultra Clumping formula?
Answer by • Feb 13, 2018
The Ultra and the Cat Attract litter are the same particle size. The difference is that the Cat Attract contains the herbal additive and the Ultra does not.
---
Am I able to use cat deodorizer powder with this litter without it ruining the attract?
Answer by • Nov 03, 2017
We don't recommend using a deodorizer with the Cat Attract. The product works on a smell premise and it will demise the scent.
---
---
---
By Lisa on Sep 16, 2022
Incredible results!
I was iffy about buying this, but it turned out to be a Godsend. I have 3 rescues, two of which are part Maine coons siblings (boy and girl). In the last year or so, the sister has started peeing right in front of the litter box. I took her to the vet erring on the side of her well being, and found nothing wrong. I live in a pretty remote area and idiots tend to dump unwanted pets that eventually make their way to my house, so I figured her problem was behavioral because of all the strays that wander in. I was at my wits end with her, trying to figure out a way to get her to use the litter box, even getting to the point where I was cleaning the box every 2 to 3 hours, moving one of the boxes so she could have it for personal use, and putting plastic underneath it. No dice. She still peed right in front of the box. Then I came up on this litter...and our lives have changed. Talk about a total 180! I have been using it for over a week now and no accidents. Now there's not a whole lot I can do about the strays. When it's possible, I feed them until I earn their trust enough to catch them and take them to a shelter, but some of them go wild fast and there's just no way to get near. I won't say that this works for every single cat out there with a problem, but it worked for mine and as long as this litter continues to solve my problem, I will continue to use it. Now all that's left is to replace my floor :/
---
By Nadine on Aug 24, 2022
Give it a try
I tried this litter to see if it could help with spontaneous territorial marking that started in my home. I purchased disposable litter boxes, filled them with Cat Attract, and placed them in 2 of the rooms that the marking was most popular. The marking cat, loves this litter! Knock on wood - the marking stopped. I still use this litter and continue to use our normal litter, in separate boxes, because we have 2 cats. The older cat will use this litter too but doesn't react the same as the 4 yr old who was marking. The 4yr old knows which box the Chewy delivery is housing the Cat Attract bag. He tries to open the box and rolls all over it. I am so glad I saw this one day. It's well worth a try!
---
By Annie on Sep 5, 2022
An amazing solution!
My 11-year old male cat had developed some troubling littering habits. We're not sure if it was a behavioral or territorial thing, or if he just decided he didn't like his old litter anymore, but he was pooping in other places. Dr. Elsey's Cat Attract was recommended to us by our vet, and I can honestly say, IT HAS COMPLETELY SOLVED THE PROBLEM! And, it clumps better than my old litter, too! We are so happy to have found this, and to recommend it to others.
---
By Julie on Aug 25, 2022
This is awesome cat litter
I couldn't be happier! Our 9 year old cat decided he didn't like the litter we were using. He started to go on the basement floor. After reading about causes, making sure nothing was medically wrong, I started looking at litter changes. I came across this litter and he took to it the very first time I put it in the litter box. He hasn't gone on the floor since. It's more expensive than the stuff I was using but worth the time and energy I was putting into cleaning the floor every day. I'm not a fan of clumping litter and I wouldn't use it for kittens but it was the answer to a problem.
---
By Opie on Aug 4, 2022
Picky Kitty
I was at my wit's end. I had an adorable CRex kitten who decided to stop using her litter box. I was using the same exact litter of the breeder, and after ruling out possible medical issues to explain her unwelcome eliminations on soft carpets and rugs, we had to go to Plan B. After it was determined that she was perfectly fine physically, and nothing had changed in our home to cause a new stressor such as the addition of a child or another pet, I decided to go against my better judgement, and change her litter. Lo and behold. SHE LOVED IT. No more urinating and defecating outside of the box! It's been almost 2 weeks now with not one accident. I don't know what kind of magic is in this box, but it really works.
---
By LASS on Aug 9, 2022
Wow, this really works!
This was a success for me as I had one cat (I have 3) that suddenly did not want to pee in the litter pan. I bought this specialized litter with the herb to attract him and the minute I put it out, he was inside the litter pan doing his thing. Now he is using it all of the time. I don't smell the herb and my other two cats have decided they like it as well. I highly recommend this litter for cats that are presenting problems. Once you use it, no problems!
---
By Becky on Aug 16, 2022
Exceeded my expectations!!
All I have to say is WOW!! This stuff ACTUALLY works. I rescued and brought a stray mama cat and her baby into my home and the mama refused to use a litter box. She had no idea how to use one because she had only lived outside. Within 2 hours of switching the litter to Cat Attract she was using the litter box. I was super impressed. Definitely beats cleaning up messes on my floor every few hours!!
---
By whyisitspicy on Jul 28, 2022
Trained 3 feral cats with this litter
I have two live-in cats and two fosters, three of them are formerly feral cats who I've TNRd. Feral cats don't always take to litter as easily as ones who've been socialized since they were kittens, and a cat trainer recommended this litter when I was having issues with one of the fosters peeing outside of the box. This litter fixed the behavior immediately and all of my cats love using it. I've had zero issues. It doesn't clump as well as some other brands, but I think it's worth the price if you have finnicky cats - even if it's only temporarily for training.
---
By CatMomma on Jul 27, 2022
This stuff works!
Having just adopted an outside stray cat that was close to a year old, the kitty had never used a litter box. The first time the kitty pooped on the carpeting. We were then advised to lock the cat in a room with a cement or tile flooring, no carpeting or rugs, and have a litter box with this particular litter in it. It worked! Next morning had poop and pee in the litter box. Never had to have the cat locked in the non-carpet room again. Kitty has successfully used the litter box for weeks now.
---
By Christina on Jul 16, 2022
Magical Litter!
My cat was having a hard time peeing in the litter box and would pee EVERWHERE. I took him to the vet and he was fine, it was purely behavioral. I switched to this litter and both of my cats flocked to it. He hasn't gone out of the litter box since! It clumps really well and so far does an okay job with scent. It does track, but I've just accepted that litter is just going to do that. Definitely give it a shot if you have a stubborn kitty!
---